Soft and delicious brown butter madeleines, dipped in gorgeous caramelised white chocolate and sprinkled with salted popcorn. Guaranteed to sweep you off of your feet!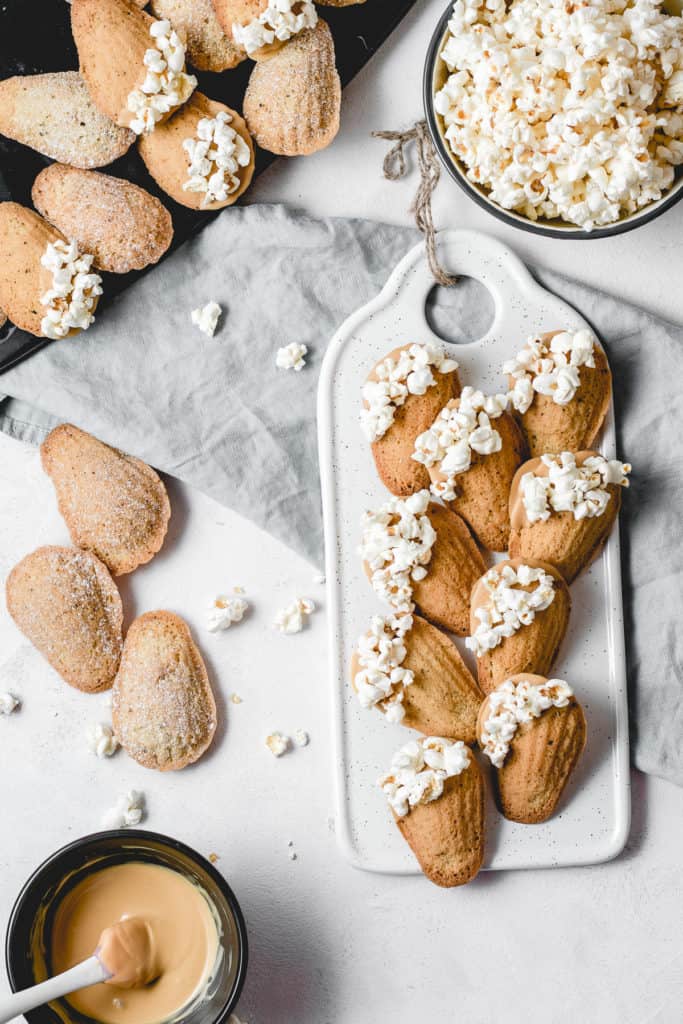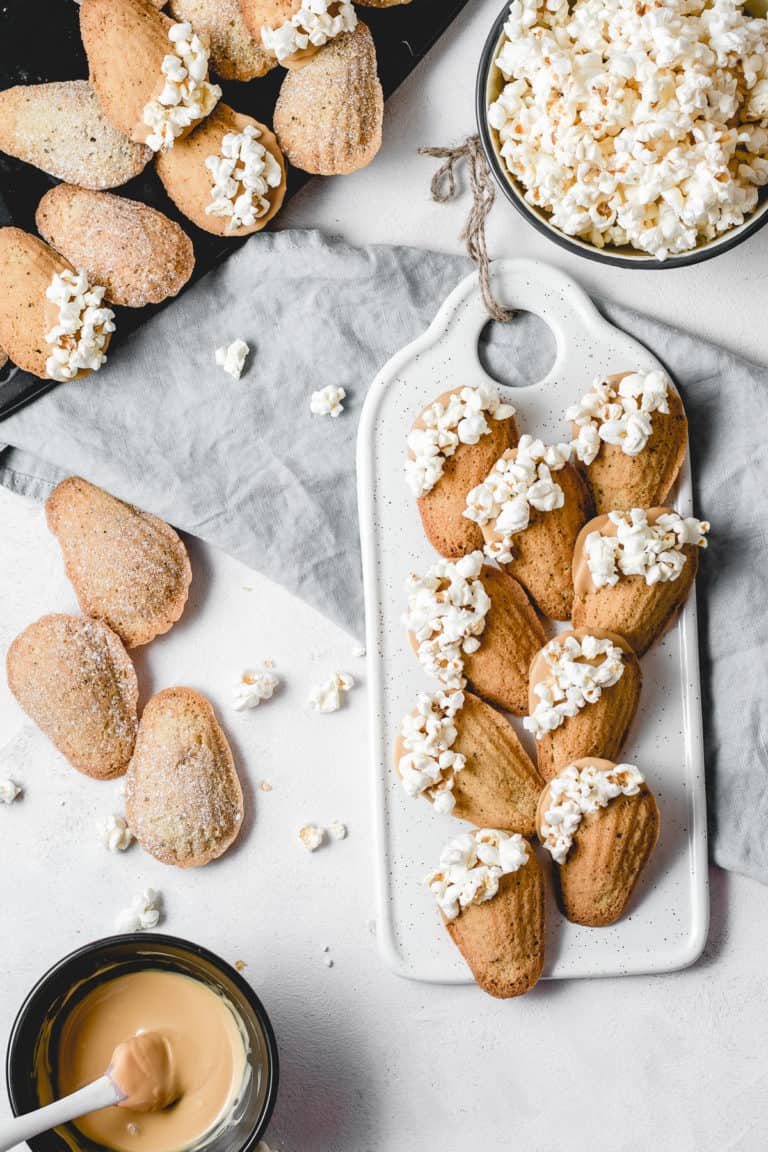 Madeleines. Is it a cake? Is it a cookie? I think the best description would be cake cookies. These pretty french pastries are made of genoise type sponge with lots of butter. I'm pretty sure that in some universe France means butter. Just sayin'. 😛
Traditionally, they are meant to taste buttery with some addition of citrus zest. But I always like to take a spin on a classic. This time I did it in a form of brown butter. I already talked about this amazing ingredient in my Brown Butter Chocolate Chip Cookies recipe. But I don't mind repeating myself when it comes to delicious things like this one. 😉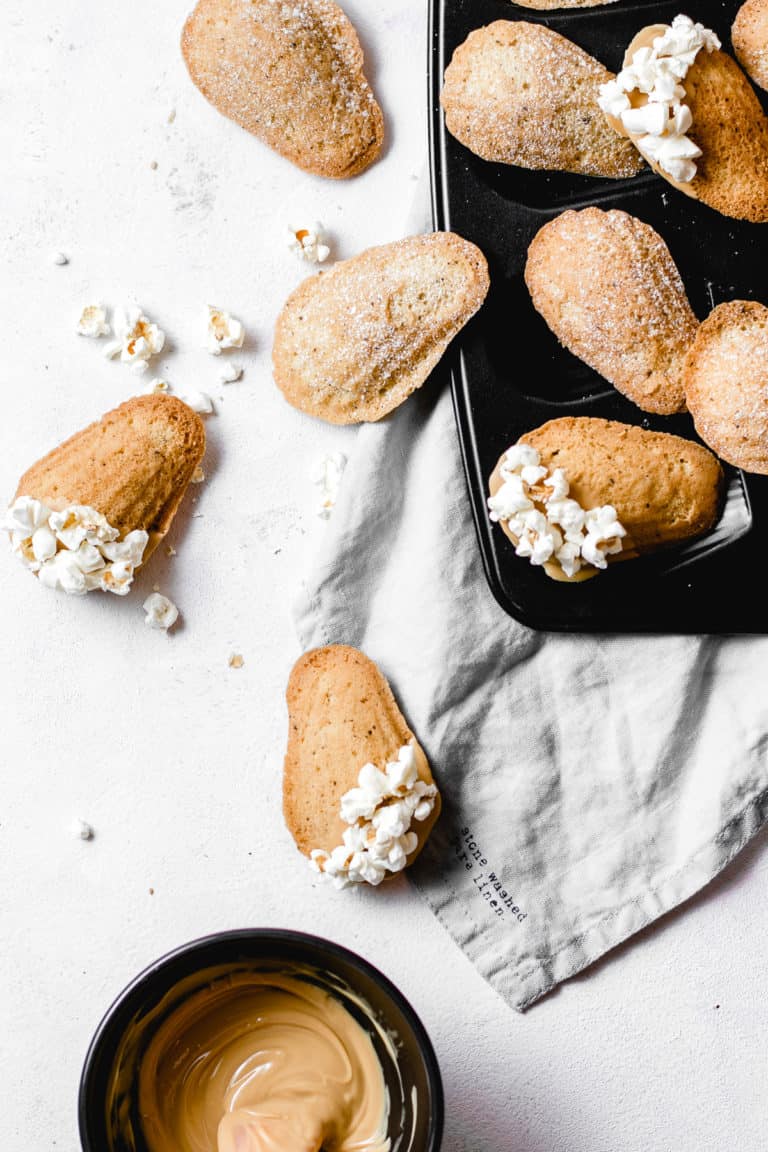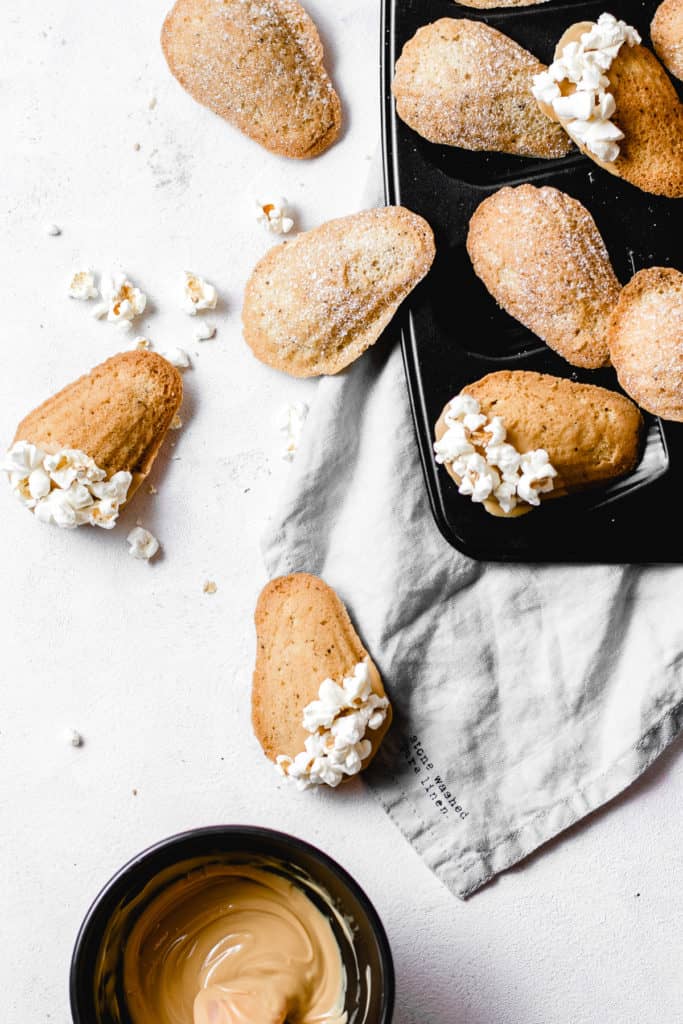 The French call it Beurre Noisette. Which translated literally means hazelnut butter. But it actually means that you need to melt the butter and continue to "cook" it until little brown specks begin to show and you can smell nutty aroma. It's one of those things you can't really describe, but need to taste it. 🙂
NEXT UP - CARAMELISED WHITE CHOCOLATE.
Oh. My. God. The first thought that popped in my mind when I tasted it was - why the heck I waited THIS LONG to make it? I think it totally deserves to be called liquid gold, although it doesn't need to stay liquid. That's right, it's an addictive snack as well! Be careful. 🙂
I tried to explain the process of making it in the recipe below, it's really easy, but it does require your attention for about an hour. Which is not THAT time consuming, right? It's totally worth it, trust me.
Just make sure you use the best possible white chocolate you can get. It should have at least 28% cocoa solids. I used Callebaut chocolate, which comes as chocolate chips. If you have a block of chocolate, then you should cut it in smaller chunks. 🙂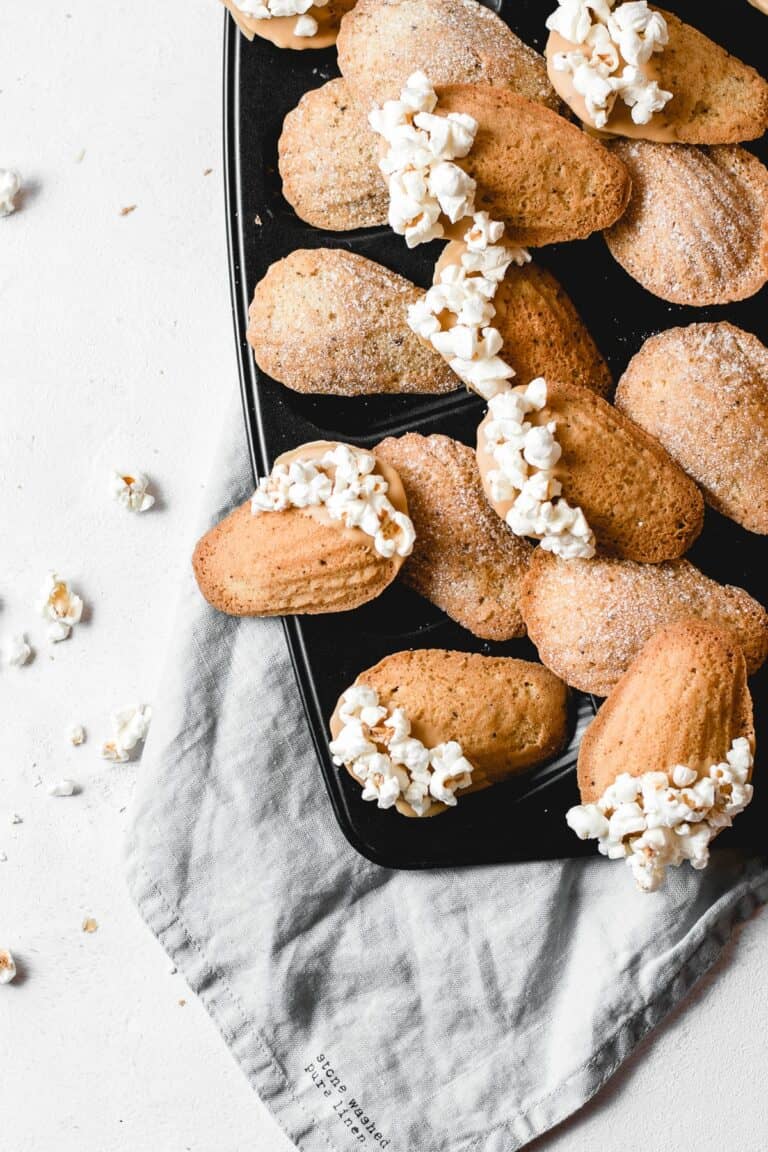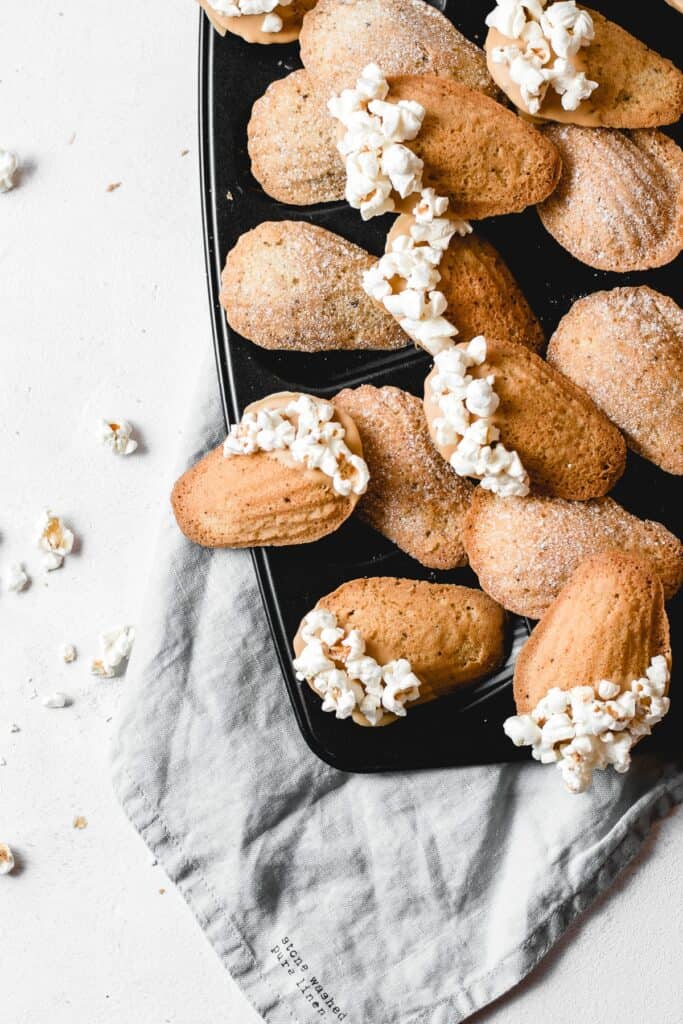 Last but not least - POPCORN. I mean, do I need to explain myself? This idea just came so naturally in my mind with flavours like brown butter and caramelised white chocolate. It's amazing. Salty & sweet is da bomb! That means that you should definitely use salted popcorn. 🙂
TOP TIP:
Madeleines are best when you eat them straight away. If you leave them on the counter, they are likely to become rock hard in the morning. If for some weird reason you DON'T finish them the same day, then keep them in an airtight container to preserve that softness. On the side note, popcorns will get kinda soft and soggy. You know what that means, right? It's the universe telling you to eat everything in an instant! 😉
LOOKING FOR MORE DELICIOUS DESSERTS?
Chocolate Hazelnut Cake
Earl Grey Tea Cake
Brown Butter Chocolate Chip Cookies
If you make this delicious recipe, let me know by tagging me on Instagram @anasbakingchronicles or tell me all about it in the comments section down below! I love seeing your creations! If you have any questions, don't hesitate to ask! Happy baking!
Love,
A.
📖 Recipe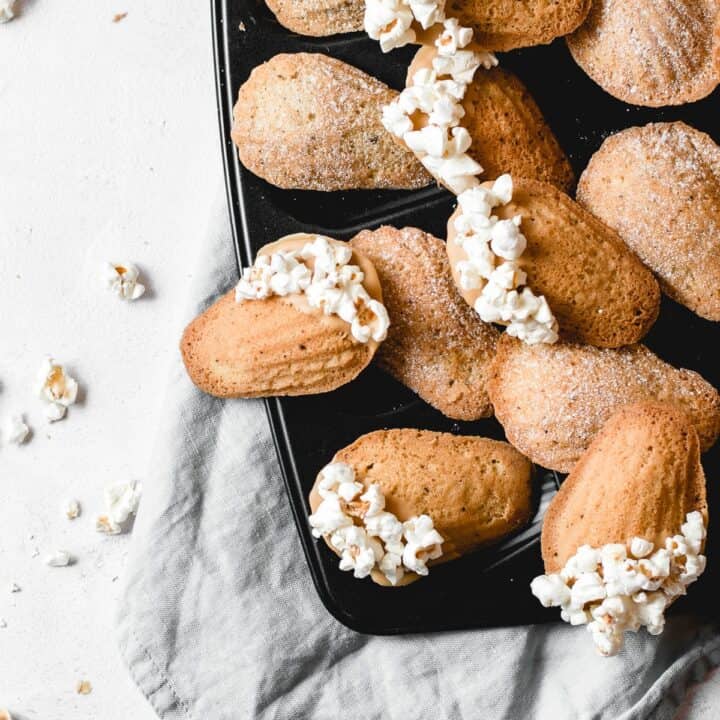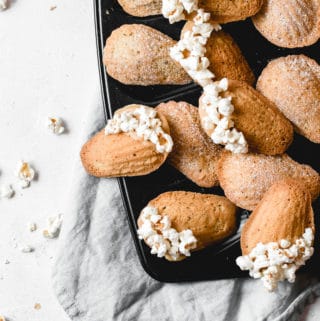 Brown Butter Popcorn Madeleines
Description
ingredients
2

large

eggs

(room temperature)

130

g

brown cane sugar

120

g

brown butter

(melted and cooled)

110

g

all-purpose flour

½

teaspoon

baking powder

pinch

of

salt

½

teaspoon

vanilla extract

200

g

good quality white chocolate

1

pack

salted popcorn
Instructions
for madeleines:
Cut the unsalted butter into cubes and melt it in a small saucepan, over a medium to high heat. Once melted, you want to keep heating it, stirring occasionally with a wooden spoon, until brown specks appear and you can feel that nutty aroma. Be careful not to burn the butter, but also don't "underbrown" it - if you know what I mean.


Once your butter is browned, transfer it in a bowl and let it cool a little bit, but it still has to be melted.

In a bowl of a stand mixer, using a whisk attachment, beat together eggs, vanilla extract and sugar on high speed for 5-7 minutes. The mixture should be paler, doubled in size, thick and fluffy. It should also fall in ribbons when you pick up the whisk.

In another bowl, sift together flour, baking powder and salt. Using a wooden spoon or a silicone spatula, fold it in the egg mixture. Be gentle so you don't knock out all the air out.

Add a couple of tablespoons of the batter into melted brown butter and stir to combine it throughly. There shouldn't be any traces of butter visible. Transfer it back to the remaining butter and fold until everything is well incorporated.

Cover the batter and chill it in the fridge for about 30-45 minutes. This will ensure that characteristic madeleine bump.

Preheat your fan oven to 165°C (325°F) or 175°C if you're not using a fan oven. Thoroughly grease your madeleine pan so the cookies won't stick.


Place approx. one tablespoon of chilled batter into the deepest part of the pan. There is no need to flatten or spread it.

Bake in a preheated oven, on the middle rack, for about 10-12 minutes. Madeleines should puff in the middle and be crispy on he outside.

When they're done, leave them to cool in the pan for 2 minutes and then transfer them to a cooling rack to cool completely.
Caramelised White Chocolate
Preheat your fan oven to 120°C (250°F). Place chopped good quality white chocolate (at least 29% cocoa solids) in a medium sized non stick rectangular pan. For easier handling later, you can line your pan with greaseproof paper.

Heat/melt chocolate in intervals of 10 minutes. After every 10 minutes, take out the pan and using a silicone spatula scrape the chocolate and spread it in a thin creamy layer.

You do this to prevent chocolate burning. I usually do it for a total of an hour, but just do it until white chocolate turns caramely colour. More like a peanut butter. The longer you heat it, the darker it will be. Just don't burn it. 🙂

When you're satisfied with your chocolate it's time to chill it. Spread the chocolate evenly and leave it to cool to room temperature in the same pan. After that, put it in the freezer until it becomes rock hard. Since the chocolate isn't tempered, this is the only way you will prevent it from melting while you break it into chunks to save for later.

Place it in a jar and keep it in the fridge. For dipping madeleines, melt 100 g of chunks over a bain marie.
IMPORTANT
All the recipes are developed and tested using only metric measurements and a kitchen scale. The U.S. cup and spoon measurements are provided for your convenience, but I highly recommend getting a digital kitchen scale and measuring in metrics. It's easy and always guarantee the same results in baking!
The nutritional information and US conversions are calculated automatically. I cannot guarantee the accuracy of this data. If this is important to you, please verify with your favourite nutrition calculator and/or unit conversion tool.
Have you tried this recipe?
Tag me on Instagram @anasbakingchronicles or use the hashtag #anasbakingchronicles - I love seeing your creations!