Fluffy and extremely moist vegan red velvet cupcakes, paired with light and airy vegan vanilla ermine frosting. Guaranteed to blow your tastebuds away!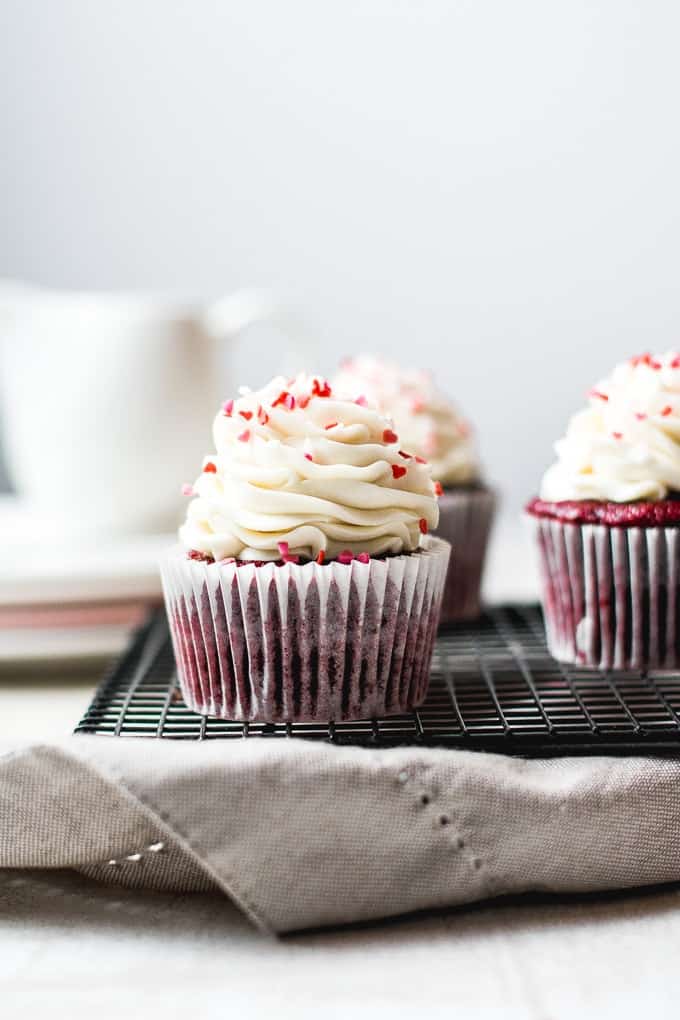 I've begun writing this post last night and then... I'm not even gonna lie - I fell asleep on the couch. Yup. You could say I still haven't figured out adulting without getting exhausted. Or without getting depressed for not having enough hours in a day to do what I want. So the saga of desperate newbie adult continues. But I feel like I'm back in the game with life and baking. I'm keeping a positive attitude, because - what you think is what you get, right? 🙂
The story of creating a vegan cupcake
These cupcakes. OMG. (I know I sound like, totally fetch, Mean girls and all of that) BUT. I made these three times over a couple of days. And let me tell you - there are two reasons why I did that. Firstly, I really wanted to nail this recipe and be sure I made the best possible cupcake. Which I did. (She said modestly.)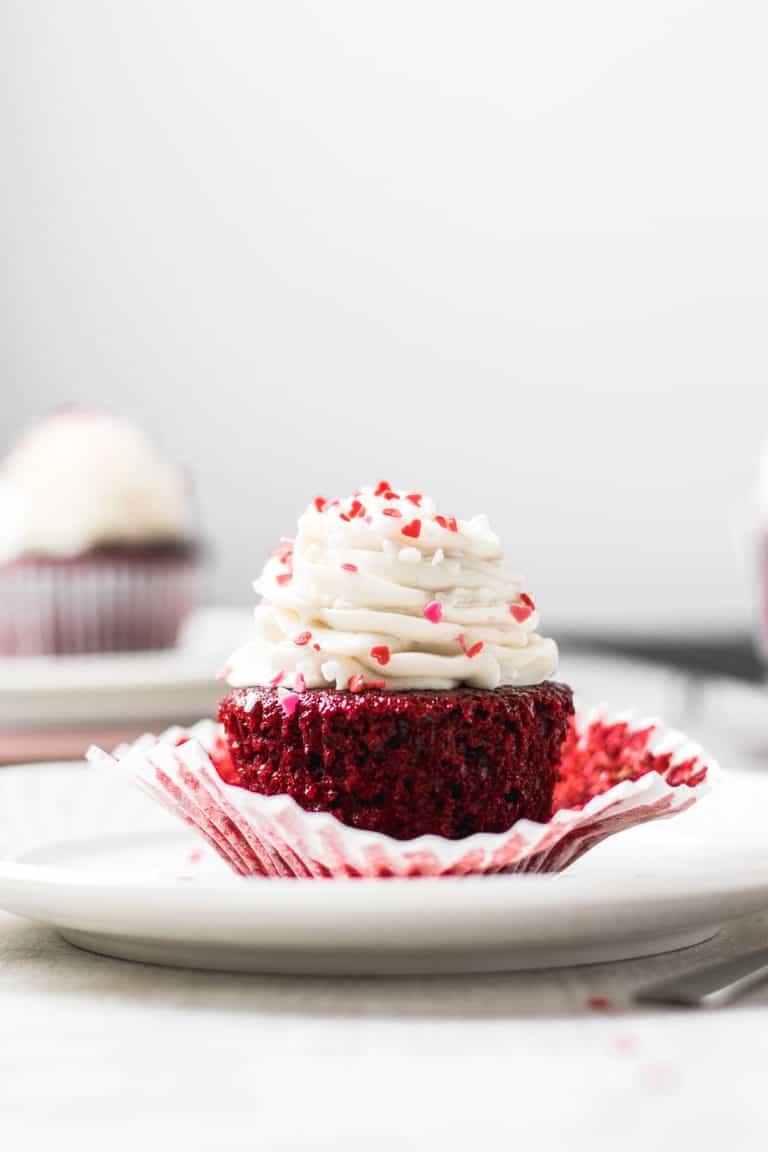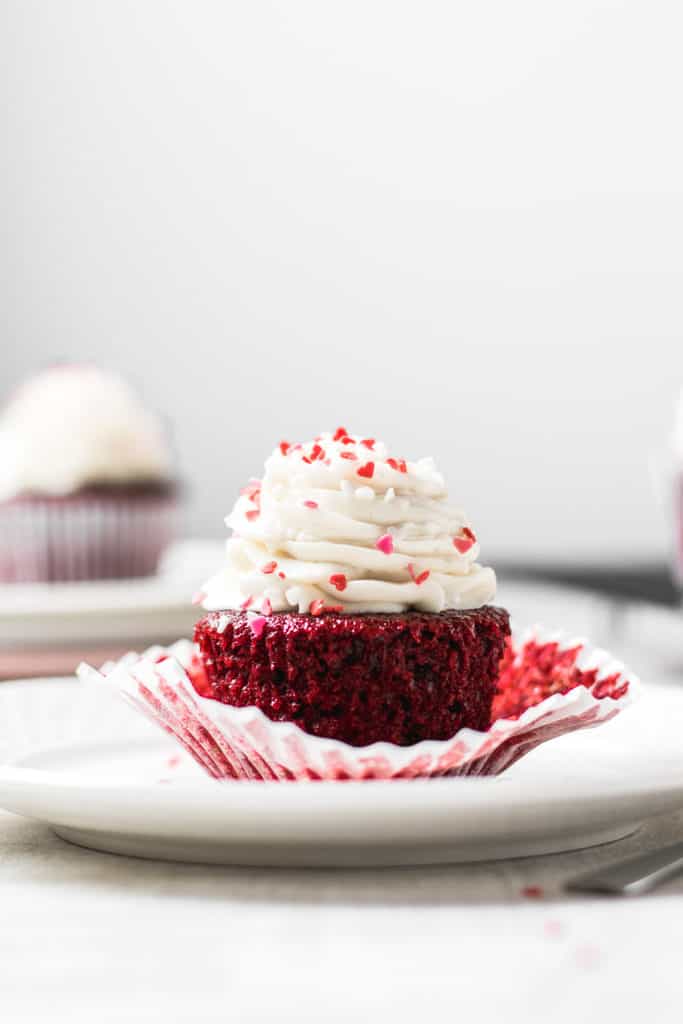 Secondly, I struggled with buttercream and ate all the cupcakes before I could take a picture of them being frosted. True story. There were they, looking at me from their cute little cake stand as I got back home from work. Hungry. Then, one thing led to another... three nights in a row. Lol. But, you could say I did that for research purposes. Can you? Because what I found out was - the cake was just as moist on the third day! Ta-daa! Perfect cupcake! 🙂
How do you make a VEGAN cupcake?
As it turns out, it's not that hard! I did my research to find out about the most common substitutes. After all, some of the main ingredients in a cake are eggs and butter. Naturally, I chose sunflower oil as a substitue for butter. Unlike butter, oil doesn't have any water content and stays liquid at room temperature, as well as in the fridge. This helps in producing extremely moist cakes. Like my chocolate cake, for example. 🙂 But oil lacks in flavour and sometimes can produce a funny tasting/smelling cake. I was a little scared, because the amount of cocoa powder in my chocolate cake overpowers the oil and you can't taste it. But, it was actually pretty good! Speaking from a butter-lover perspective 🙂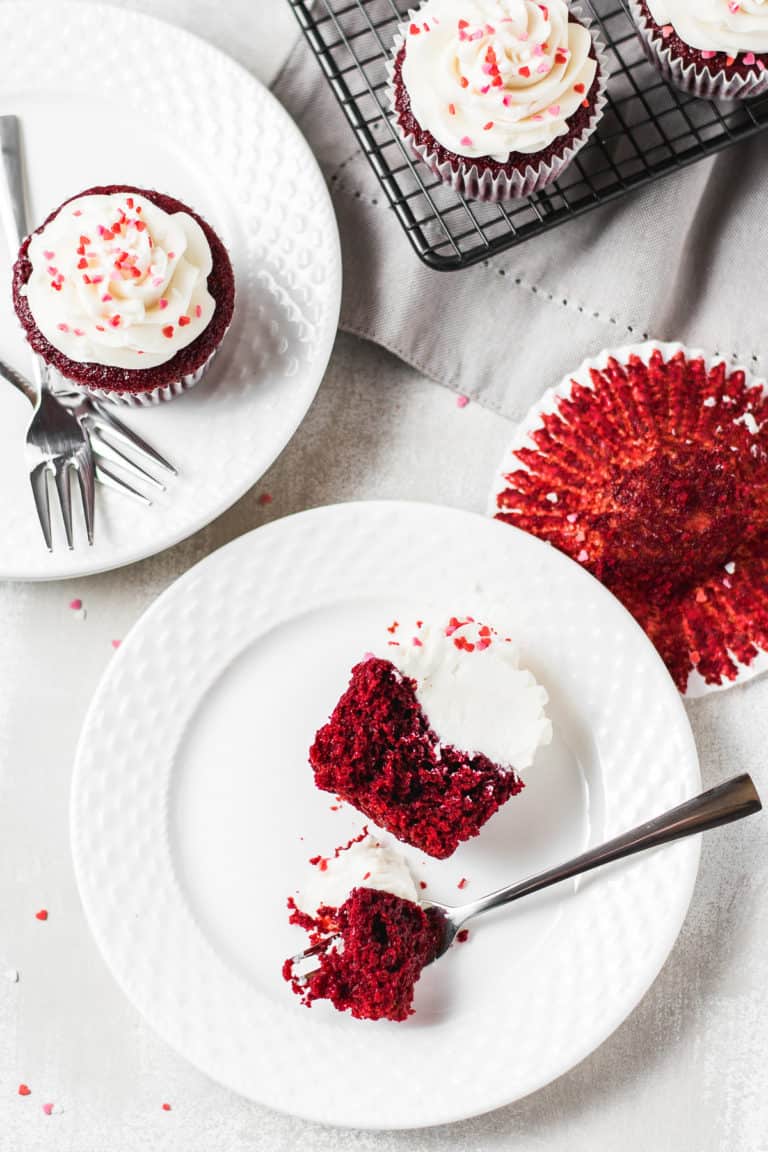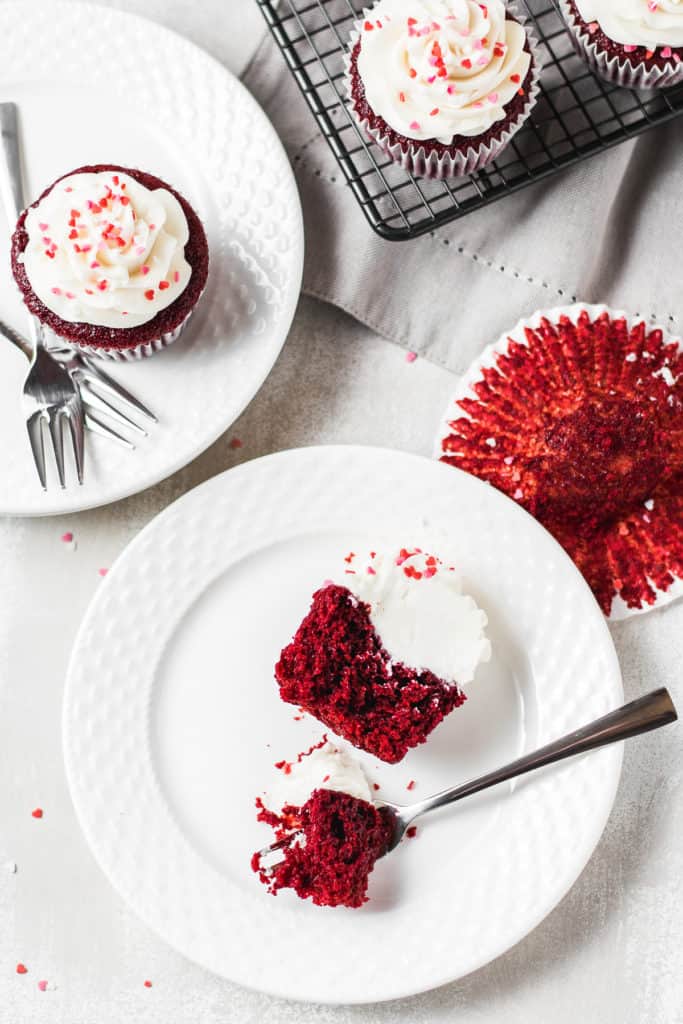 Instead of buttermilk, I used rice milk which has a very subtle, light and sweet taste. But of course, you can use any plant based milk YOU like, just bear in mind it can alter the flavour. And since I always add vinegar to my red velvet cupcakes, the cake didn't lack in tanginess that much.
Now, let's talk about eggs substitute. There's flax egg, chia egg, applesauce (some don't even bother with replacing eggs so you get a crumbly texture) and AQUAFABA. This was a game changer! Can you see the texture in the picture above? Beautiful, moist anf fluffy - not at all crumbly, right? That's the power of aquafaba or chickpea water. I know, it kinda sounds disgusting putting chickpea water from a can in your dessert. But trust me, you can't taste it and it provides that essential structure and stability in your cupcake.
What about frosting you ask?
Well, I said I had some struggle veganizing (can this be a word?) my favourite frosting ever, which, you know, is Vanilla Ermine Buttercream. That's also the original Red Velvet Cake frosting. I know, shocking, but it's true. And it's SO GOOD. <3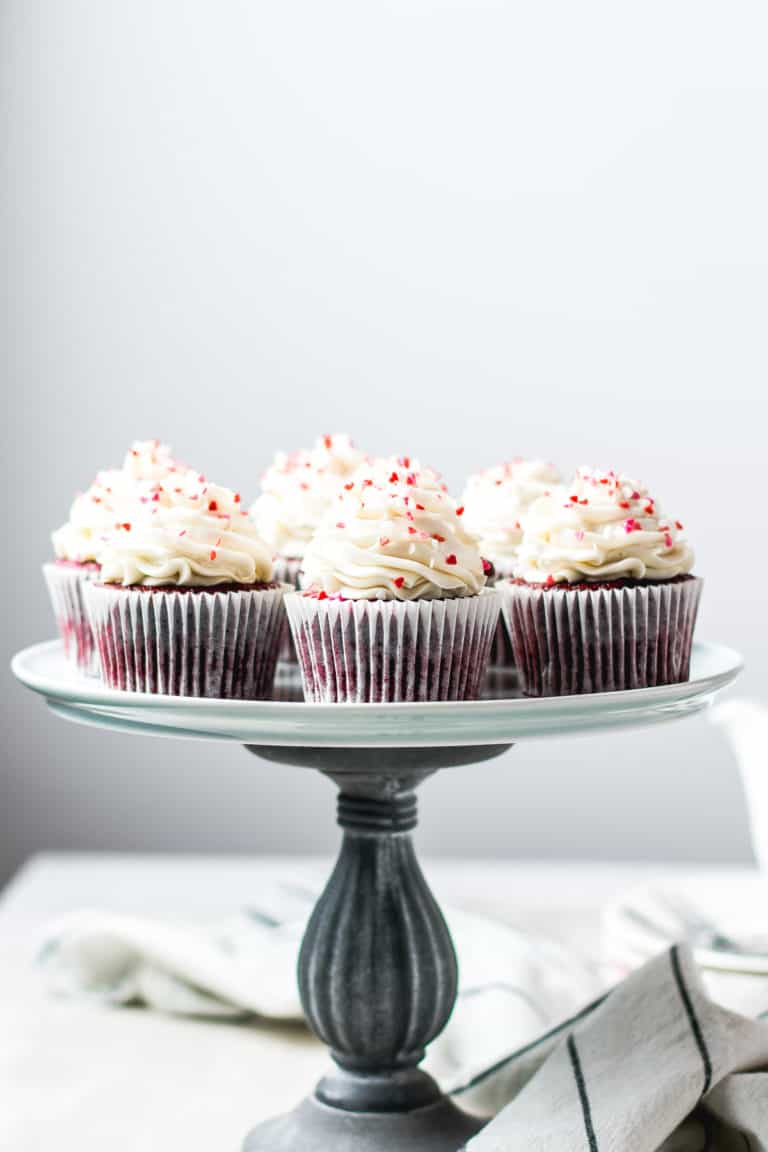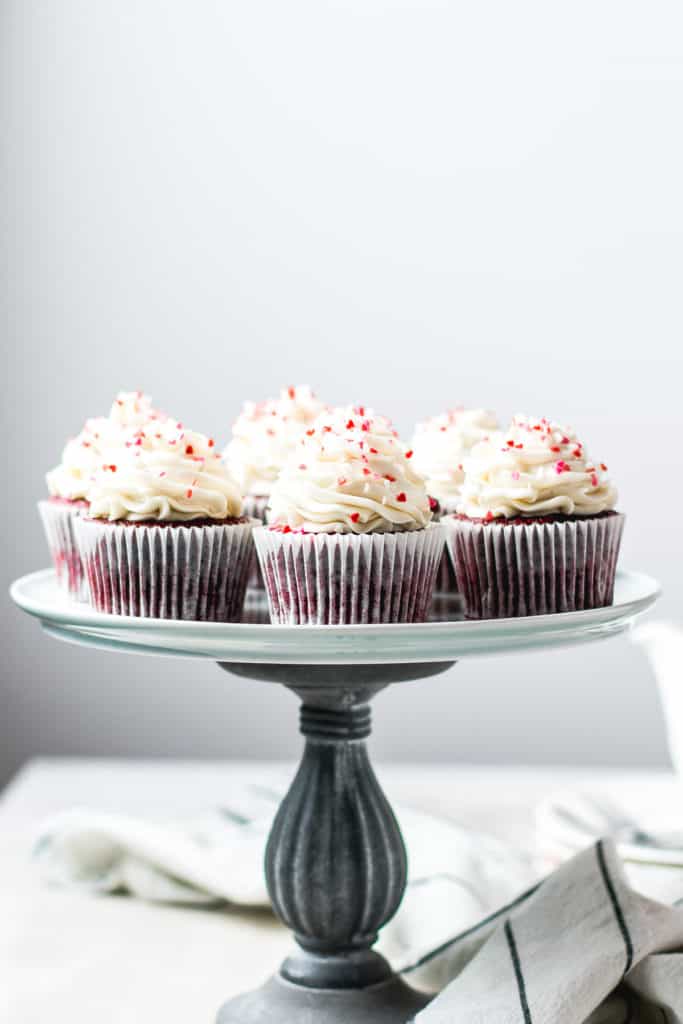 Now, where were we? Aaah, frosting struggle. Well, it wasn't really a struggle, but simply choosing the wrong plant based milk. On my first try, I opted for Oat Milk. Which was a terrible, terrible mistake. Oat Milk has a very strong oaty flavour which is normally okay for me, but in this case you couldn't taste vanilla. So, NO. Afterwards, I bought soya, rice and almond milk. But decided to go with rice milk because of its subtle, sweet flavour and I chose well! That pudding base was so delicious! You could eat it by spoonful!
As for the butter substitute... I really, really, REALLY don't like margarine or any vegetable butter substitutes. That said, I did use the best available vegan butter substitute and nobody really had any complaints. The verdict was this: frosting was really light, soft, gentle, a bit different than regular buttercream, but still very tasty! In my book, this means success! 🙂
Valentine's day is just around the corner so I hope you'll give this one a go, especially if your special someone is vegan! Baked goods are one of the best presents ever, right? 🙂
If you do make it, don't forget to let me know by tagging me on Instagram @anasbakingchronicles so I can see it or tell me all about it in the comments section below! Happy baking!
📖 Recipe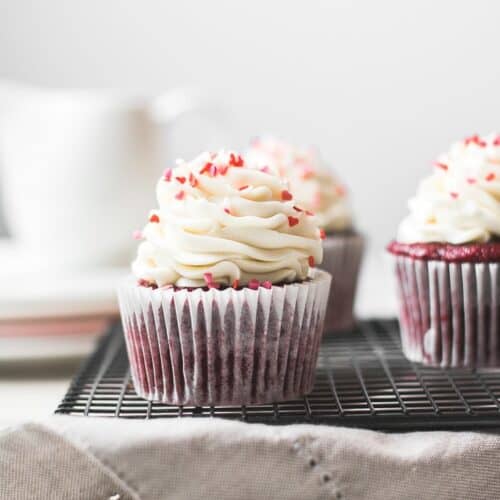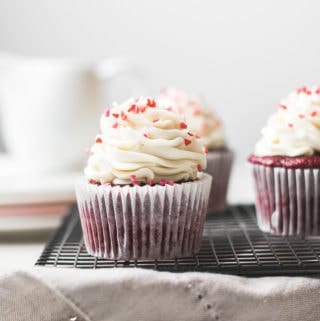 Vegan Red Velvet Cupcakes
Description
Amazing, moist, fluffy red velvet sponge paired with vegan ermine vanilla buttercream. Guaranteed to blow you away!
ingredients
Red Velvet Cupcakes
70

g

aquafaba

225

g

all-purpose flour

1 ½

tablespoon

natural unsweetened cocoa powder

((approx. 12 g))

225

g

white granulated sugar

90

g

sunflower oil

150

g

rice milk

1

teaspoon

baking powder

¼

teaspoon

baking soda

1

teaspoon

white vinegar

1

teaspoon

vanilla extract

red gel or powder food coloring
Vegan Ermine Buttercream
265

g

rice milk

((or your preferred plant based milk))

150

g

white granulated sugar

¼

teaspoon

salt

45

g

all-purpose flour

250

g

vegan butter substitute

(( I used vegan margarine with 80% fat))

1

tablespoon

vanilla extract
Instructions
For cupcakes:
Preheat your fan oven to 160°C (325°F) or 175°C (350°F) if you're not using a fan oven. Line your cupcake/muffin pan with paper cases.

In a medium sized bowl sift and combine flour, cocoa powder, baking powder, sugar and salt. Set aside.

In another medium size bowl beat aquafaba using a whisk for a minute, until it becomes white and frothy. Add oil, rice milk, vanilla extract and red food coloring (start small, then add more if necessary) and mix until it all combines. These are your wet ingredients.

Add your wet ingredients to the dry ones in two batches. Mix everything until just combined.

In a small jug, combine together baking soda and vinegar. A reaction will occur producing bubbles. In that exact moment, add that mixture to the batter and mix everything thoroughly. The batter will be on the runny side.

Divide the batter evenly among the paper cases, filling them ⅔ of the way full. Bake for 20-25 minutes or until they're springy on the top.

Once they're done, let them cool completely before frosting.
For frosting:
In a small saucepan combine flour, sugar, salt and rice milk. Cook over medium-high heat, stirring constantly with a whisk until it thickens.

Once it's done, transfer it to a bowl, put a cling film over it touching the surface to prevent "skin" forming and let it cool to room temperature. This is your pudding base. You can do this in a fridge, but before using it let it come to room temperature.

Using a stand mixer fitted with the paddle attachment, beat the vegan butter for 5 minutes until it's pale and fluffy. Then add spoonful by spoonful of previously made pudding. Mix until it's all nicely incorporated and with no lumps. Add vanilla extract and mix until everything is combined.
Assembly:
Put the buttercream in a piping bag fitted with 2D tip (or whichever you prefer ? ) and frost the cupcakes.

They are best eaten at room temperature. You can keep them in an airtight container at room temperature for 2 days or longer in the fridge. Just let them come to room temperature before eating them. Fridge makes cakes and cupcakes drier so bear that in mind.
Notes
You can use a hand mixer if you don't have a stand mixer.
If you still don't own one, I advise you to buy a kitchen scale - they're cheap and easy to use, and always guarantee the same results in baking! 
Not all ovens are the same. I suggest checking the cupcakes at 20 minute mark and then adjust the baking time accordingly. Get to know your oven! 
Make sure not to overfill your paper cases, otherwise the batter will "explode". 
You can use some other plant-based milk substitute, I just find that the rice one has the most neutral, sweet flavour. 
If you're using powder food coloring you'll need less than if you're using gel! I don' recommend water based food coloring - it's not strong enough and can alter the consistency of the batter.
IMPORTANT
All the recipes are developed and tested using only metric measurements and a kitchen scale. The U.S. cup and spoon measurements are provided for your convenience, but I highly recommend getting a digital kitchen scale and measuring in metrics. It's easy and always guarantee the same results in baking!
The nutritional information and US conversions are calculated automatically. I cannot guarantee the accuracy of this data. If this is important to you, please verify with your favourite nutrition calculator and/or unit conversion tool.
Have you tried this recipe?
Tag me on Instagram @anasbakingchronicles or use the hashtag #anasbakingchronicles - I love seeing your creations!