Red Velvet Cupcakes are a well-known classic. This recipe produces super moist and tender cupcakes, topped with their original frosting - silky and smooth Ermine Vanilla Buttercream!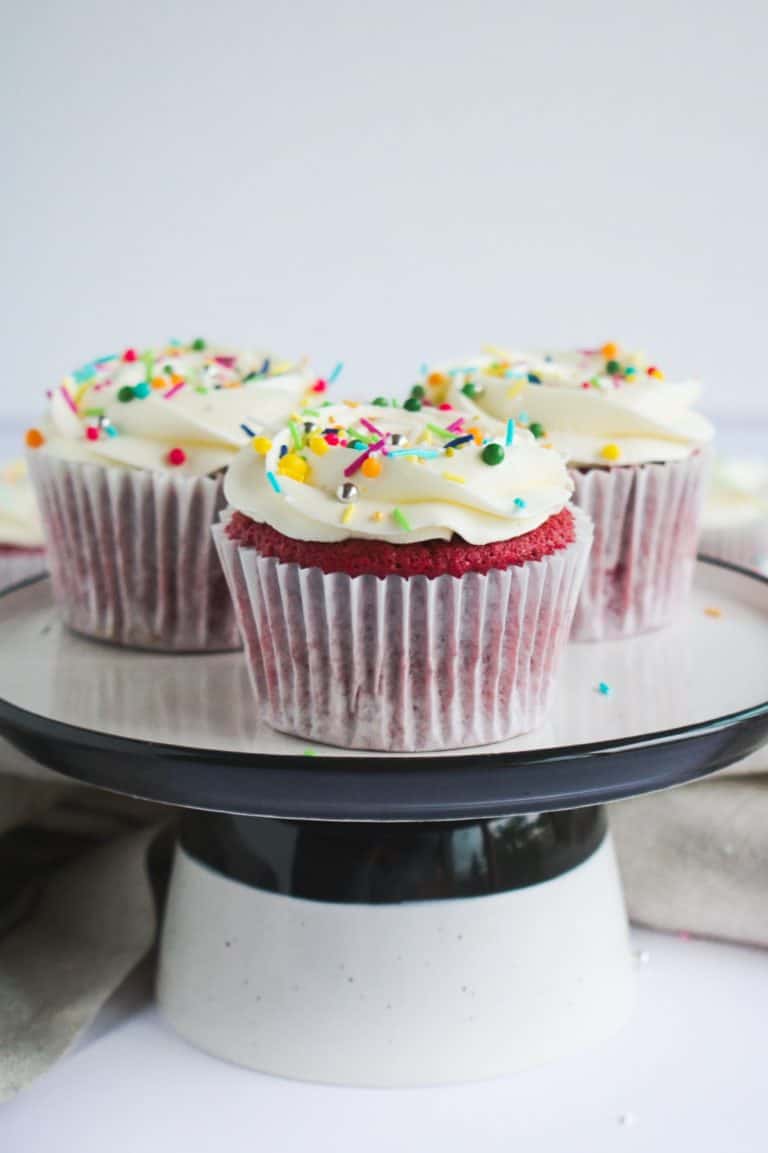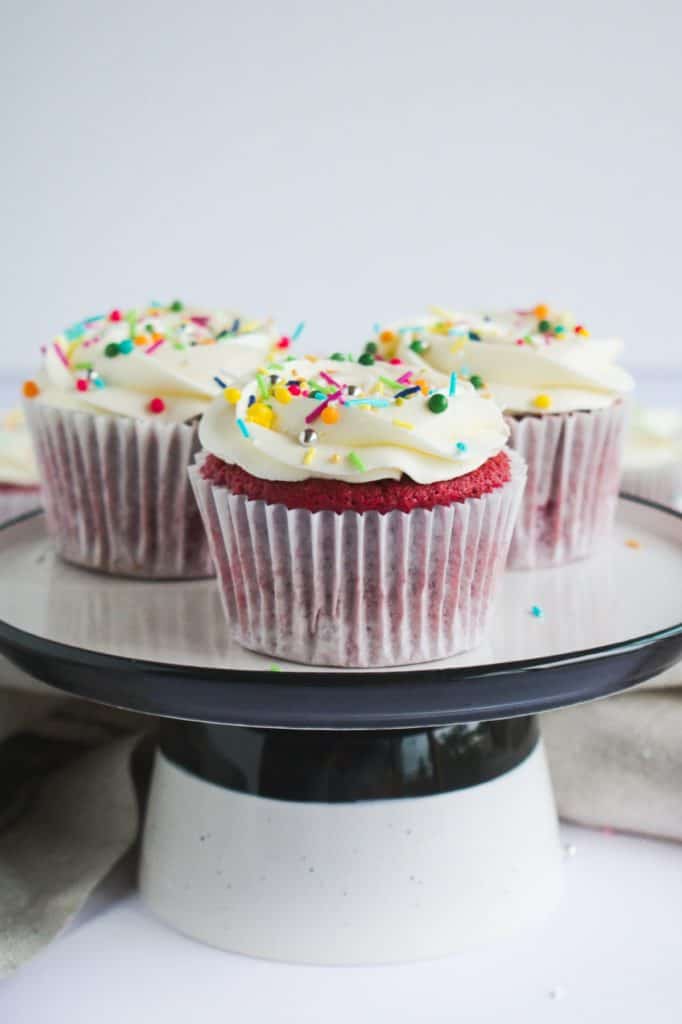 These delicious sweet treats were one of the first things I made when I started baking. Looking super cute as they are, I could hear them whispering: bake me! Choose me! Lol. These red velvet cupcakes were the thing that pushed me towards baking and baking science even more. It was only natural to bake these guys in order to celebrate launching this blog and sharing it with people. I was so excited!
What most amazes me about these cupcakes is that distinctive flavour. Is it chocolate? Is it vanilla? Nobody knows -  but it's just so dang delicious! Sweet, but with a little tang coming from buttermilk and white vinegar.
The "Red" tag comes from a chemical reaction that occurs when mixing natural unsweetened cocoa powder, buttermilk and vinegar - which makes the batter reddish, maroon like. Nowadays, of course, we use food colouring because we want that colour to pop and catch attention. And because it's hard to find ingredients that haven't been processed in any way.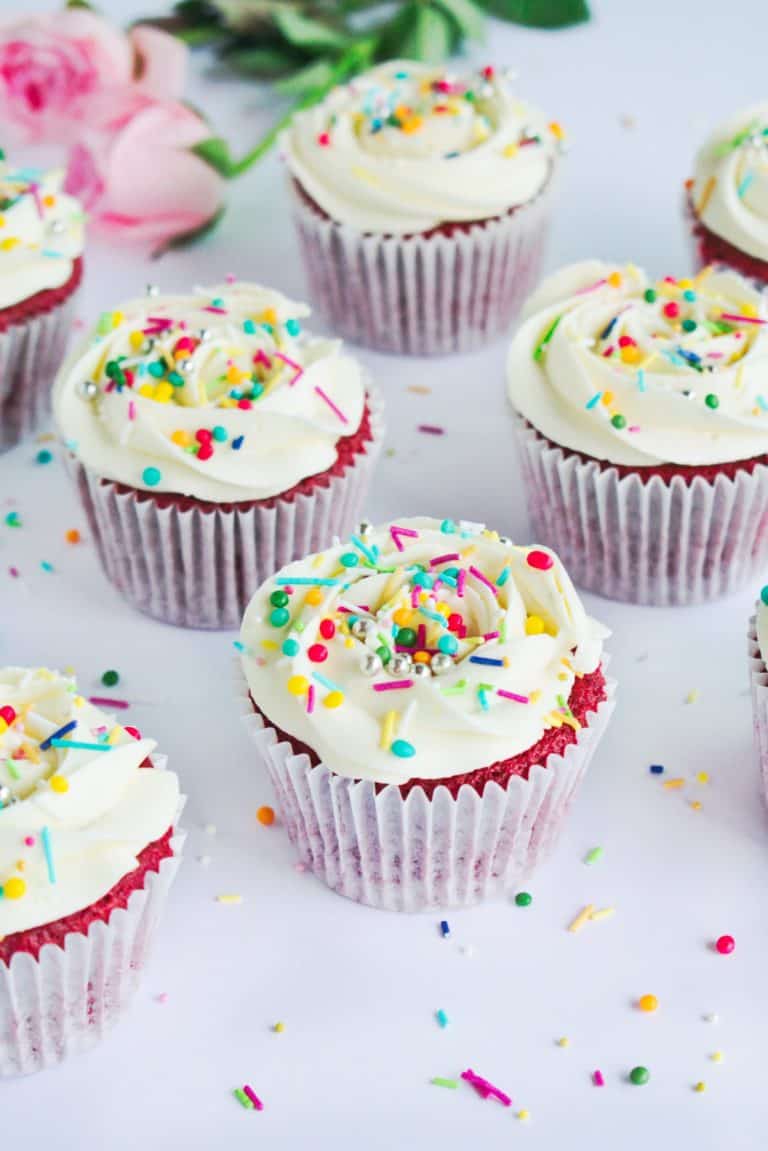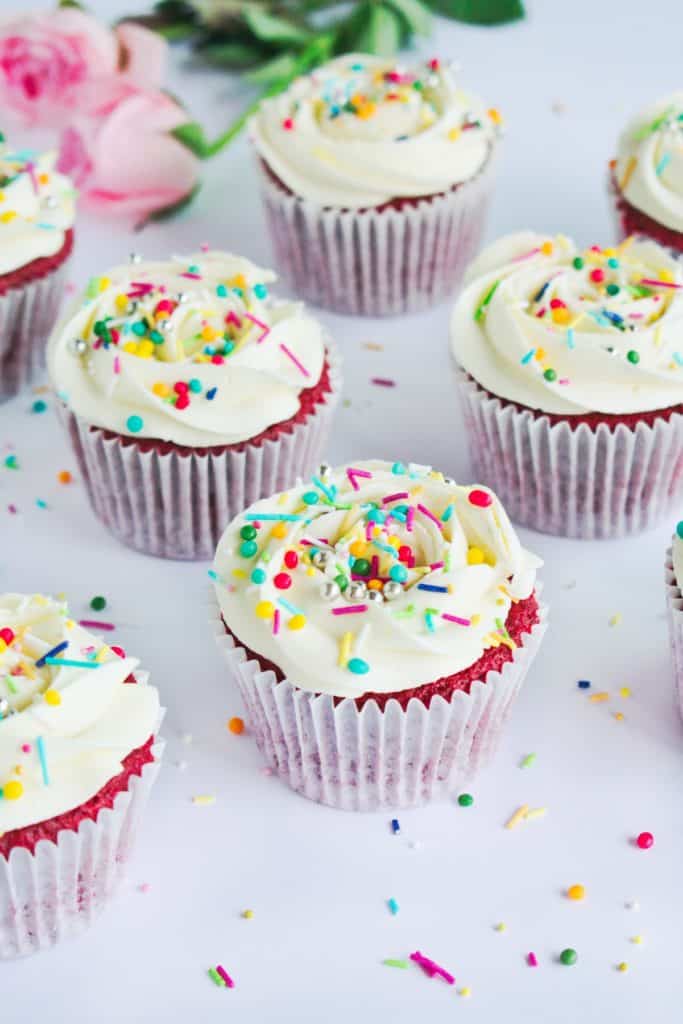 Although they are most likely to be found paired with cream cheese frosting, that's actually not how the classic red velvet cupcakes first came to life. In fact, they were topped with the most delicious and my personal favourite - Ermine/Flour/Cooked flour/Boiled milk frosting. It goes by many names! I've also seen Tessa Huff from the StyleSweetCA call it Heritage Frosting. That actually has a nice ring to it.
I've tried a lot of buttercream recipes while searching for the perfect one. American buttercream (ABC) is just inedibly sweet for me. Like, teeth hurting sweet. And that goes for the most popular choice with 1:2 ratio of butter to powdered sugar. I get that people like it because it's the easiest of to make, but it really lacks both in flavour and in texture compared to others.
When I discovered Swiss Meringue Buttercream (SMBC) I was amazed how silky and smooth it was! I thought - that's the buttercream of my dreams, perfect frosting for cakes and cupcakes. But then I realized it's only good when flavoured with something that overpowers that taste of butter. Like a lot of lemon curd or lots of melted chocolate. Otherwise, when vanilla flavoured, it just tastes like butter with sugar sprinkled on top to make it sweet. And don't get me started on those egg whites, so finicky - ⅗ times I couldn't get them to whip up nicely! So all that frustration led me toward finding another solution.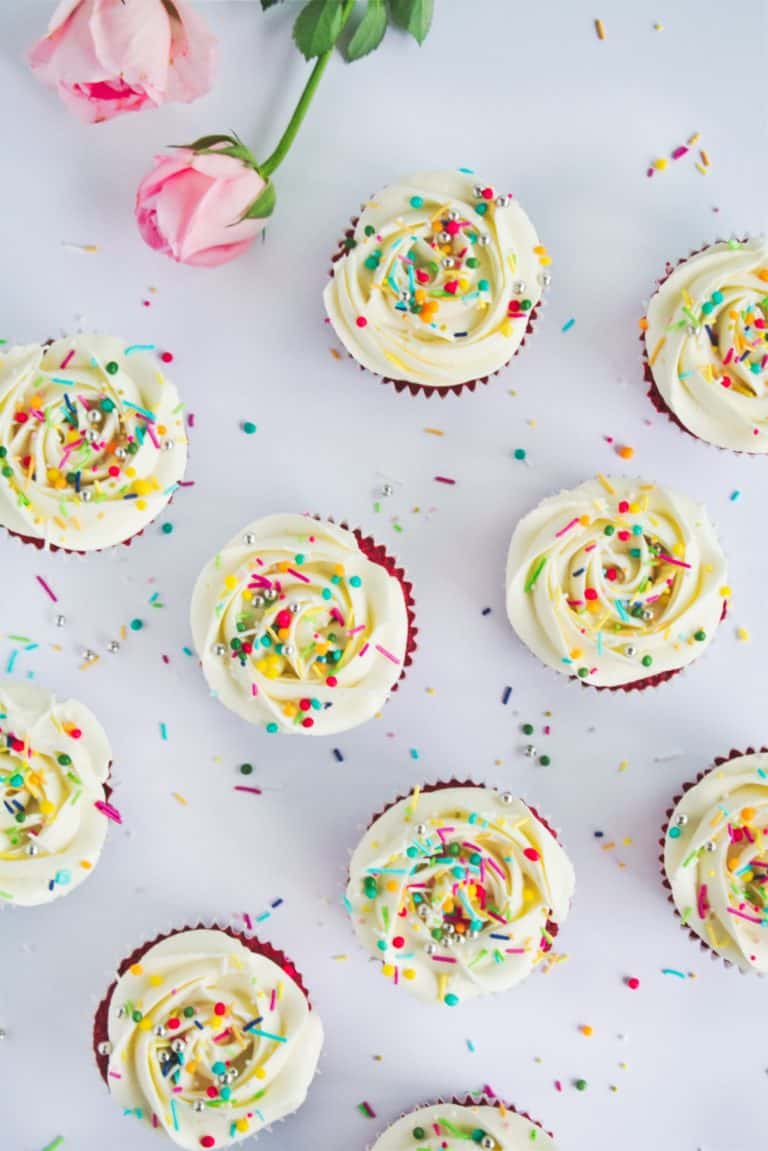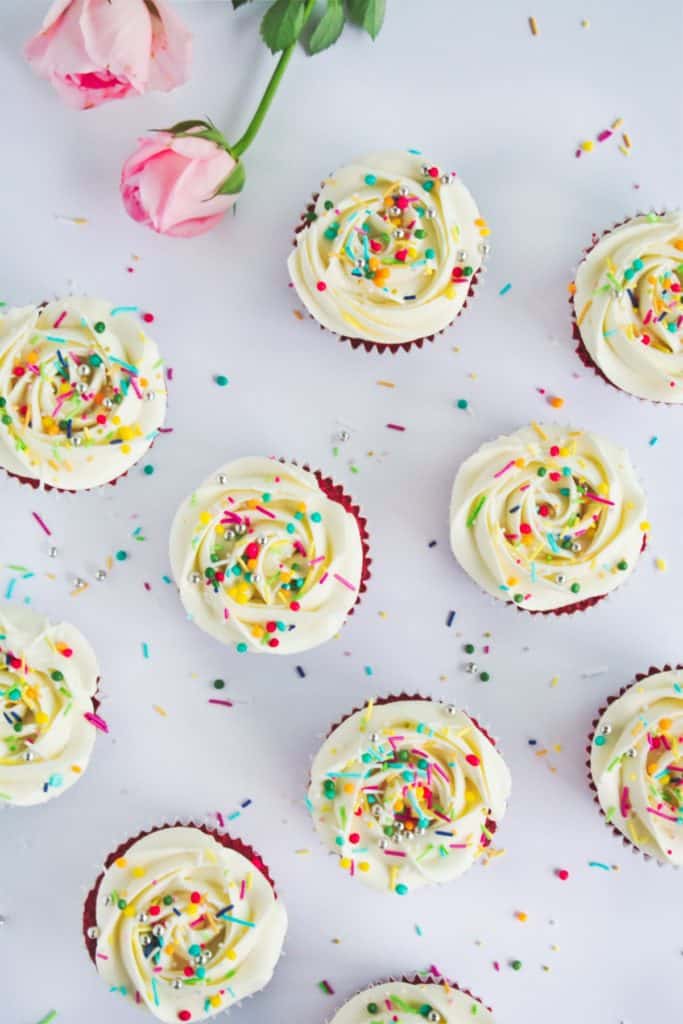 What is Ermine/Flour/Boiled Milk/Heritage Frosting?
Thus, we've come to the best frosting EVER. If you're searching for a beautiful, silky, smooth frosting that's not too sweet and pipes beautifully - then I must tell you that your quest has come to an end! Congratulations - you've found it! 🙂
Originally, Ermine Frosting was made by cooking a flour/milk pudding base and then whipping it with beaten butter and granulated sugar. Honestly, that didn't make sense to me because, in my experience, no amount of beating can really dissolve granulated sugar. And I for sure didn't want a grainy buttercream. Nobody wants to taste the sugar granules in their mouth, am I right?
So, I thought, why can't I just dissolve the sugar by cooking it with milk and flour? Hence, I googled to see if anyone has done it that way before. That is when I came across The Tough Cookie. I was so happy when I saw Nila's detailed posts about buttercreams - so englightning and written with so much care. It was after reading all her comments and thoughts that I decided to make this frosting. And thank God I did.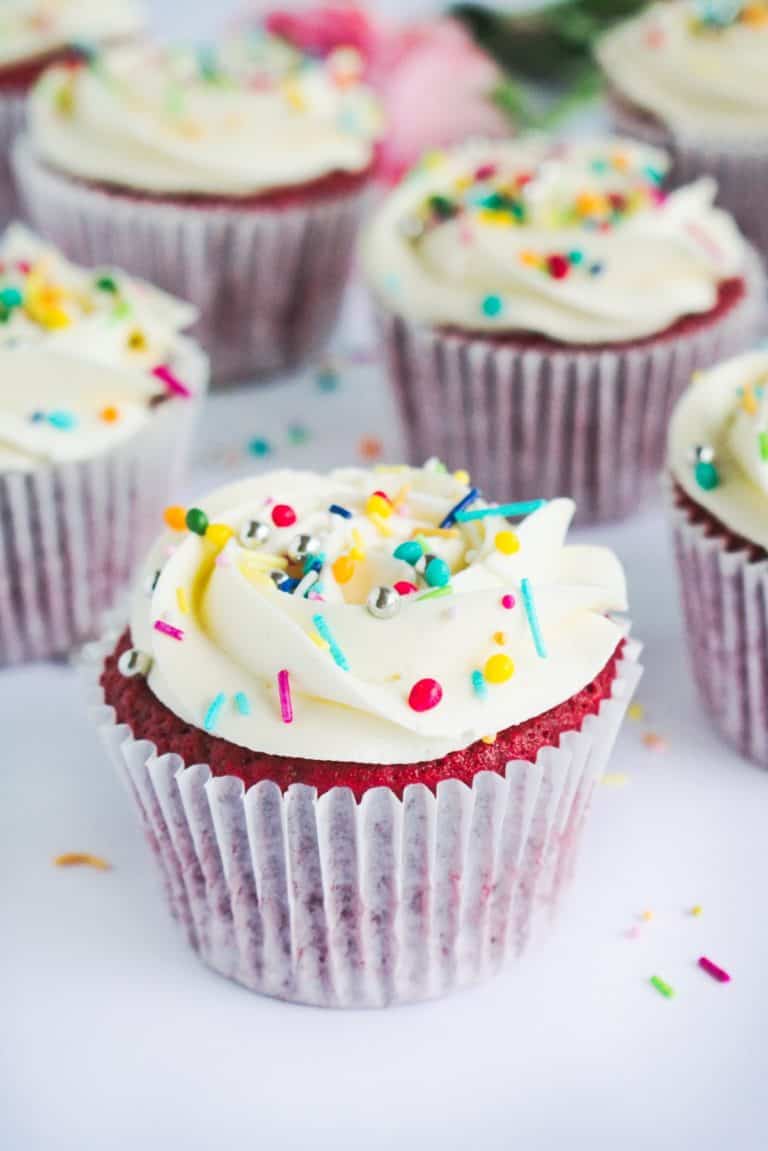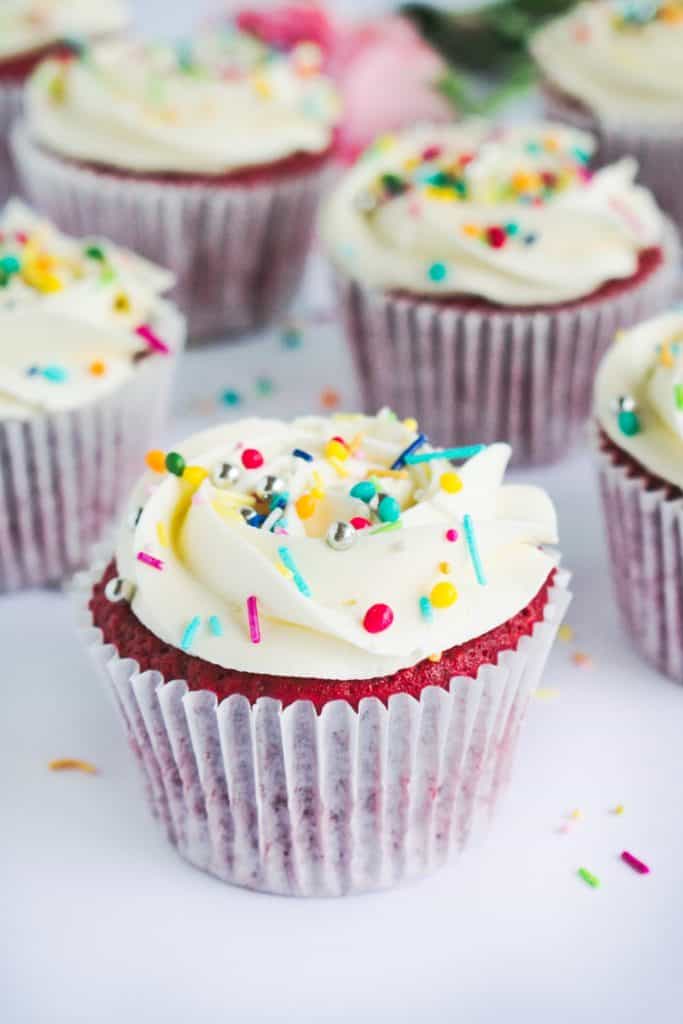 From the first time I made it - it's become my go-to vanilla buttercream and frosting in general. I've played with the ratios to get exactly what I wanted because Nila's recipe was still a little sweet for my taste. But that's the beauty in baking, by doing a little math you can make whatever you want! Your own personal formula for success 🙂
Because of how fluffy it is, it's reminiscent of whipped cream. But of course, much more stable. The key is to beat the butter for a full 5 minutes. I kid you not, when I say 5 minutes - that's exactly what I mean. You want that butter to be so pale, even white, with so much air incorporated that it looks nothing like butter. That is when you add spoonful by spoonful of previously made pudding.
Bear in mind, if you want it to be a little sweeter and you only up the sugar - both the pudding mixture and the buttercream will loosen up because of the water content in sugar. So when adding extra sugar you should add some extra flour as well or downsize the amount of milk. Therefore, everything is in balance and you still get that perfect pipeable texture. Can you tell how excited I am talking about these stuff?
Although it's best when used fresh, you can keep this buttercream in an airtight container in a fridge for a week. Just let it come to room temperature before using it and beat it for a couple of minutes to make it fluffy again.
I hope you give this recipe a go and tell me what you think! 🙂
📖 Recipe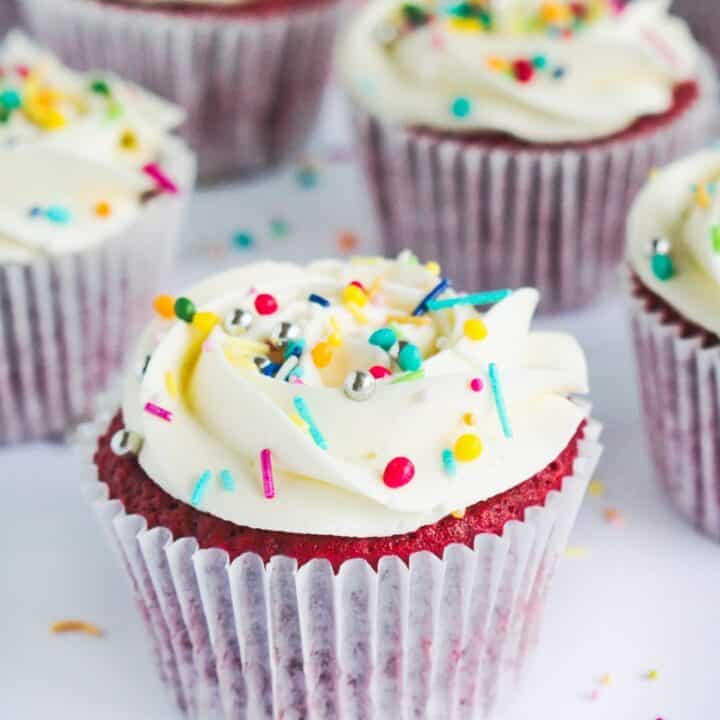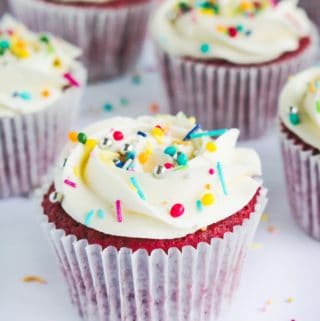 Red Velvet Cupcakes with Ermine Vanilla Frosting
Description
These Red Velvet Cupcakes are super moist and delicious, topped with their original frosting - silky ermine vanilla buttercream! Yummy!
ingredients
Cupcakes
1

large

egg

(room temperature)

170

g

granulated sugar

65

g

unsalted butter

(softened)

150

g

all-purpose flour

1

tablespoon

natural cocoa powder

(unsweetened)

¼

teaspoon

salt

1

teaspoon

baking powder

120

g

buttermilk

(room temperature)

¼

teaspoon

baking soda

1

teaspoon

white vinegar

½

teaspoon

vanilla extract

¼

teaspoon

red gel food dye
Ermine Vanilla Frosting
30

g

all-purpose flour

¼

teaspoon

salt

150

g

granulated sugar

250

g

milk

225

g

unsalted butter

(softened)

1

teaspoon

vanilla extract
Instructions
Red Velvet Cupcakes
Preheat your fan oven to 160°C or 325°F. Line your cupcake pan with paper cases.

In a medium bowl sift your flour, cocoa powder, baking powder and salt. Set aside.

In a measuring jug combine buttermilk and red food dye until everything is mixed well and there are no small bits of food colouring in buttermilk.

Using a hand mixer beat the butter for a 1-2 minutes then add the sugar and vanilla extract and beat until combined. Add the egg and beat until everything is pale and fluffy. Stop the mixer and scrape down the sides of the bowl.


Turn the mixer on medium and add flour in three batches, alternating with the wet ingredients. It's important to begin and end with flour mixture. Mix only until combined, you don't want to overmix your batter and risk cupcakes being tough. At the very end, in a small jug combine white vinegar and baking soda and immediately stir in the cupcake batter.

Divide the batter evenly among the paper cases, filling them ⅔ of the way full.

Bake for 18-20 minutes or until toothpick inserted in the middle comes out with a few moist crumbs.

Allow the cupcakes to cool completely on a wire rack before frosting them
Ermine Vanilla Buttercream
In a small saucepan combine flour, sugar, salt and milk. Cook over medium-high heat, stirring constantly with a whisk until it thickens. After it has boiled, cook for another 2 minutes.

Once it's done, transfer it to a bowl, put a cling film over it touching the surface to prevent "skin" forming and let it cool to room temperature. This is your pudding base. You can do this in a fridge, but before using it let it come to room temperature.

Using a stand mixer fitted with the paddle attachment, beat the butter for 5 minutes until it's pale and fluffy. Then add spoonful by spoonful of previously made pudding. Mix until it's all nicely incorporated and with no lumps. Add the vanilla extract and beat for another 30 seconds.
Notes
Please note: I don't feel comfortable converting my recipes to cup measurements because I've never used cups. They are not precise enough, so I definitely advise you to buy a kitchen scale. They are cheap and easy to use.
That being said, here is the link for an online converter that may help you convert this recipe to cups, if you prefer it that way. Bear in mind that I don't know if it will be converted the right way and how will the recipe turn out. 
IMPORTANT
All the recipes are developed and tested using only metric measurements and a kitchen scale. The U.S. cup and spoon measurements are provided for your convenience, but I highly recommend getting a digital kitchen scale and measuring in metrics. It's easy and always guarantee the same results in baking!
The nutritional information and US conversions are calculated automatically. I cannot guarantee the accuracy of this data. If this is important to you, please verify with your favourite nutrition calculator and/or unit conversion tool.
Have you tried this recipe?
Tag me on Instagram @anasbakingchronicles or use the hashtag #anasbakingchronicles - I love seeing your creations!