Rich and moist chocolate cupcakes, filled with amazing salted caramel sauce and topped with silky peanut butter buttercream frosting. A classic combination that nobody can say no to!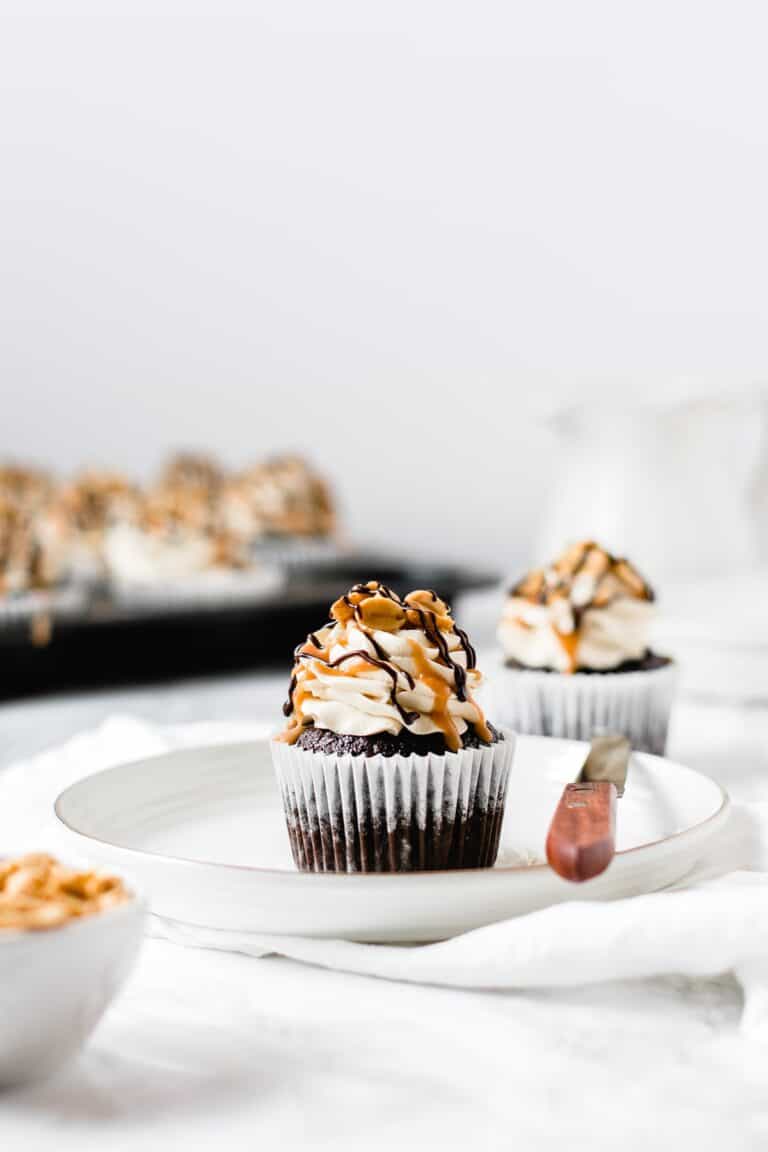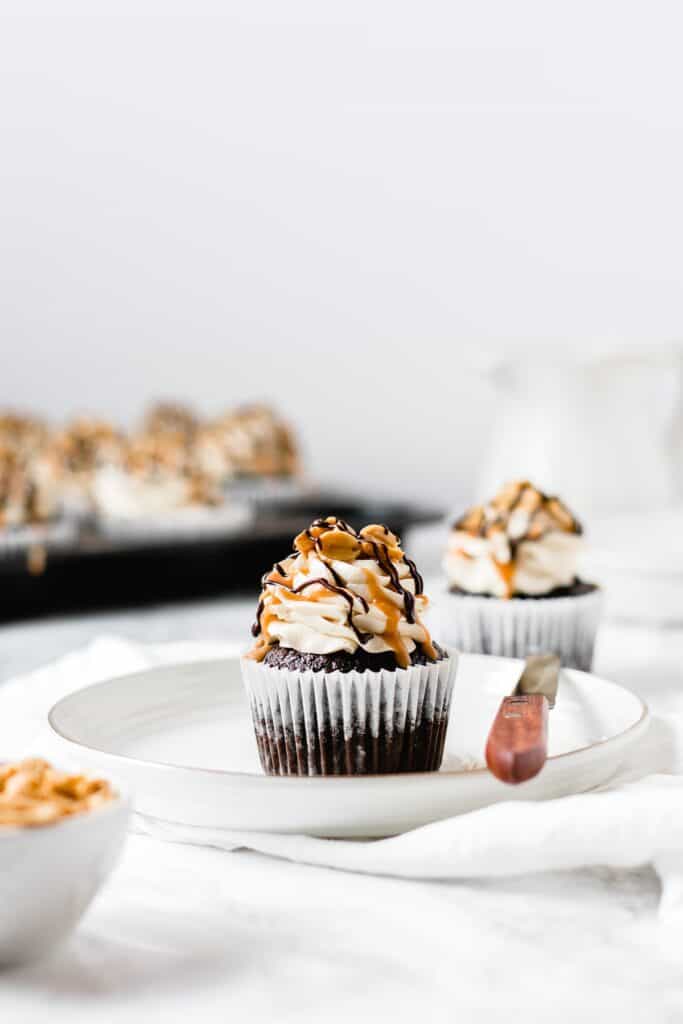 I'm pretty sure this combination of flavours is adored all over the world. Peanut butter, chocolate and salted caramel. Gahh! I mean, these are SNICKERS flavours for God's sake! Which is, like, the best candy bar EVER. Who agrees with me? Let me hear ya!
For these peanut butter chocolate cupcakes, I used my favourite chocolate cake recipe and adjusted it to get 12 cupcakes. My cupcake liners are 4 cm tall and 5 cm wide, so if you have a slightly smaller liners you'll end up with a couple more cupcakes. Which is totally not a bad thing! 🙂
As for the peanut butter buttercream, it's the perfect combination of sweet and salty. Silky and not overly sweet. Just make sure you use storebought stiff peanut butter and not organic one which is quite loose and can alternate the texture of your buttercream.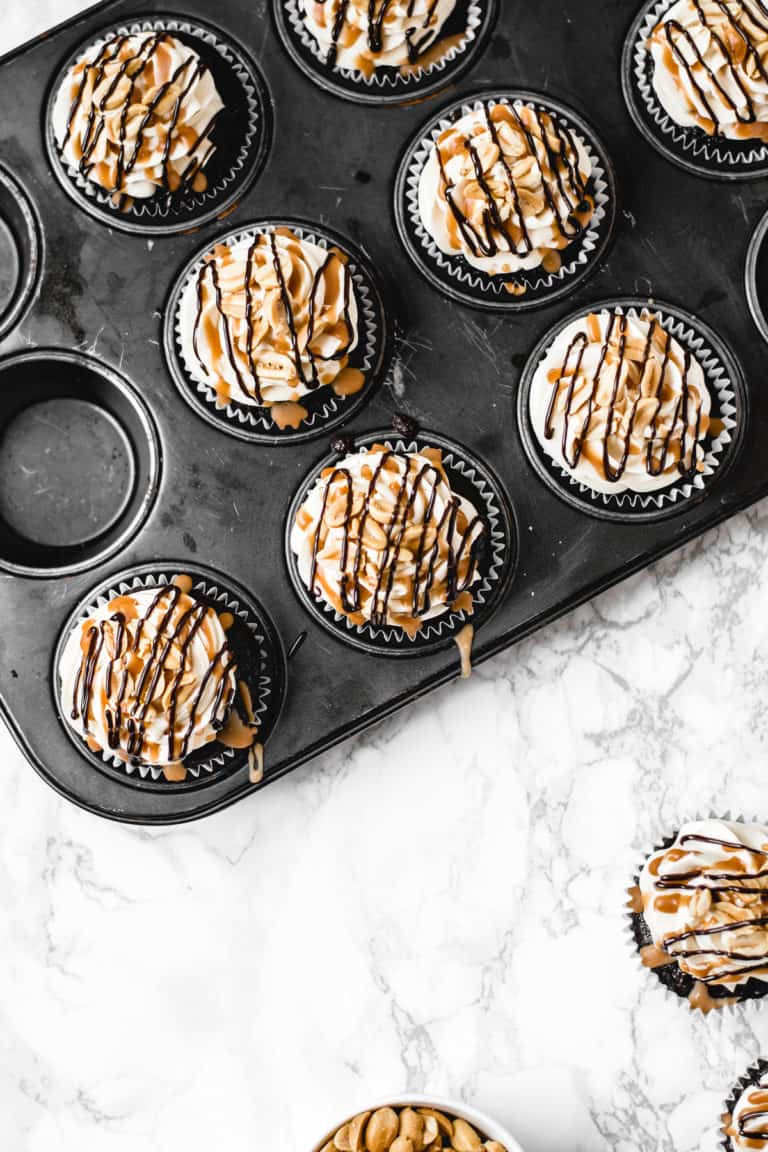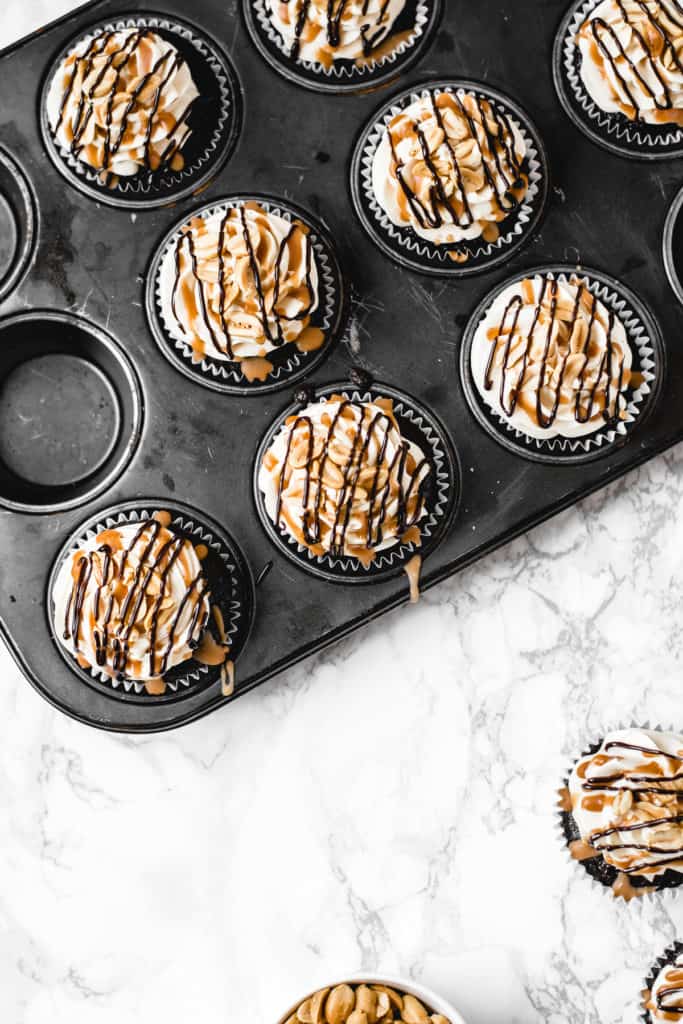 tips for making salted caramel sauce:
Don't stir it - otherwise the sugar will crystallize and you'll have to do it again.
Use light coloured pan so you tell when your caramel is ready.
Speaking of pans, use a thick bottomed one so your sugar heats up gradually and more evenly.
Always heat up heavy cream before pouring it into hot caramel so the difference in temperature is not that big. This will minimize bubblying.
DO NOT TRY TO LICK THE SPOON ONCE IT'S DONE BECAUSE YOU WILL BURN YOURSELF.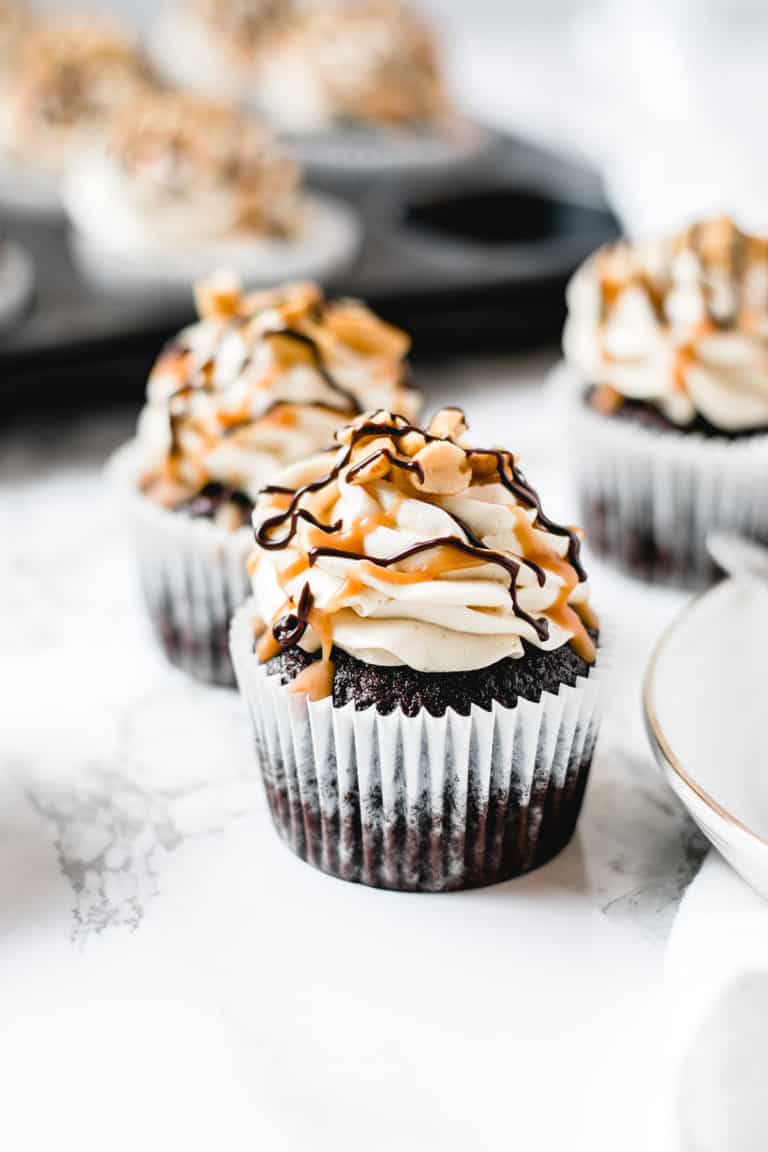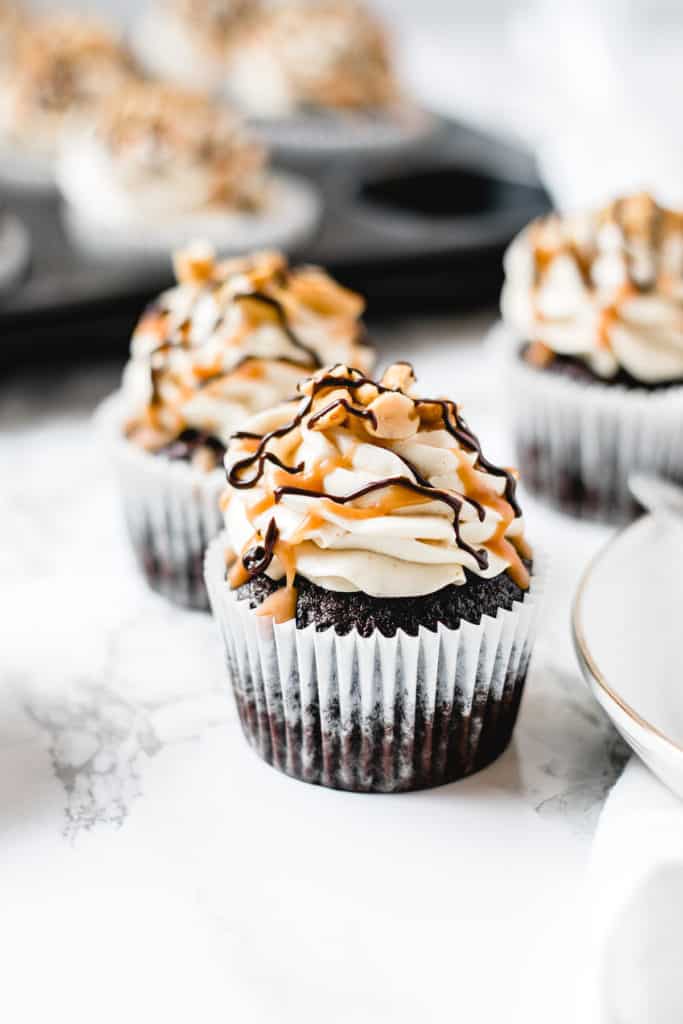 I'm sorry to inform you that I don't have a photo of a luscious caramel filling oozing out of these perfect peanut butter chocolate cupcakes. My bad. Truth be told - I wanted to take these to work, to surprise my colleagues, and didn't want to sacrifice any for the image haha. Luckily, for more detailed tips on making caramel sauce and seeing it in the middle of your cupcake, check out this recipe - Applesauce Caramel Cupcakes 🙂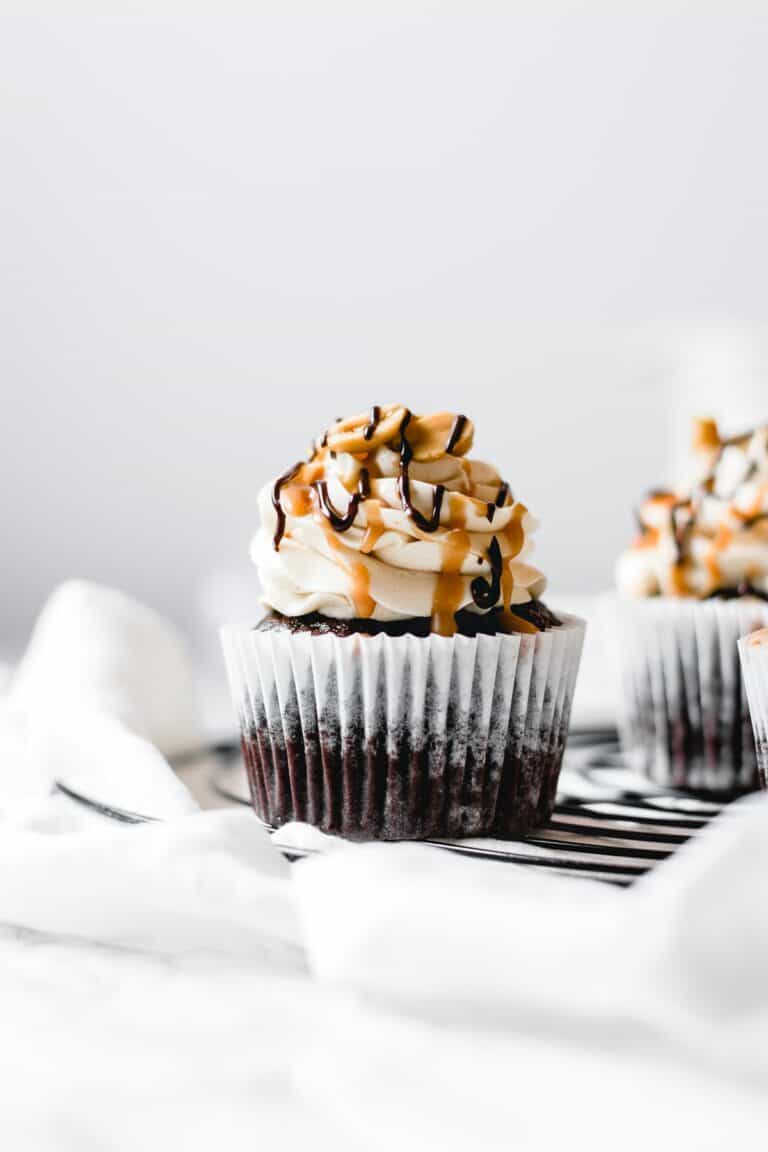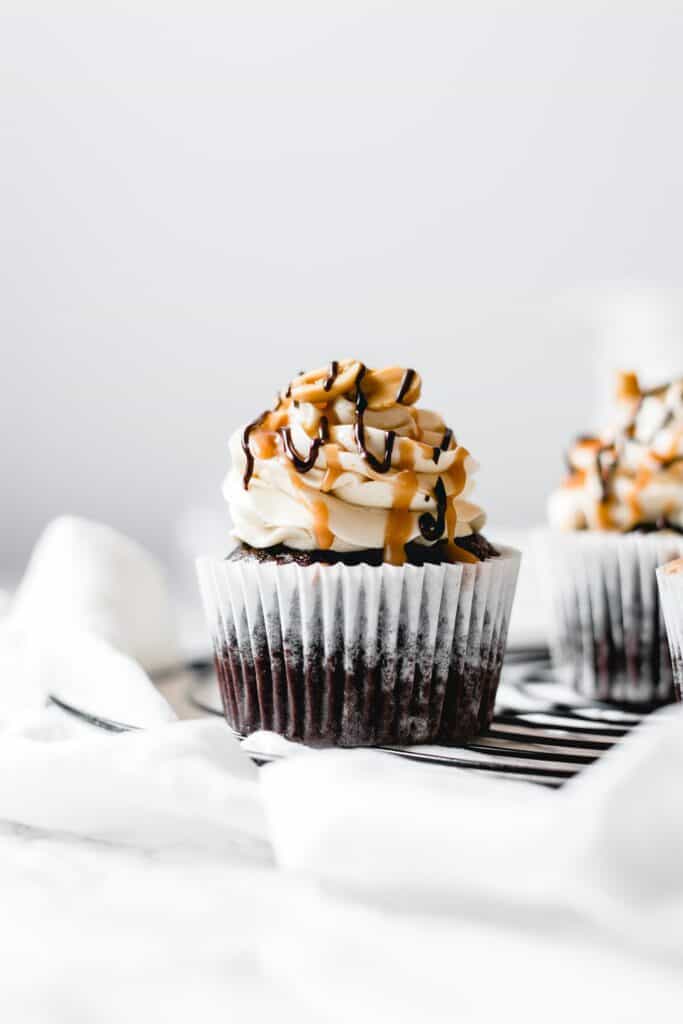 ARE YOU INTO CHOCOLATE CAKES? TAKE A LOOK AT SOME OF MY FAVOURITES:
Chocolate Hazelnut Cake
Chocolate Berry Cake
Ultimate Triple Chocolate Cake
Zebra Marble Layer Cake
If you make these amazing Peanut Butter Chocolate Cupcakes, let me know by tagging me on Instagram @anasbakingchronicles or tell me all about it in the comments section down below! I love seeing your creations! If you have any questions, don't hesitate to ask! Happy baking! 🙂
Love,
A.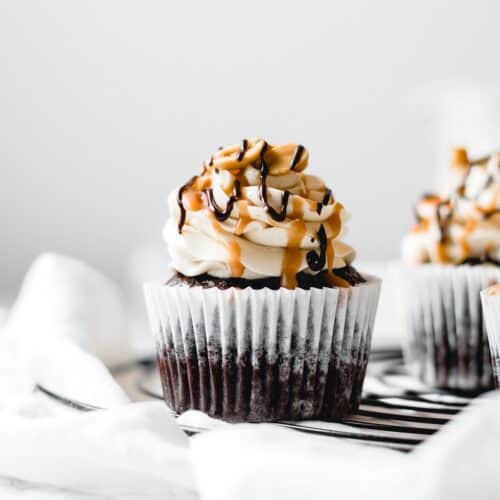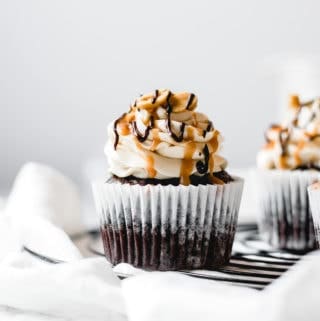 Peanut Butter Chocolate cupcakes filled with Salted Caramel
Description
Ingredients
Chocolate Cupcakes
1

large

egg

(room temperature)

75

g

vegetable oil

(I used sunflower)

130

g

full fat sour cream

(room temperature)

½

teaspoon

vanilla extract

115

g

all-purpose flour

50

g

dutch-processed cocoa powder

1 ½

teaspoon

baking powder

⅓

teaspoon

salt

150

g

white granulated sugar

45

g

brown cane sugar

75

g

hot water
Salted Caramel
150

g

white granulated sugar

40

g

water

120

g

heavy cream

(min. 36% fat)

¼

teaspoon

salt
Dark Chocolate Ganache Drizzle
70

g

dark chocolate

((50-605% cocoa solids))

70

g

heavy cream
Peanut Butter Buttercream Frosting
30

g

all-purpose flour

150

g

granulated sugar

250

g

whole milk

¼

tsp

salt

225

g

unsalted butter

(room temperature)

1

teaspoon

vanilla extract

70

g

peanut butter

(smooth)
Instructions
for chocolate cupcakes
Preheat your fan oven to 160°C (325°F) or 175°C (350°F) if you're not using a fan oven. Line your cupcake pan with paper cases. Depending on their size, this recipw will yield 12 to 14 cupcakes.

In a medium bowl sift together flour, cocoa powder, baking powder and salt. Add sugars, whisk until combined and set aside.

In a small bowl or a measuring jug, whisk together eggs, vegetable oil, sour cream and vanilla extract. These are your wet ingredients.

In a small pot, bring your water to a boil or simmer, it's important that it's hot. Add the wet ingredients to dry ones, stir a little bit, it'll be somewhat dry. Then add the boiling water and whisk until combined. I usually add the water in two stages to minimize clumps forming.

Divide the batter evenly among the paper cases, filling them ¾ of the way full. Bake for 18-22 minutes or until they're springy on the top. You can poke one with a toothpick - if it comes out with a few moist crumbs, they're done.

When they're done, leave them in pan for 5-10 minutes to cool. Then transfer them to a wire rack to cool completely before frosting.
for caramel sauce:
In a thick bottom saucepan combine sugar and water. Make sure every sugar granule is covered with water. Heat it up over medium to high heat, until it reaches golden amber colour. DO NOT STIR IT. This will take about 15 minutes.

While the sugar is dissolving, heat up the heavy cream to a simmer. Once the sugar syrup reaches a desired colour, pour the heavy cream over it in a steady stream, stirring constantly with a silicone spatula. There will be a lot of bubbles and steam, be careful not to burn yourself.

Once all the bubbles have subsided, put the saucepan back on the stove and cook it for 1-2 minutes, stirring constantly. When it's done, put the caramel sauce in a clean jar and leave it to cool to room temperature.

for dark chocolate ganache drizzle:
Place finely chopped chocolate in a bowl. Bring heavy cream just barely to a simmer and pour over chopped chocolate. Cover it with a plate and leave it 1-2 minutes. Stir with a spatula until combined and smooth.
for peanut butter buttercream:
In a small saucepan (I always use heavy-bottomed one to prevent burning) combine flour, sugar, salt and milk. Cook over medium-high heat, stirring constantly with a whisk until it thickens. This can take about 15 minutes. The moment you realize it's thicker, cook for another 3-4 minutes. It should look a little bit like a loose pastry cream.

Once it's done, put a cling film over it touching the surface to prevent "skin" forming and let it cool to room temperature. This is your pudding base. You can do this in a fridge, but before using it let it come to room temperature.

Using a stand mixer fitted with the paddle attachment, beat the butter and peanut butter for 5 minutes until it's pale and fluffy. Then add spoonful by spoonful of previously made pudding. Mix until it's all nicely incorporated and with no lumps. Add vanilla extract and mix until everything is combined.
Assembly:
Using an apple corer, core the middle of each cooled cupcake and fill it with caramel sauce. Put the buttercream in a piping bag fitted with 2D tip (or whichever you prefer ? ) and frost the cupcakes. Drizzle them with the rest of caramel sauce and chocolate ganache and top with some roasted & salted peanuts.

They are best eaten at room temperature. You can keep them in an airtight container at room temperature for 2 days or longer in the fridge. Just let them come to room temperature before eating them. Fridge makes cakes and cupcakes drier so bear that in mind.
Notes
You can use a hand mixer if you don't have a stand mixer.
For tips on making caramel sauce check out this post!
If you still don't own one, I advise you to buy a kitchen scale - they're cheap and easy to use, and always guarantee the same results in baking! 
Not all ovens are the same. I suggest to check the cupcakes at 18 minute mark and then adjust the baking time accordingly. Get to know your oven! 
The nutritional information and US conversions are calculated automatically. I cannot guarantee the accuracy of this data. If this is important to you, please verify with your favourite nutrition calculator and/or unit conversion tool.
Have you tried this recipe?
Tag me on Instagram @anasbakingchronicles or use the hashtag #anasbakingchronicles - I love seeing your creations!