Pillowy soft heart shaped doughnuts filled with jam are everyone's favourite treat this February. Learn how to make them and impress others!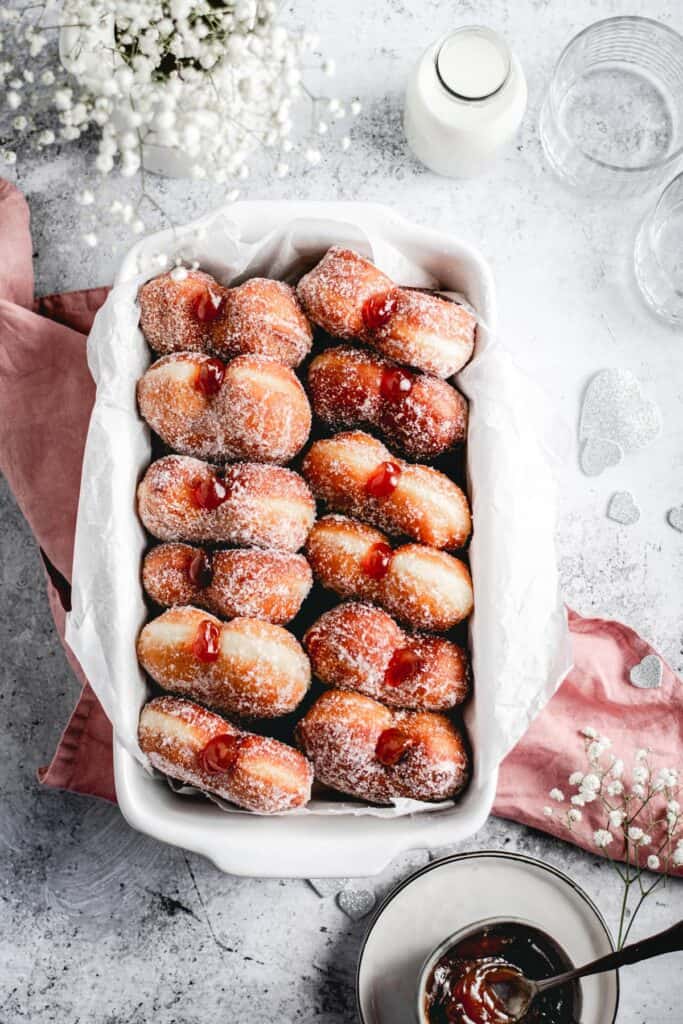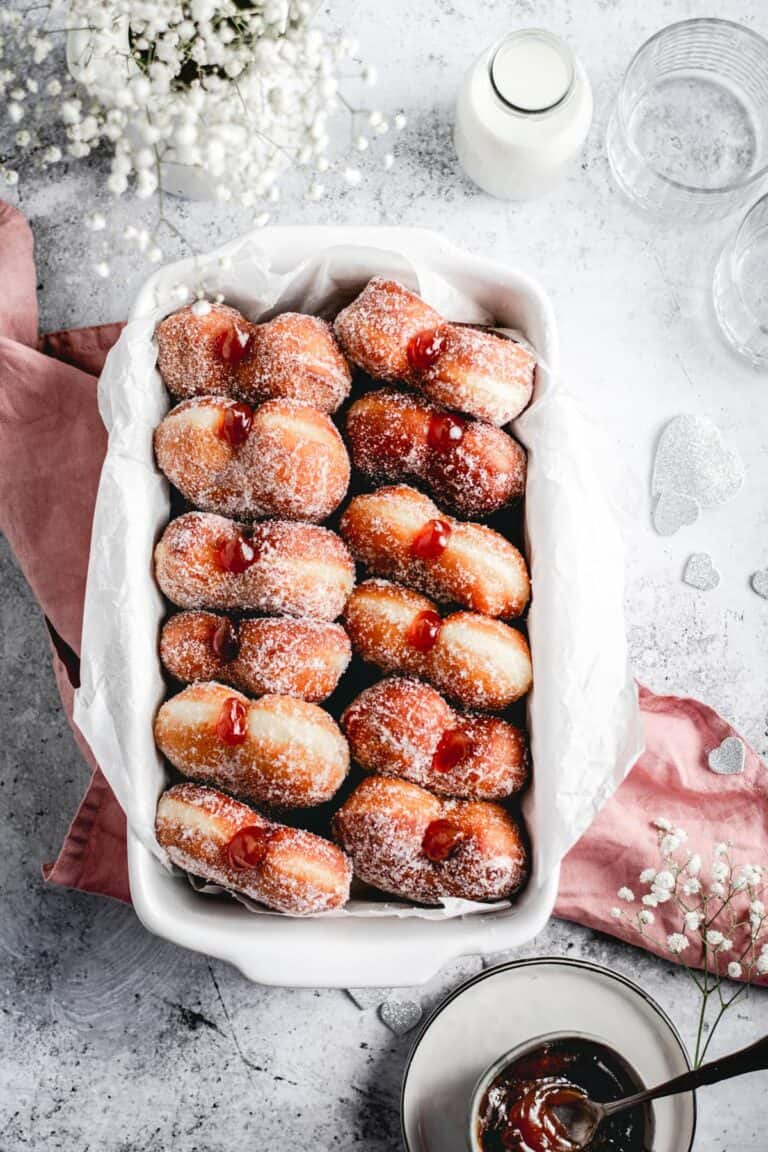 It's February - the month of love and carnival. And what a better way to address them both, than through cute heart shaped jelly doughnuts! Box of chocolates vs. box of homemade doughnuts this V-day?
HOW TO MAKE THE BEST HOMEMADE JAM DOUGHNUTS
Speaking from experience, yeast leavened doughs are often the hardest to master.
The reason is often a poorly written recipe with not enough information for the beginner baker. Ive done my best to explain the process thoroughly, to make it easier for you - but if you still find some things no clear enough, don't hesitate to ask me! You can do this over on IG, by sending an e-mail or commenting down below.
There are two main reasons why your dough making is going wrong:
You're not kneading it enough. (I know, I've been there)
The liquids used in the recipe aren't the right temperature. Too hot and it will kill the yeast, too cold and it won't activate it. Hence, your dough is not rising and getting all fluffy and beautiful.
The first mistake I've experience a lot of times, because most recipes in Croatian were stating to use the wooden spoon for kneading/beating the dough. Naturally, at some point you start losing the little strength you had in your arms and you just give up kneading. Thinking - oh, they'll be alright.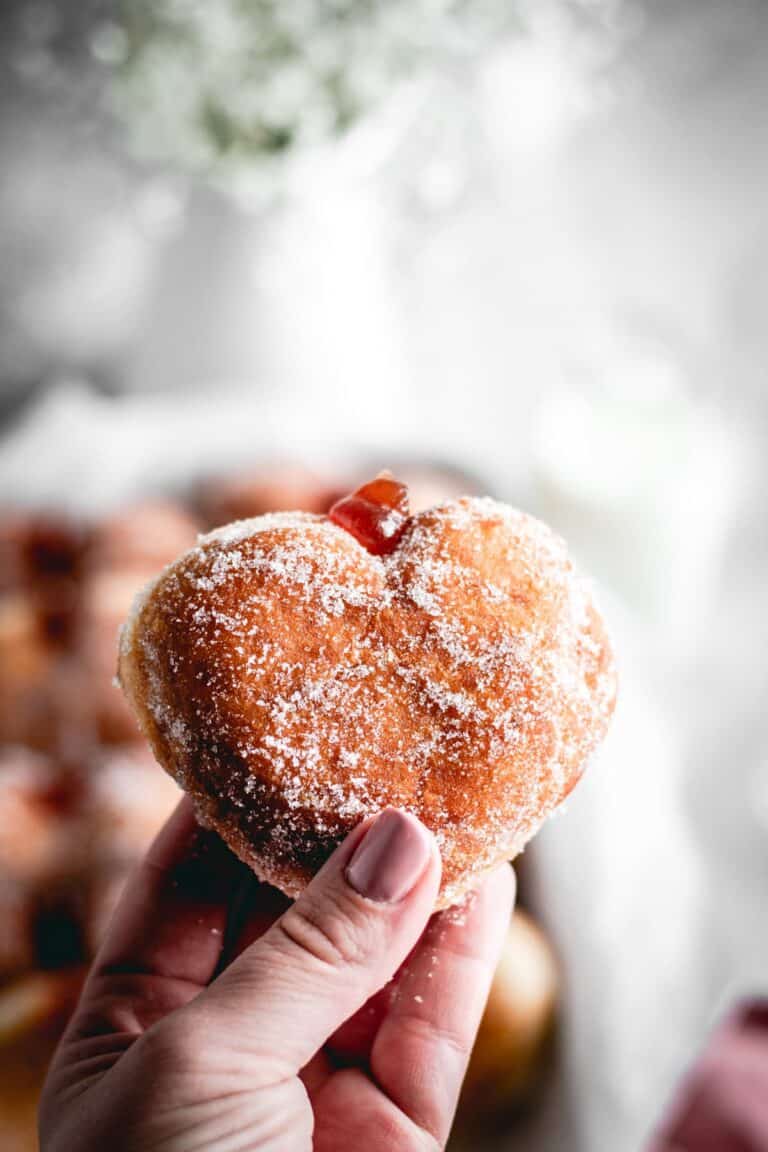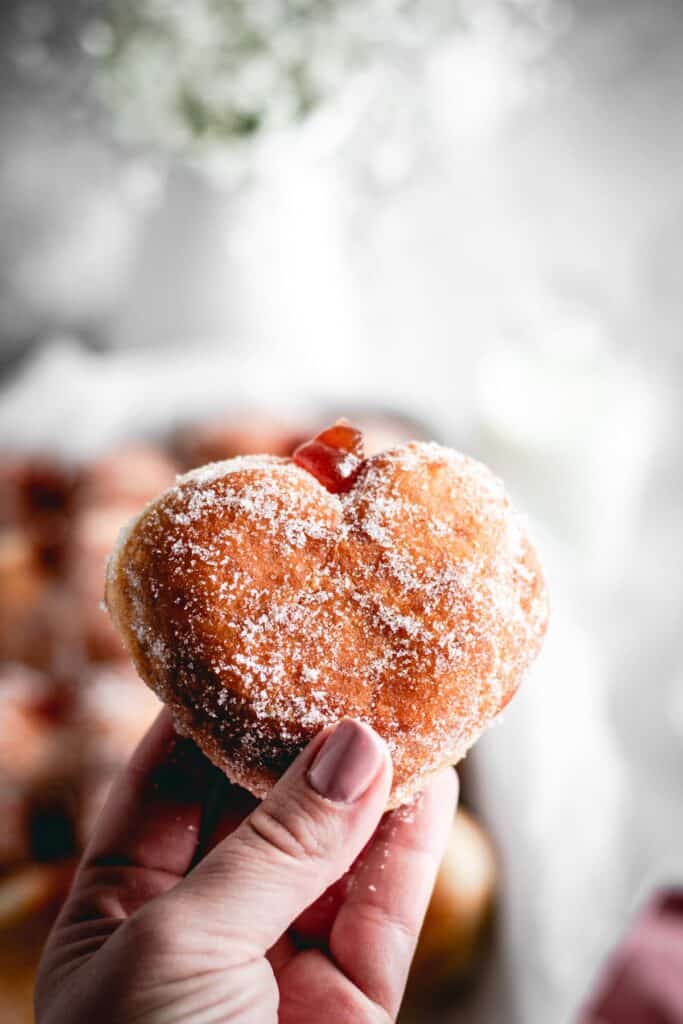 Then I discovered a standing mixer, *thank God*, and finally I was able to make wonderfully fluffy doughnuts! You just let than thing beat on medium-low speed for at least 10 minutes or until your dough is starting to pull off the sides of the bowl and becomes smooth on the touch, but still a little bit sticky. Alternatively, you can use an electric hand mixer fitted with proper dough attachments.
When it comes to liquid, I find the mix of water and full fat milk to work best in doughnuts. It's important that your water is approx. 45˚C in order to activate the yeast. Even if I'm using an instant dry yeast, I like to activate it prior to using, because I had some bad experience before.
ONE IMPORTANT NOTE ON FLOUR
Even if you always buy the flour from the same brand, the flour might differ - it's normal. Sometimes flour will soak up more liquid, sometimes less. The measurements here are something that works in 90% of the time, but if you're kneading your dough for more than 10 minutes and it's still very sticky and soft, then by all means add some more flour. I suggest adding 50 g at the time and giving some time for flour to soak up liquid.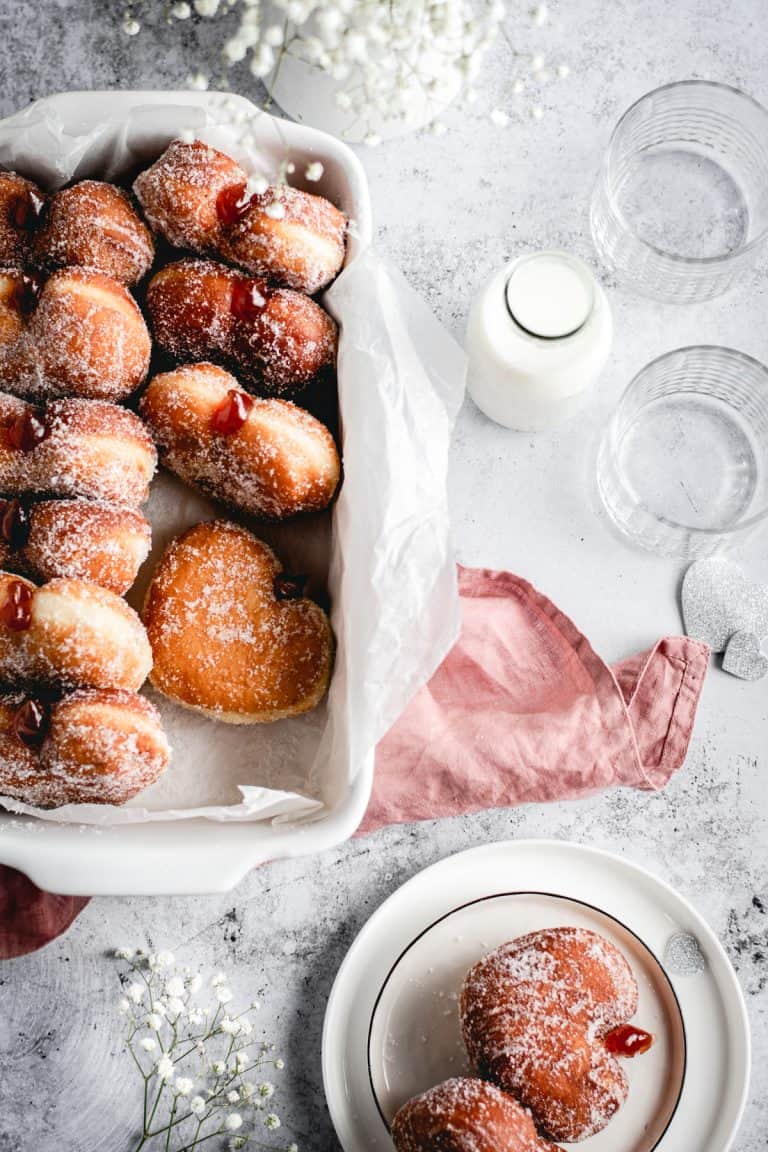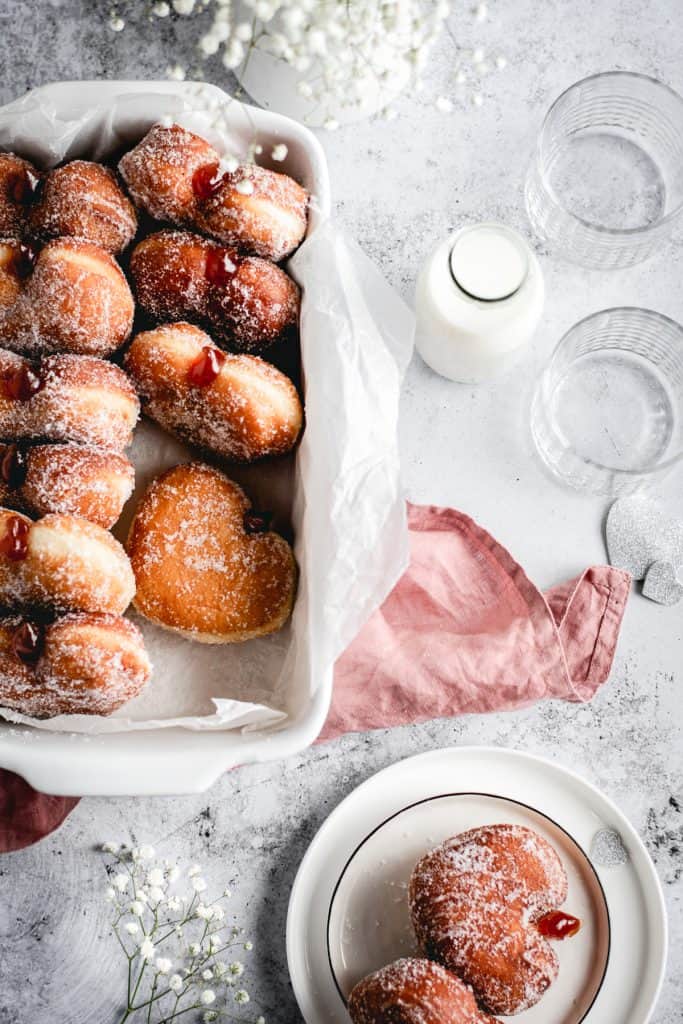 TOP TIP FOR PROOFING YOUR DOUGH: If you can't find a warm spot in your home, preheat your oven to 50˚C (120˚F), turn it off and let your doughnuts prove in there.
CHECK OUT SOME OF MY FAVOURITE RECIPES TO MAKE THIS VALENTINE'S DAY!
Caramel Popcorn Chocolate Cake
Cookie Butter Swirl Brownie
Dulce de Leche Banana Cake
Pistachio Raspberry Cream Puffs
No Bake Nutella Cookie Dough Cheesecake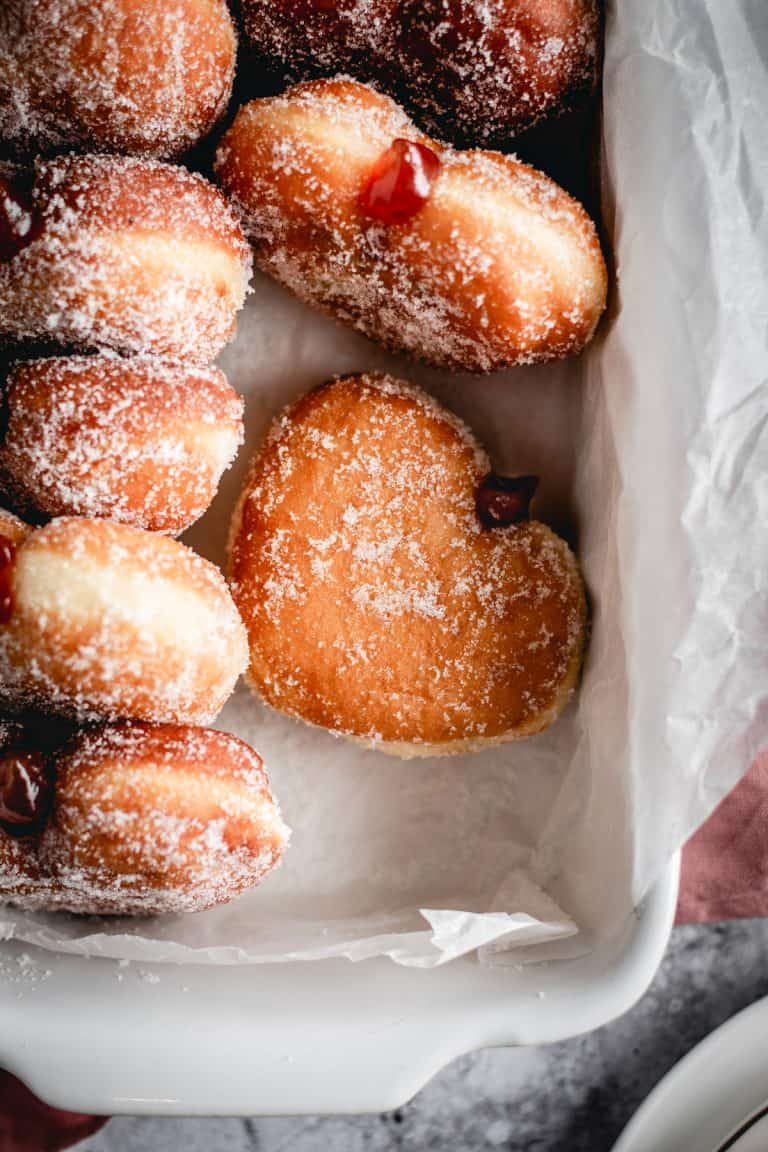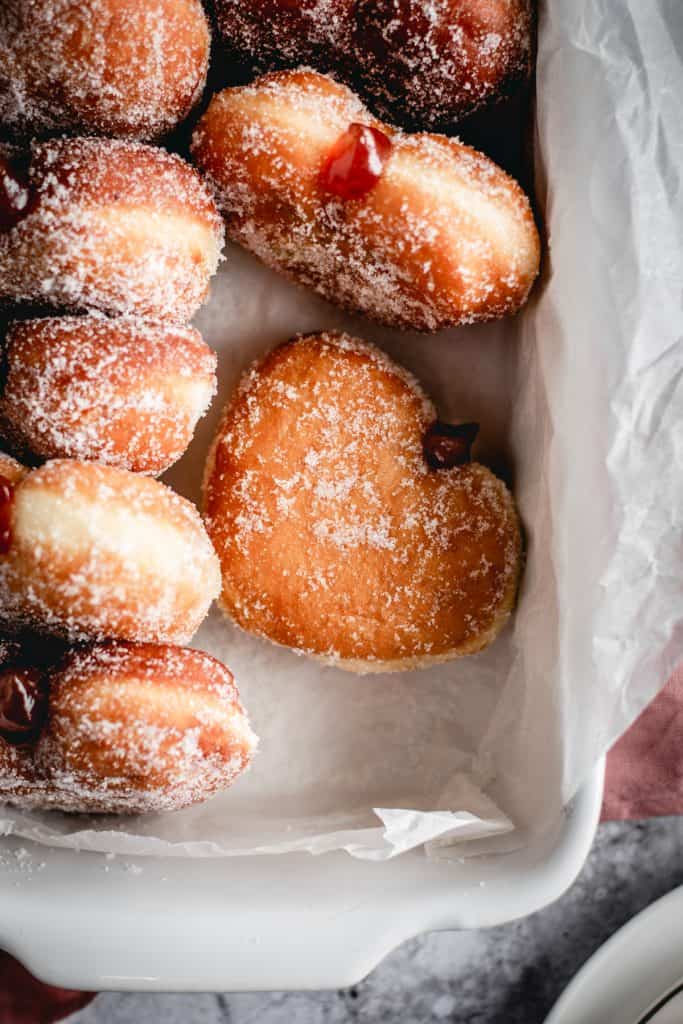 If you make these delicious heart shaped jam doughnuts this Valentine's day, let me know by tagging me on Instagram @anasbakingchronicles or tell me all about it in the comments section down below. I love seeing your creations! If you have any questions, don't hesitate to ask. Happy baking!
Love,

📖 Recipe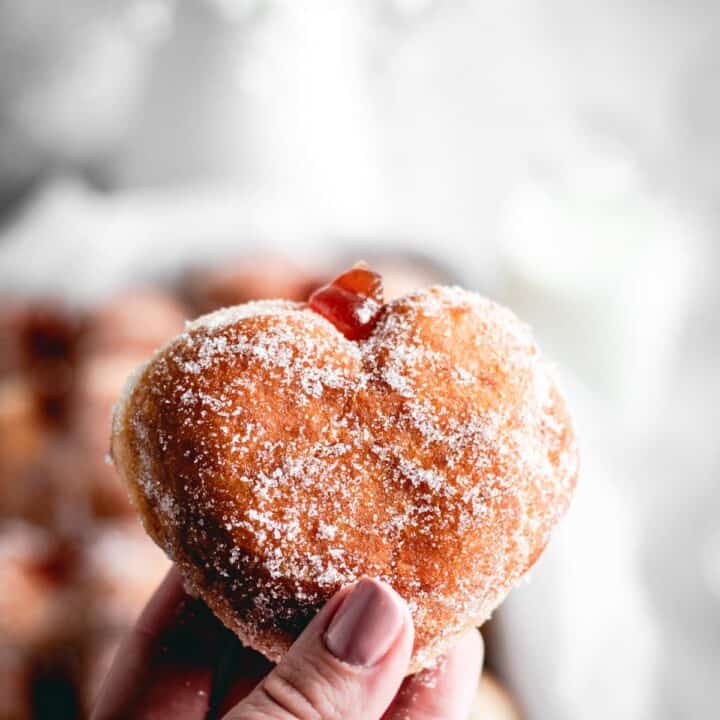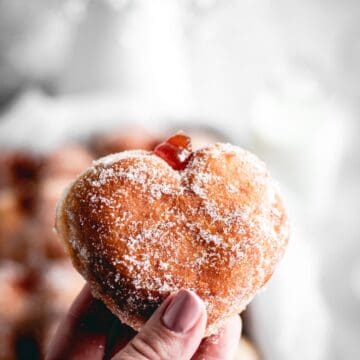 heart shaped jam doughnuts recipe
Description
Soft and fluffy yeast leavened doughnuts filled with jam - perfect gift for your special someone!
ingredients
Dough:
550

g

all-purpose flour

½

teaspoon

salt

¼

teaspoon

ground nutmeg

60

g

caster sugar

(( + 1 teaspoon ))

1

package

active dry yeast

(( 7g / ¼ ounce / 2 ¼ teaspoons))

2

large

egg yolks

(room temperature)

1

large

egg

(room temperature)

55

g

lukewarm water

((approx. 40°C))

280

g

warm whole milk

100

g

unsalted butter

orange/lemon zest

(optional)

+ sunflower oil for frying

favourite jam for filling
Instructions
For the dough:
In the bowl of your standing mixer sift and combine flour, salt, ground nutmeg and sugar. Set aside.

In a glass or a small bowl, combine active dry yeast, teaspoon of sugar and lukewarm water. Let it rest for 5 minutes until the top becomes frothy.

In the meantime, warm your milk (but don't let it boil) and pour it over the butter which you've previously cubed and put in a medium sized bowl. The milk should melt the butter and everything should be body temperature prior to using.

Now, add the whisked eggs, yeast and butter/milk mixture to the flour mixture, fit your standing mixer with a dough hook and let it knead on medium-low speed for about 10 minutes. The dough is ready when it starts pulling away from the sides of your bowl and is soft to the touch.

Transfer the dough to a large bowl which you've previously floured or lightly greased so it doesn't stick. Cover with a clean tea towel or cling film and allow it to rise in a warm place for about an hour or until it doubles in size.

Once your dough is ready, punch it a little to deflate it, transfer on a clean, floured surface then roll the dough to about 1.5 to 2 cm thick. (around ½ inch to ¾ inch). Using a 5 cm (2 inch) heart shaped cookie cutter, cut the dough into hearts and place on a baking sheet lined with baking paper. Cut a little triangle on the crease of each doughnut to make sure they keep heart shape. Cover with a clean tea towel or plastic wrap and let them rest and rise for another 20 to 30 minutes. 

You don't want to overproof your doughnuts, otherwise they will become hollow inside. When the dough is ready, heat approx. 1 litre of vegetable oil in a heavy-bottomed pan. Oil should be between 170 and 180 degrees Celsius. That's around 340 to 350F. 

Fry 3-4 doughnuts at a time for a couple of minutes on each side or until golden.  Take them out to a plate covered with paper towels. Let them cool completely before filling and covering with sugar. 
Notes
If you don't have a stand mixer, you can use an electric hand mixer with dough kneading attachments or a wooden spoon.
If you still don't own one, I advise you to buy a kitchen scale – they're cheap and easy to use, and always guarantee the same results in baking! 
IMPORTANT
All the recipes are developed and tested using only metric measurements and a kitchen scale. The U.S. cup and spoon measurements are provided for your convenience, but I highly recommend getting a digital kitchen scale and measuring in metrics. It's easy and always guarantee the same results in baking!
Nutrition
Nutrition Facts
heart shaped jam doughnuts recipe
Amount per Serving
% Daily Value*
* Percent Daily Values are based on a 2000 calorie diet.
The nutritional information and US conversions are calculated automatically. I cannot guarantee the accuracy of this data. If this is important to you, please verify with your favourite nutrition calculator and/or unit conversion tool.
Have you tried this recipe?
Tag me on Instagram @anasbakingchronicles or use the hashtag #anasbakingchronicles - I love seeing your creations!