With yet another summer coming to an end, I can't think of anything better than this Peach Pavlova with Berries to bid it farewell!
Even though the origin of this delicious meringue cake is still an ongoing debate between Australia and New Zealand, one thing we know for sure is that Pavlova was named after a Russian ballerina, Anna Pavlova.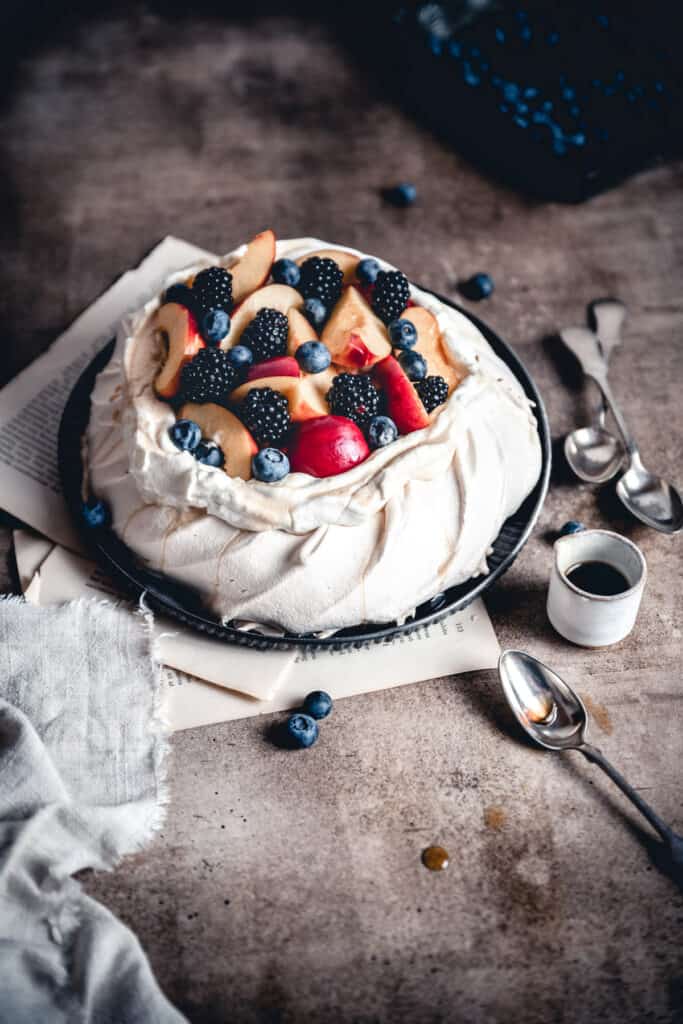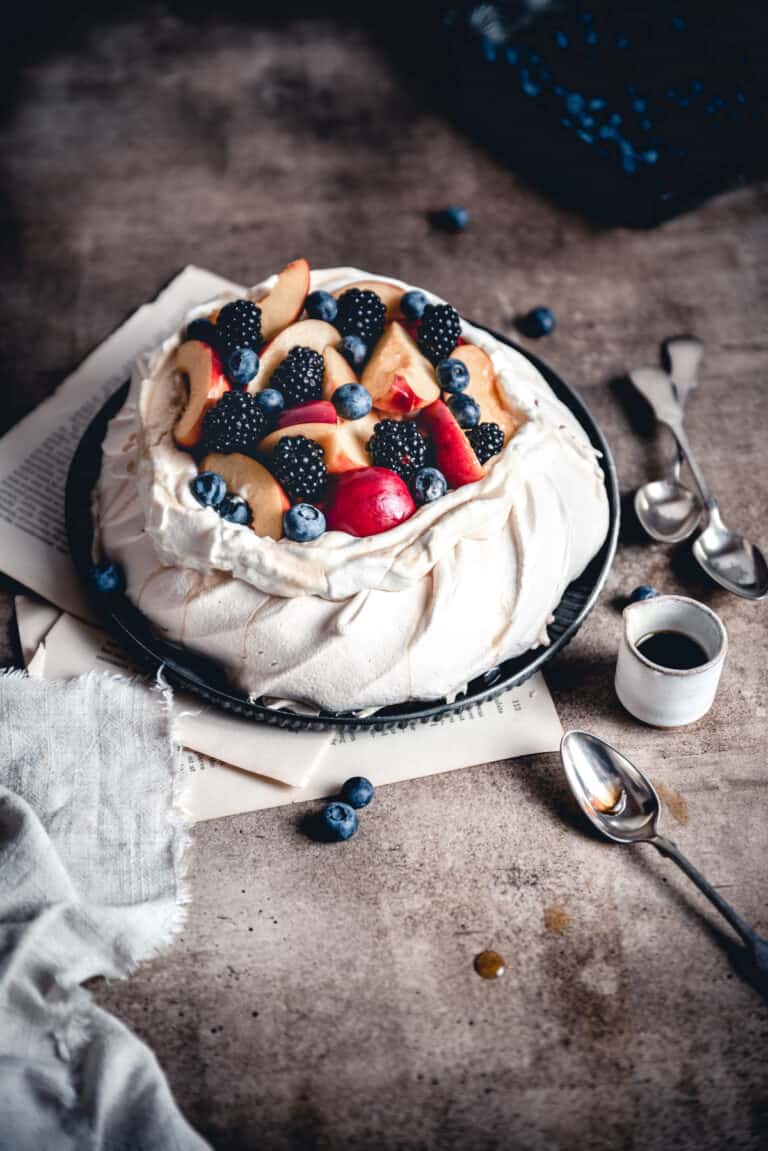 Jump to:
Crispy on the outside, with a soft, almost marshmallow center, Australian pavlova is the perfect vessel for your favorite fruit and toppings. If you're like me, you'll choose this delicious peach pavlova with berries! Or maybe mix it up adding some delicious lemon curd to the party!
Ingredients
You'll need:
egg whites
granulated or caster sugar
fine sea salt
vinegar or lemon juice
cornstarch
vanilla extract (optional)
whipped cream
peaches, berries or other fruit of your choice
In this recipe, we're using the Swiss meringue method, opposed to the more traditional French meringue. That means that there is no need for room-temperature egg whites.
The swiss meringue method consists of heating the egg whites with the sugar over a pot of simmering water (a bain-marie), until the sugar completely dissolves, before beating the mixture to create a fluffy white meringue. This creates a more stable, silky smooth meringue without leftover sugar granules that attract moisture.
However, this method makes it easier for the baking novices to overbeat the meringue, which causes cracking. (Find more tips on pavlova cracking below!)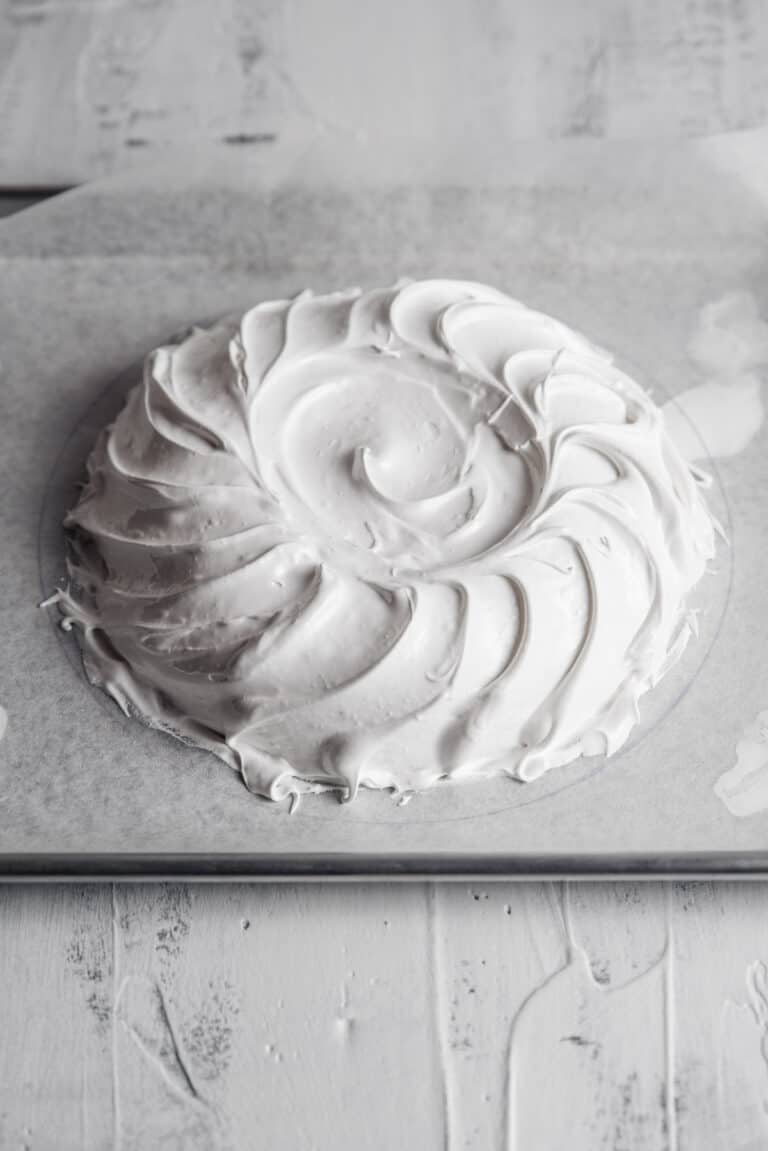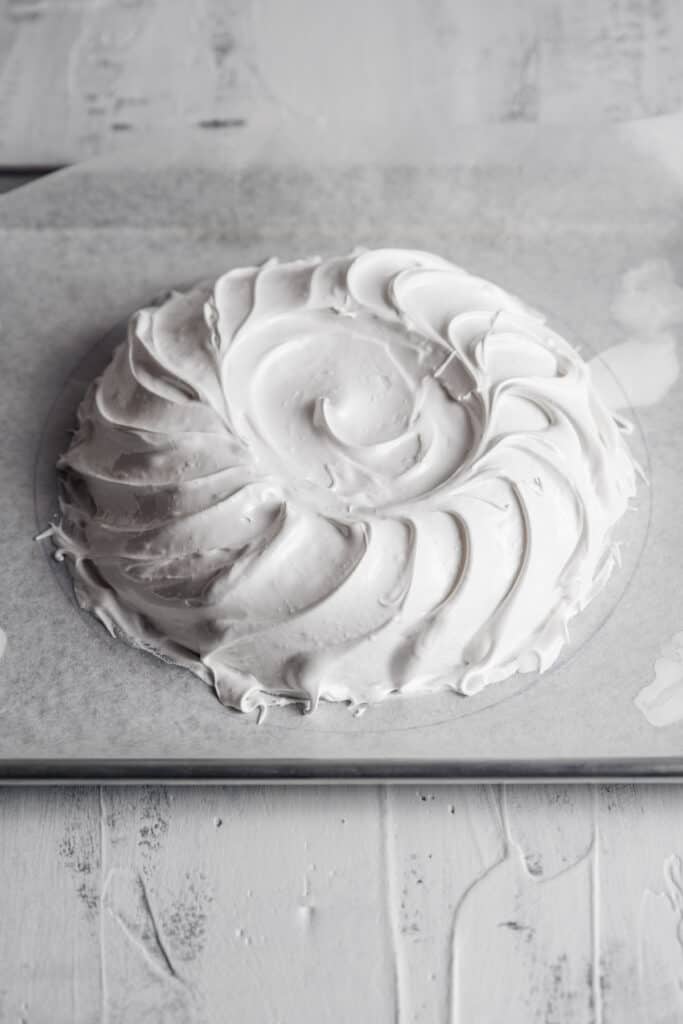 Remember: You have the fully written recipe with detailed instructions at the end of the post, but I advise you to read all the tips and FAQs before making your very own Pavlova!
My top tips for a foolproof Pavlova
If possible, avoid making Pavlova on a humid, wet, rainy day.
Make sure all your equipment is grease free. Use a paper towel and a little bit of vinegar or lemon juice and wipe the bowl, whisk attachment and the spatula you'll use, to make sure everything is clean.
It's easier to separate the cold eggs into whites and yolks. Save the yolks to make a vanilla custard or a fruit curd.
Once you add the cornstarch, beat the meringue very briefly, otherwise with beating too long, you risk getting a soupy meringue. That's why we add the cornstarch at the very end!
Draw a circle guideline using an 8-inch (20-cm) or 9-inch (23-cm) round cake pan on the back of the baking paper, to help you with shaping your pavlova.
Try to resist opening the oven door too soon. Accidentally slamming the oven door or just letting the heat out will cause your pavlova to collapse, because it hasn't dried enough to hold its shape.
Leave it to gradually cool in the oven.
Serve immediately for the best possible Pavlova experience.
Why does pavlova crack and collapse?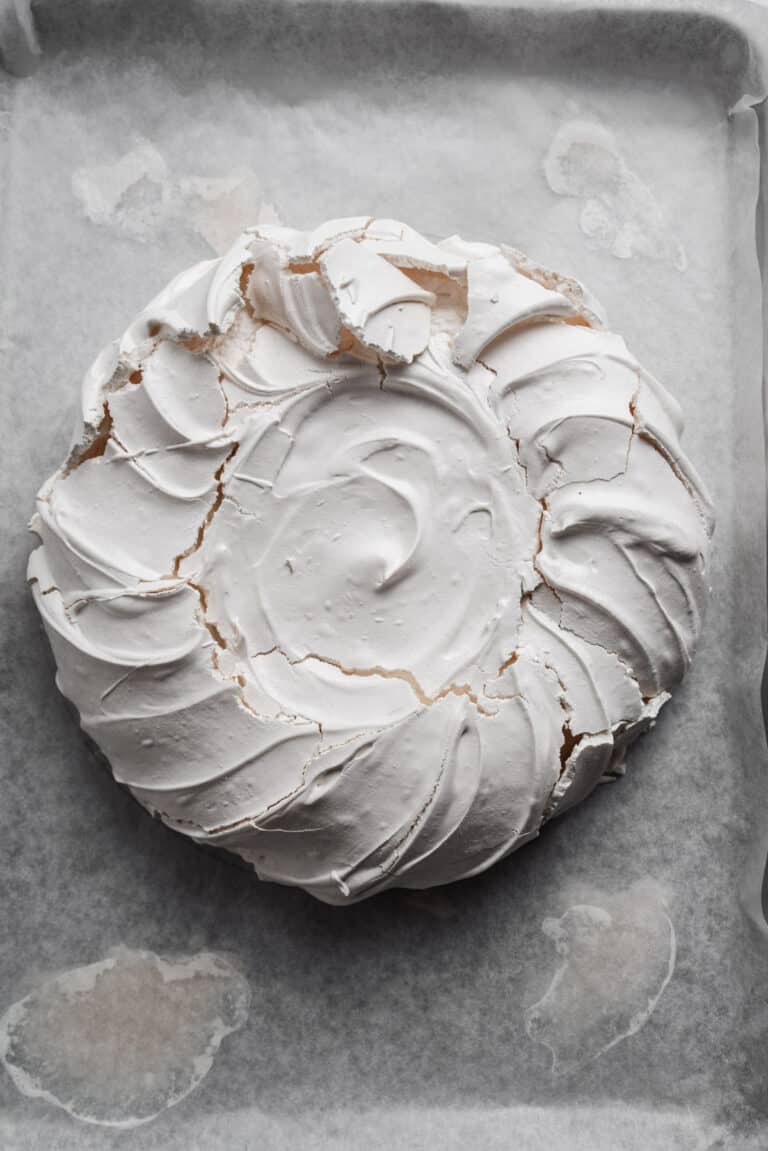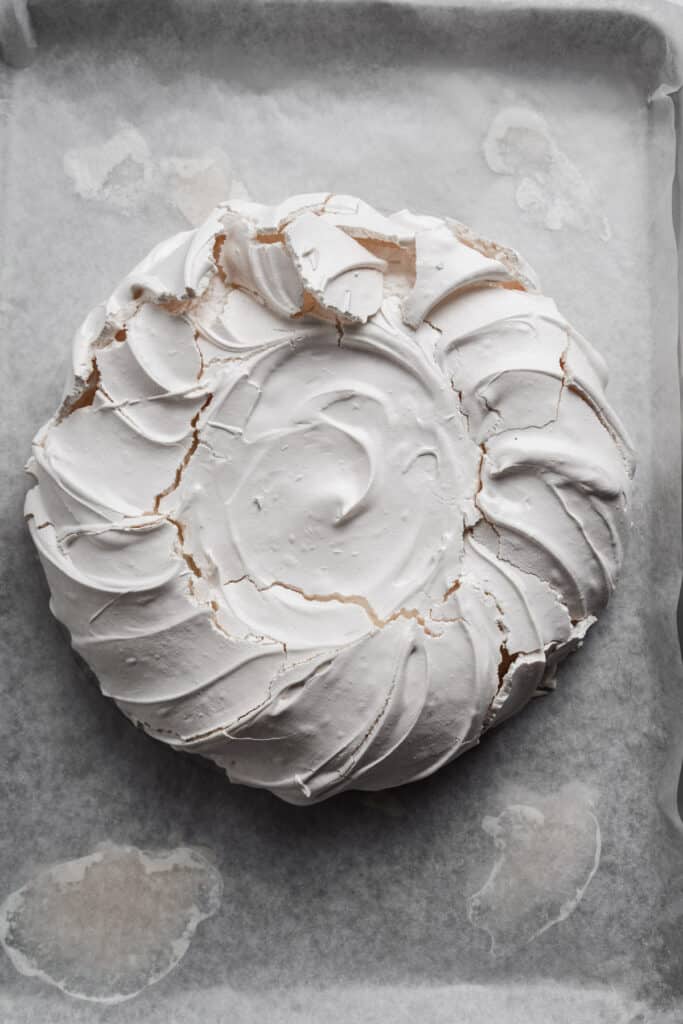 There are a few reasons why pavlova cracks and collapse. However, I want you to know that that happens more often than not and it's nothing to worry about.
Overbeating the meringue—will create too much air pockets. The meringue will fluff up quickly in the oven because of it and once it is done drying, it will simply deflate.
Not adding cornstarch and vinegar—those two ingredients help stabilize the egg whites and produce a softer center.
Too high temperature—since pavlova is essentially drying, rather than baking, too high oven temperature will result in the outer shell getting too crisp too soon, while the center will still be sticky.
Overbaking—even if you're drying your Pavlova on a very low temperature, you can still overbake it by drying it for too long. Very dry Pavlova=cracks.
If your Pavlova gets too brown too quickly, your oven might be running hot. To prevent overcooking Pavlova, lower the temperature for 10 degrees Celsius. If it still feels like your Pavlova is getting more brown, lower the temperature for another 10 degrees Celsius.
Can Pavlova be made ahead?
It depends on your weather conditions. While I don't like to make any meringue-based dessert in advance, you can make the pavlova base a day or two before the assembly and serving. Make sure to keep it away from humidity or any wet places, because the sugar from the meringue will seep out.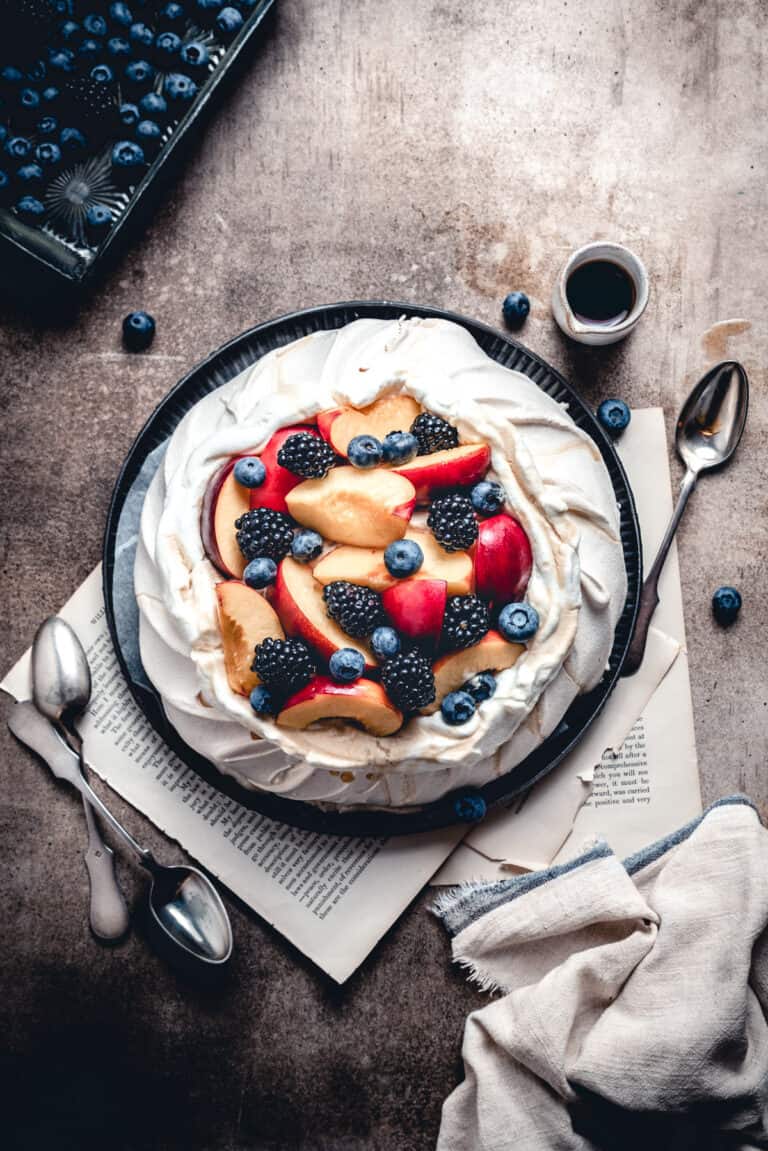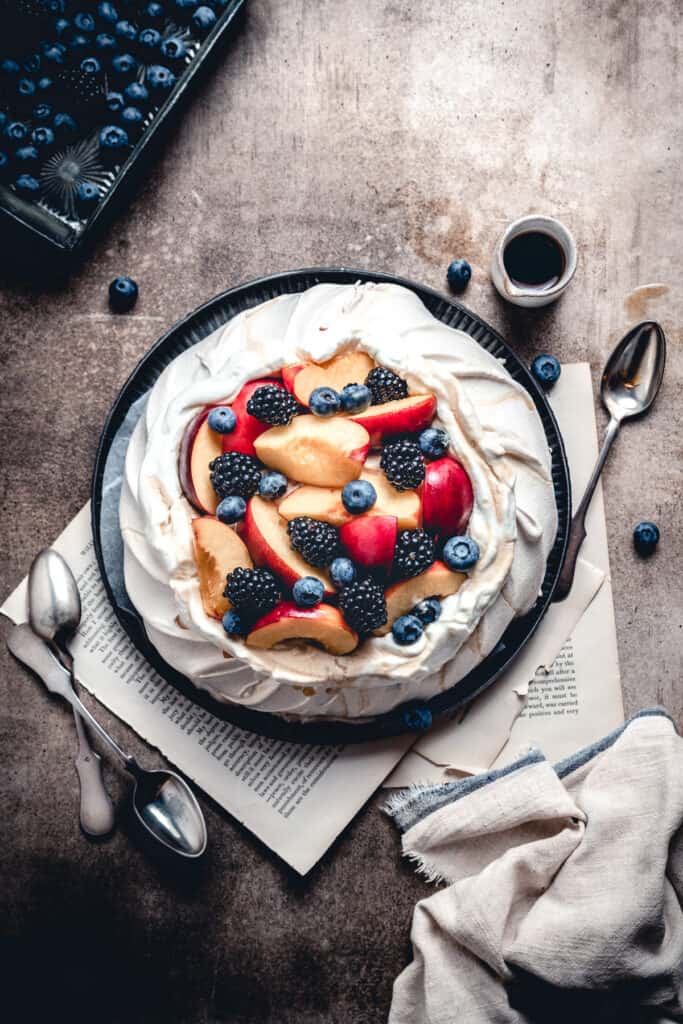 Peach Pavlova FAQs
How to store Pavlova?
If making in advance, store the meringue in an airtight container, without any fillings or fruit. However, I wouldn't recommend making the meringue more than 1 day ahead. This kind of dessert has to be served and eaten the day it's made, for best results and taste.

For leftover Pavlova, store it in the fridge because of the dairy toppings. The fridge will likely cause weeping of the sugar and the shell will become soggier as the toppings sit on it, but at least it will be safe to eat. 🙂
Why is Pavlova sticky?
Most likely the meringue has been exposed to humidity (fridge or a lot of humidity in the air). Since the sugar in the meringue attracts water and thus absorbs moisture, it starts to seep out, which makes the Pavlova sticky. This is nothing unusual but only confirms my advice to make and eat Pavlova the same day. 🙂
What do cornstarch and vinegar do in Pavlova?
They help stabilize the whisked egg whites and produce a soft, marshmallow center that is in classic Pavlova.
What can I substitute cornstarch with?
If you don't have any cornstarch on hand, you can use all-purpose flour, but double the weight amount of cornstarch.
What type of meringue is used for Pavlova?
Traditionally for making Pavlova you would use French meringue, which is the easiest one, where you simply add sugar to the egg whites, one spoon at a time. However, this only works if you have superfine or caster sugar.

If your sugar granules are too big, they won't be able to dissolve properly, thus leaving you with a grainy meringue.

I chose the Swiss meringue method, which leaves you with a little less voluminous, but silky smooth meringue.
Why does Pavlova crack?
I want to ease your mind and say that Pavlova will crack most often than not. This happens due to various reasons, but most likely it's the overbeating meringue that causes cracking because it puffs up a lot while baking and then deflates while cooling.

Other than that, the too-high oven temperature can also cause cracking, because the outside gets dry too quickly and thus overbakes or you didn't let the meringue cool gradually in the oven. The sudden change of temperature shocks the meringue and causes it to crack and collapse.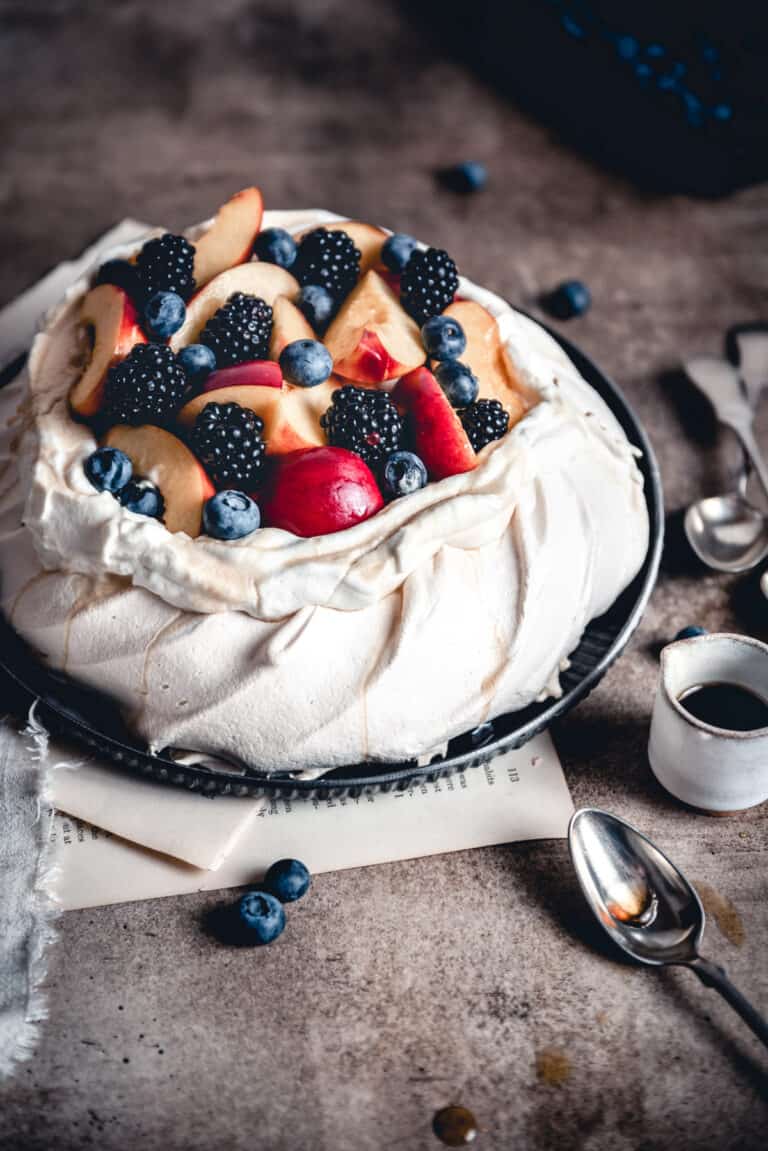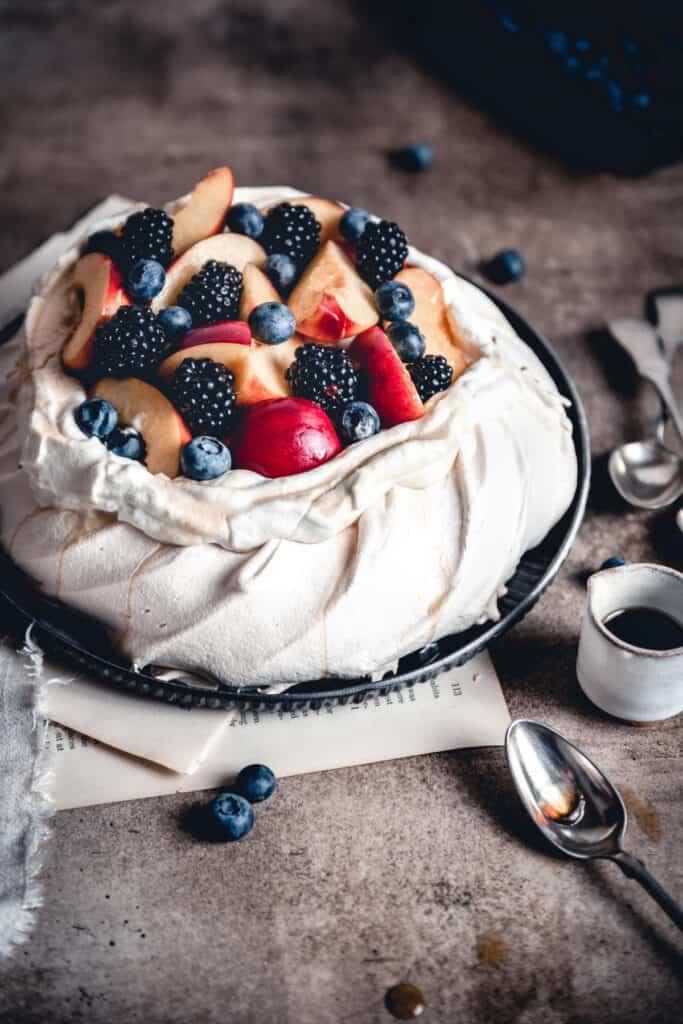 More recipes you might like:
If you have any other questions that I didn't cover, please let me know in the comments section down below. I'd love to help you out! And if you make this peach pavlova with berries, tag me on Instagram @anasbakingchronicles so I can see it, or feel free to e-mail me your pictures and thoughts! I love seeing your bakes!
Happy baking,
Ana
📖 Recipe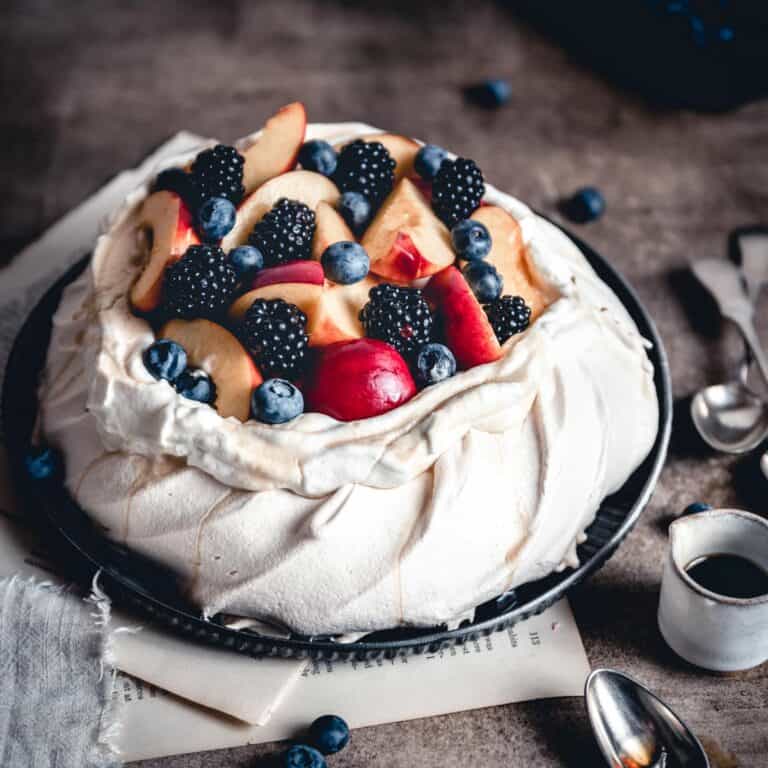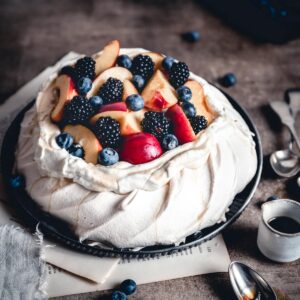 Simple Summer Peach Pavlova with Berries
Description
Enjoy the best of summer fruit in this delicious and easy Peach Pavlova with berries, topped with homemade vanilla whipped cream and drizzle of maple syrup. Check out the post for tips on successfully making the meringue!
ingredients
for the meringue
5

large egg whites

250

g

granulated sugar

¼

teaspoon

fine sea salt

1

teaspoon

white vinegar

1

teaspoon

vanilla extract

1

tablespoon

cornstarch

((10 g))
for the topping
360

g

heavy whipping cream

30

g

caster sugar

1

teaspoon

vanilla extract

4-5

fresh peaches or nectarines

250

g

fresh berries

drizzle of maple syrup
Instructions
Preheat the oven to 280°F (140°C) or 240°F (120°C) if using a fan-assisted oven.

Place the egg whites, sugar and salt in the bowl of a stand mixer (see notes) and combine with a whisk. Place the bowl over a pot of simmering water, making sure the bowl doesn't touch the water. Heat the egg white mixture, whisking constantly, until the sugar completely dissolves or it reaches 160°F (70°C). This can take up to 5 minutes. You can check whether the sugar is dissolved by rubbing some of the mixture between your fingers.

Carefully transfer the hot bowl to the stand mixer fitted with the whisk attachment. Beat the meringue on high speed until stiff peaks form and it's no longer hot to the touch. Depending on your mixer, this could take up to 10 to 15 minutes. After you've reached the glossy, stiff peak stage, turn off the mixer and add the vanilla, white vinegar and cornstarch. Beat for another 30 seconds until everything is combined.

Draw a 9-inch (23-cm) circle on a piece of parchment paper to use as a guideline. Using a little bit of meringue on the corners, stick the paper to a baking sheet so it doesn't move.

Scrape the meringue into the middle of the circle and spread it with an offset palette knife, making sure to stay inside the circle as best you can. Smooth the sides and make a dip in the middle, then pull diagonal lines from bottom to top with an offset palette knife or a spoon, for decorative purposes. Alternatively, you can make rustic swirls or peaks.

Place the pavlova in the oven on the middle rack and bake for 60 to 70 minutes. It needs to be crispy on the outside, with just a touch of golden color. When it's done, turn off the oven and leave the pavlova inside to cool gradually.

When the meringue is completely cool, carefully place it on a serving plate.

In a large bowl, beat the cream with the powdered sugar and vanilla, using an electric hand mixer, until it forms medium soft peaks. Fill the dip in the meringue with whipped cream, using a spoon. Add some maple syrup over it and top with peaches and fresh berries.

Serve immediately.
Notes
Pavlova is best the same day, but you can keep it in an airtight container in the fridge for a couple of days. However, it's possible the sugar will start oozing out from the meringue due to humidity in the fridge.

When making any kind of meringue, make sure to clean the bowl and whisk with some vinegar and paper towels to get rid of any possible grease before whipping.

Don't worry about the cracking outside, it's normal and happens even when you do everything right.
IMPORTANT
All the recipes are developed and tested using only metric measurements and a kitchen scale. The U.S. cup and spoon measurements are provided for your convenience, but I highly recommend getting a digital kitchen scale and measuring in metrics. It's easy and always guarantee the same results in baking!
Nutrition
Nutrition Facts
Simple Summer Peach Pavlova with Berries
Amount per Serving
% Daily Value*
* Percent Daily Values are based on a 2000 calorie diet.
The nutritional information and US conversions are calculated automatically. I cannot guarantee the accuracy of this data. If this is important to you, please verify with your favourite nutrition calculator and/or unit conversion tool.
Have you tried this recipe?
Tag me on Instagram @anasbakingchronicles or use the hashtag #anasbakingchronicles - I love seeing your creations!