This Carrot Cake recipe is THE ONE! Paired with tangy white chocolate & orange cream cheese frosting – it represents the perfect treat throughout the whole year!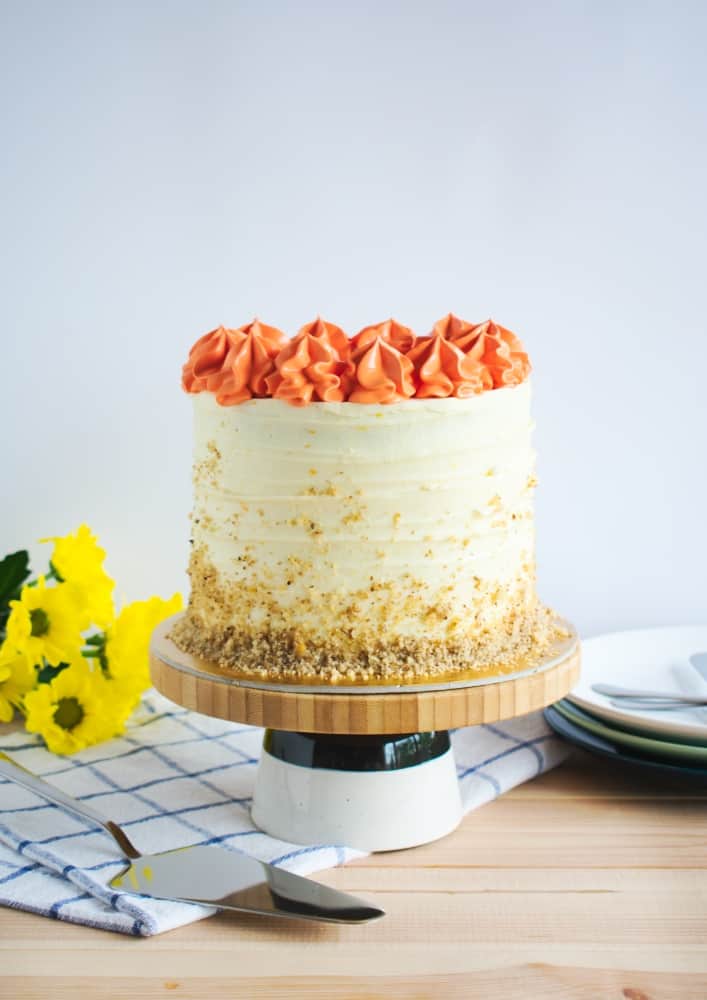 The first time I came across a Carrot Cake recipe I was intrigued but at the same time a little bit sceptical. Carrots in a cake? Seriously? Although it's an American Classic, it's not widely popular here in Croatia. Naturally, I couldn't wait to try it. I wanted to know what all the fuss is about, what is so special about this cake?
I've read sooo many recipes while lurking on the internet. I'm a nerd – I did my research. And I must admit, the ones with pineapple, raisins and coconut in them – didn't sound so appealing to me. *sorry*
But I knew if I put walntus in it – people would think it's a rich, holiday-worthy cake. There's an unwritten rule around here that says if your cake has some kind of a nut – then it's considered "a worthy" dessert, which you can present to a guest or make for Christmas. Basically, to show off how high you think of them or the occasion. It's kind of silly but that's just how things roll around here.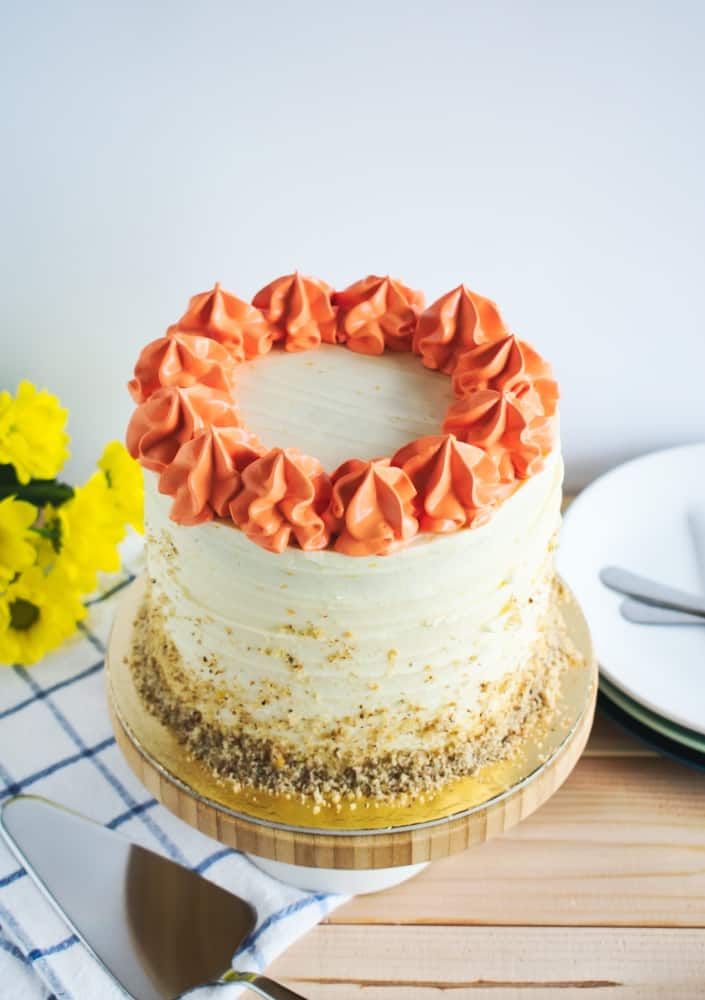 What makes the best carrot cake recipe?
Be that as it may, I went with walnuts and didn't regret my decision. I've also opted for raw cane sugar which gives it nice caramely flavour and keeps the cake moist for a longer period of time. You can use demerara sugar or light soft brown sugar instead, but I don't have an easy access to it living where I live.
Be sure to grate the carrots very finely. The batter of this cake doesn't look so appealing, it's drippy and brown – but just wait until it's done. When that smell of cinnamon starts to fill your kitchen, you'll know you've made some deliciousness!
As for the cream cheese frosting – I used spreadable cream cheese. That's the only one I have, I've never understood what is this "block" of cream cheese that everyone online was talking about. But you don't have to be afraid of it not being thick enough. I used white chocolate as a sweetener, with a little bit of powdered sugar, to get a beautiful consistency. Adding orange zest made this frosting an even better pair for the already sweet enough cake.
Here's a "Behind the scenes" horror story…
This cake gave me quite a bit of work. The cake itself was pretty easy to make, there is no creaming sugar and butter or other faff, it's a fairly simple cake. And DELICIOUS. But when it came to decorating and photographing the cake… Oh. My. God. I seriously felt God was playing some game with me to test my patience and good mood.
To begin with, I didn't have enough frosting to pipe those pretty swirls on top. Luckily, I had some leftover vanilla buttercream from the day before. Though it was painted red, I thought that I should easily get an orange shade by mixing some yellow gel food colouring in it. How naive was I? I spent a little more than a half an hour mixing it to get a relatively nice orange colour. Needless to say, the whole process was getting more and more on my nerve with every passing minute. For what? For decorating? Seriously, Ana…
Nevertheless, I somehow managed to get orange colour that is not too bright. But my frosting was now so soft from all the mixing and cream cheese. It didn't pipe as nice as I wanted it. However, the horror doesn't stop there… oh no. I made my peace with how this cake looks and went to shoot some pictures – finally.
Alas, we've come to the best part. I'm a beginner, I don't have a studio, every cake I make is an opportunity for me to learn more and try new things. For that reason, I have a bunch of DIY stuff to help me along – like white foam board that helps bounce natural light. I managed to take five pictures and as I turned around, a little breeze went into my apartment. In that moment, the lightweight foam board fell right on top of my cake.
My reaction? Anger infused tears and total devastation. I thought to myself – what did I do to deserve this? I was in utter despair. I just wanted to throw everything in the garbage. But instead, I shoved in the fridge, let myself calm down and think of a solution for this problem. Fortunately, those few photos were okay, so I just went with them. And if you look closely on a slice photo, you can see that the pretty swirl on top is smushed. But I figured that this is a part of a creating process and that sh*t happens. It's definitely not a good enough reason to throw such a delicious cake away. 🙂
If you have some similar horror stories that happened in your kitchen – do tell me – so we can all feel a little better about ourselves!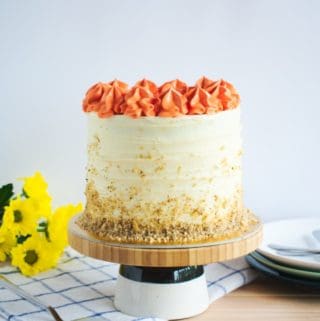 The BEST Carrot Cake Recipe
This Carrot Cake recipe is THE ONE! Paired with tangy white chocolate & orange cream cheese frosting - it represents the perfect treat throughout the whole year!
Print
Pin
Rate
Assemblying and cooling:
30
mins
Ingredients
Cake
3

large eggs

room temperature

215

g

all-purpose flour

235

g

raw cane/demerara sugar

210

g

vegetable oil

250

g

finely grated carrots

120

g

ground walnuts

1 1/4

tsp

cinnamon

1 3/4

tsp

baking powder

1/4

tsp

salt
Cream Cheese Frosting
375

g

cream cheese

(in tub, spreadable kind)

220

g

mascarpone cheese

290

g

melted white chocolate

40

g

powdered sugar

sifted

1

tbsp

orange zest

(1 orange)
Instructions
Carrot Cake:
Preheat your oven to 165°C or 325°F. Grease and line with parchment three 6-inch cake tins.

In a medium bowl sift together flour, baking powder, cinnamon and salt. Add the ground walnuts and whisk until combined. Set aside.

In a bowl of a stand mixer using a whisk attachment beat eggs and sugar on medium-high speed until pale and fluffy (approx. 5 minutes) Next, add the oil and mix until combined.

Add your flour mixture and mix on low-medium speed just until combined. In the end gently fold in the carrots.

Divide the batter evenly among the three tins and bake in preheated oven for 25-28 minutes. The cake is done when you stick a skewer in the middle and it comes out mostly clean, with a few moist crumbs.

Once done, put it on a wire rack for 10-15 minutes before you take them out of the tins to cool completely.
Cream Cheese Frosting:
Melt white chocolate over a bain-marie and let it cool to room temperature.

Using a hand mixer or a stand mixer with whisk attachment mix together cream cheese and mascarpone cheese with orange zest. Add cooled melted white chocolate and mix until it's all incorporated. Lastly, add sifted powdered sugar and mix until combined.
Assembly:
Using a cake leveler or a long serrated knife level the tops of your cakes for a neater look.

In the middle of your cake board or a serving plate put some frosting to keep the cake from moving.

Place one cake layer on a cake board or a serving plate. Using a small offset palette knife or a piping bag spread the frosting over the cake. Top it with the next cake layer and repeat the process.

Crumb coat the cake and put in the fridge to chill for 20-30 minutes.


Frost the top and sides of the cake with remaining frosting in a rustic manner.

Optional: Colour the remaining frosting in orange and pipe swirls or rosettes. I used Wilton 1M tip.