Originally published: May 28, 2018
This delicious Carrot Cake is the perfect choice for special occasions or just because it's Sunday! Packed full of carrots, cinnamon and walnuts, it's paired with tangy Orange Cream Cheese frosting and will quickly become your favourite!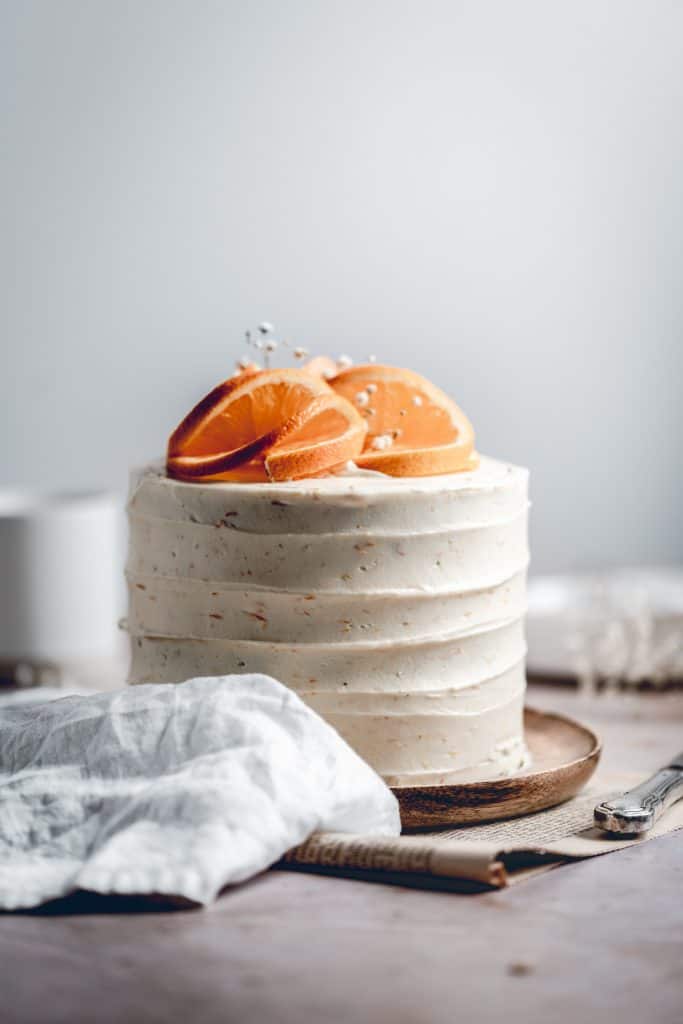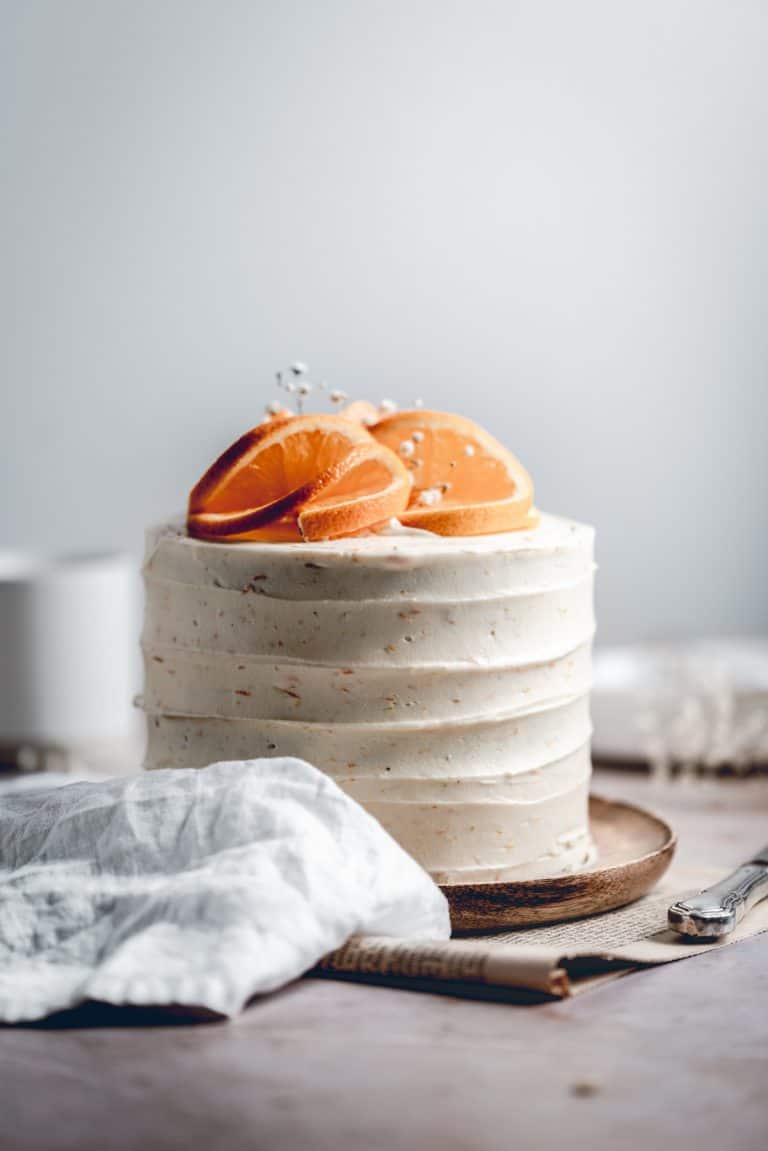 This was the first recipe I published when I launched my blog, almost two years ago. Wow, how the time flies. This Carrot Cake was screaming for a much needed makeover, so I gave her one, just in time for Easter or Passover.
I couldn't decide if I like the light or dark background more, so I posted both -- hope you don't mind. 🙂
Also, I changed the recipe just a tiny little bit and tried to give you as much helpful information on making this carrot cake, so let's dive in!
How to make the best carrot cake
I admit, I might be subjective, but for me this is really the best carrot cake and one of the favourites in the family. I'm not into adding coconut or, God forbid, pineapple. But I like a little bit of nut crunch.
While it's a fairly easy cake to make, let me walk you through the making of process.
Since this is an oil based cake, there is no creaming the butter and sugar which helps produce lighter cake. Oil based cakes are usually denser (which I adore, to be honest), but that doesn't mean we can't beat some air to it.
We'll do it by firstly beating eggs and sugar vigorously, until the mixture is pale, fluffy and falls in ribbons.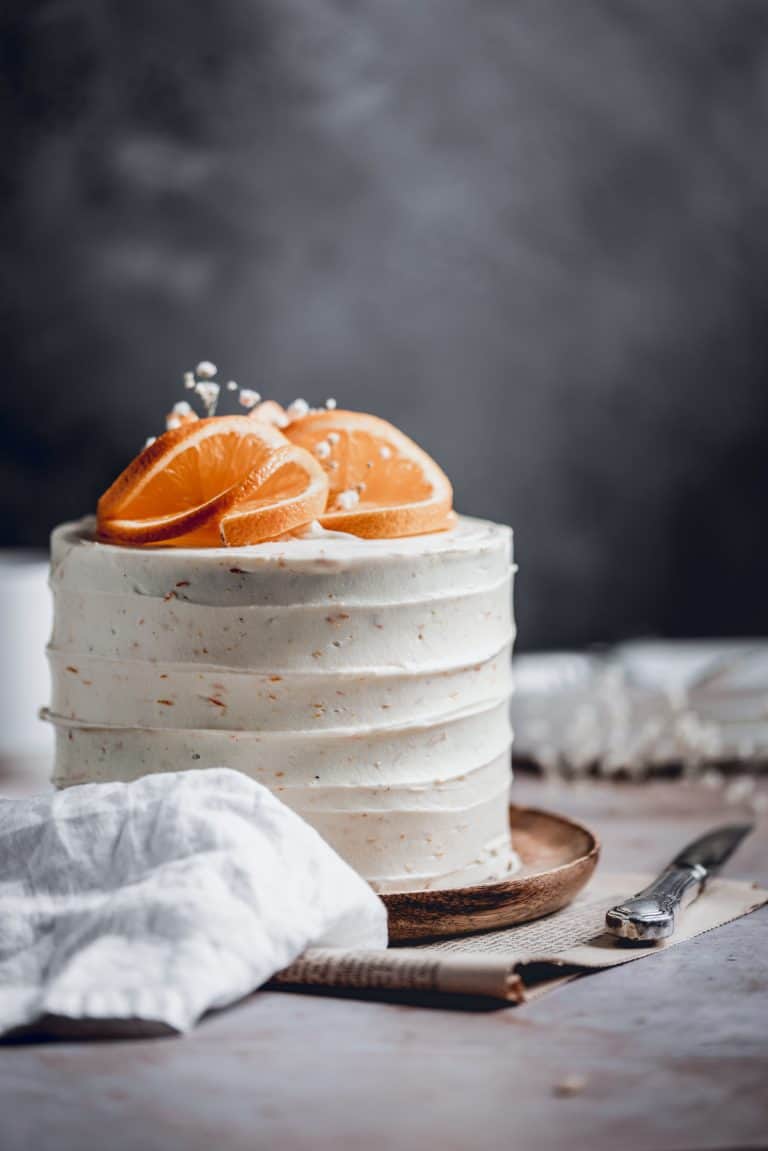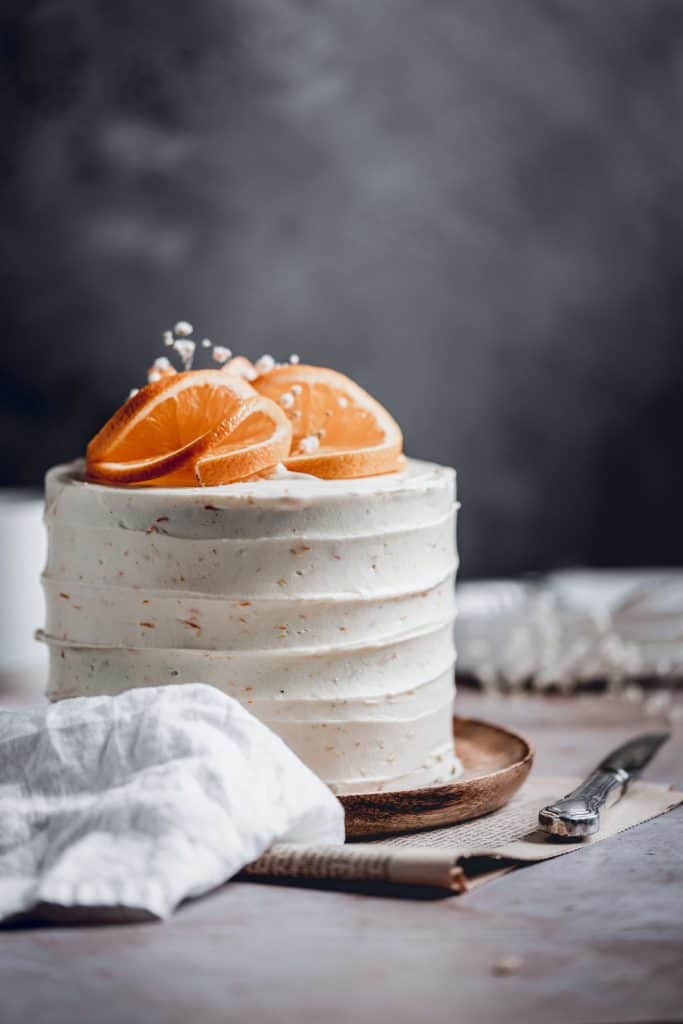 Next in line are dry ingredients.
Just sift together flour, baking powder, spices and salt, then whisk in ground walnuts and combine with eggs and sugar. For better flavour, I suggest toasting the walnuts, but if you're not feeling like it the cake will still taste great.
Also, you can use pecans instead of walnuts if you don't have any on hand.
Lastly, in go carrots!
My biggest tip is to use the best carrots you can find and grate them yourself.
Make sure to grate the carrots really finely. I know that's a boring job that requires a little bit of muscle, but it's so worth it.
Since carrots are root vegetables, they require quite amount of cooking to soften. Unfortunately, we can't bake a cake for ages to soften the carrots, so we have to help it along the way and make it as small as possible and evenly distributed throughout the batter.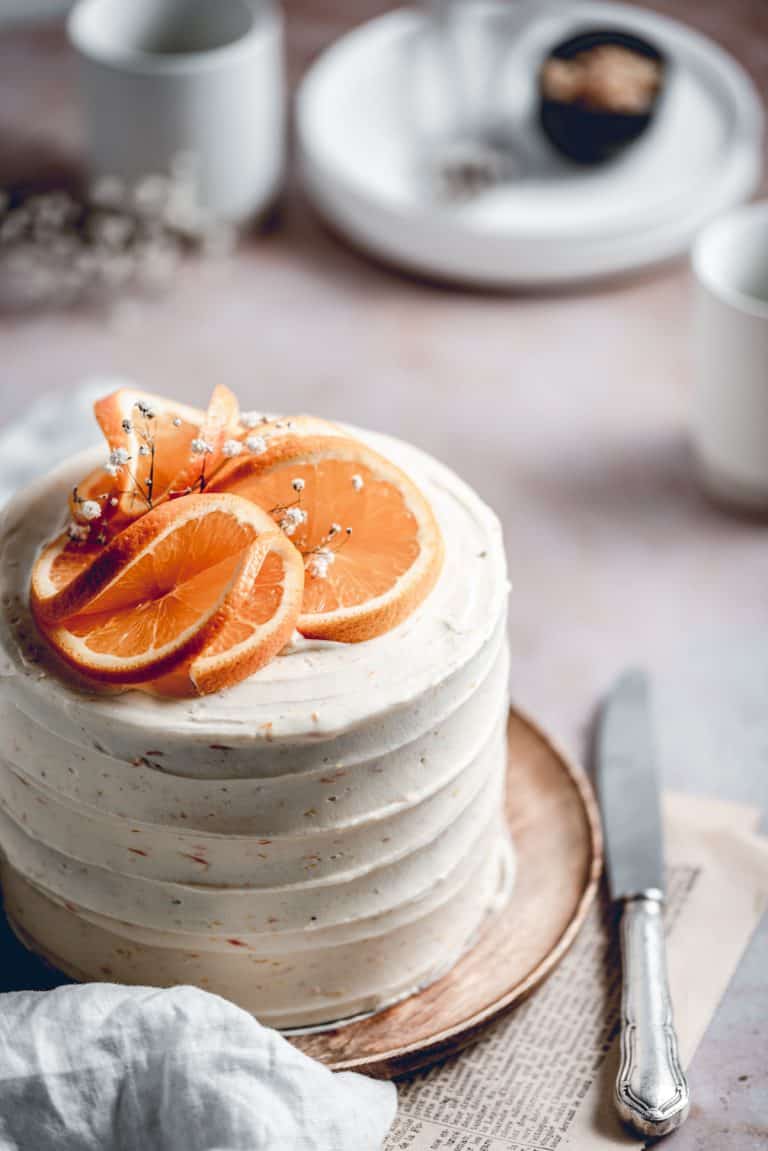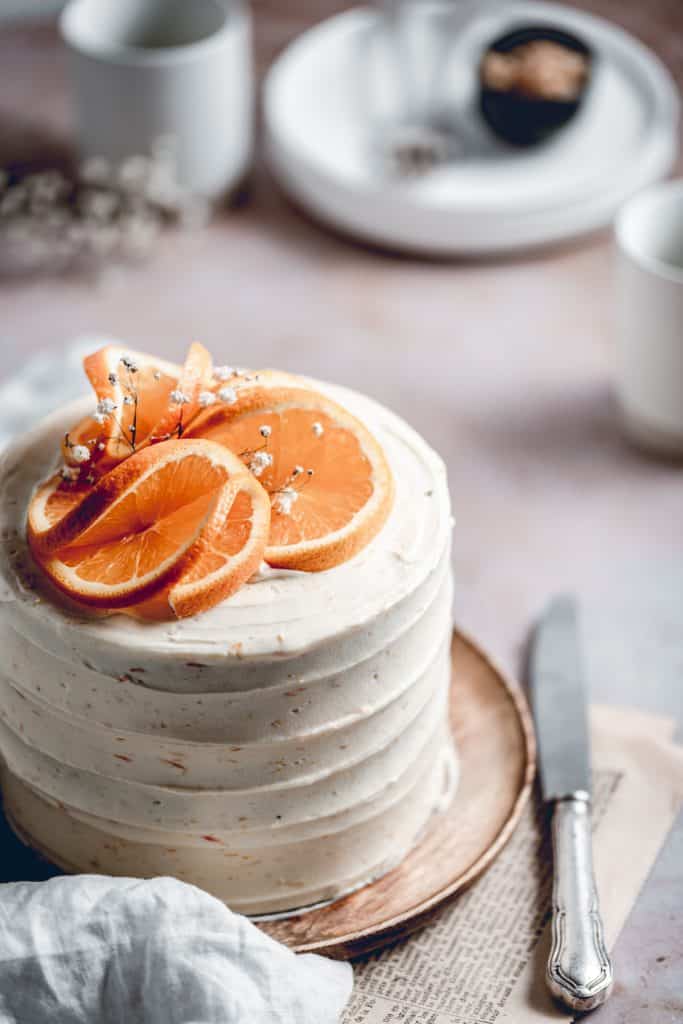 Less sweet cream cheese frosting
What I've learned these last few years of actively baking and recipe developing is that traditional cream cheese frosting is mostly butter, with some cream cheese and a whole lot of powdered sugar.
Now, I'm not a fan of really sugary frostings, because I can't taste *anything* except sugar and that's not satisfying for me.
I decided to pair this Carrot Cake with Cream Cheese frosting I've learned how to make when I was working in a bakery, very briefly. I
liked that they used white chocolate as a sweetener, because the frosting wasn't too sweet and it would become nice and stiff because of the chocolate.
It's kind of like ganache, but instead of heavy cream you use cream cheese. 🙂 The result is perfectly light and tangy cream cheese frosting, elevated with orange zest. Yum!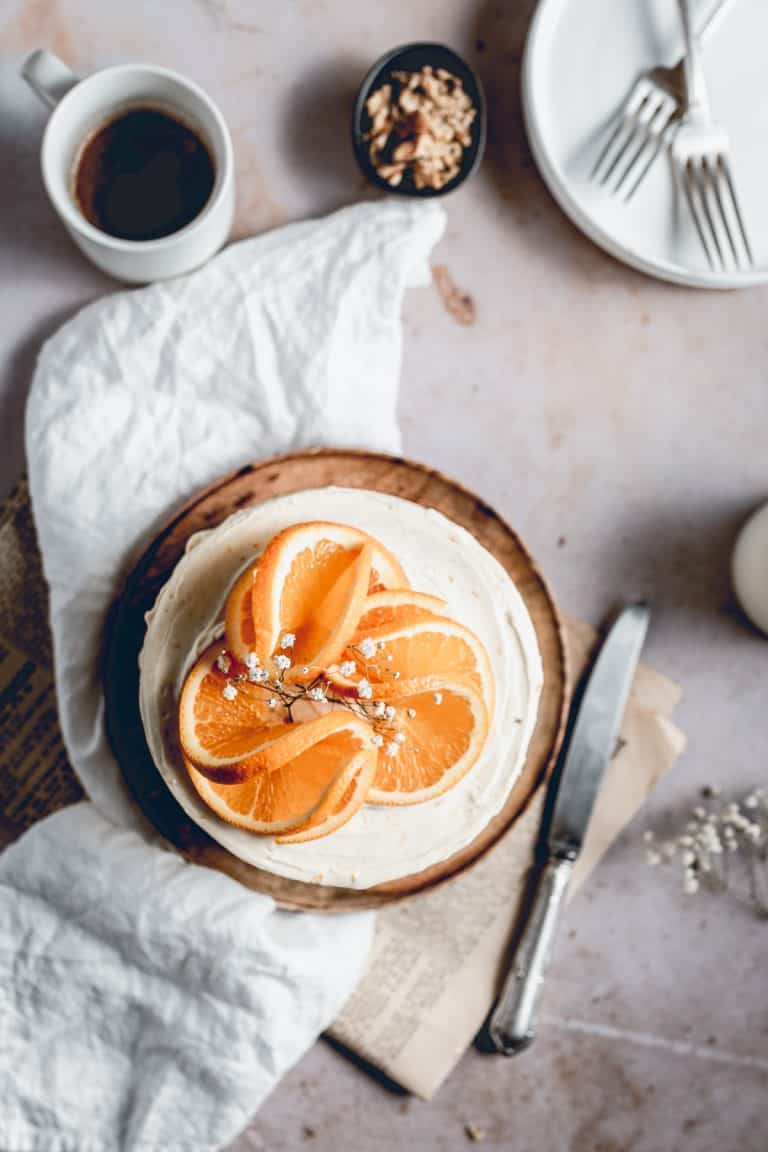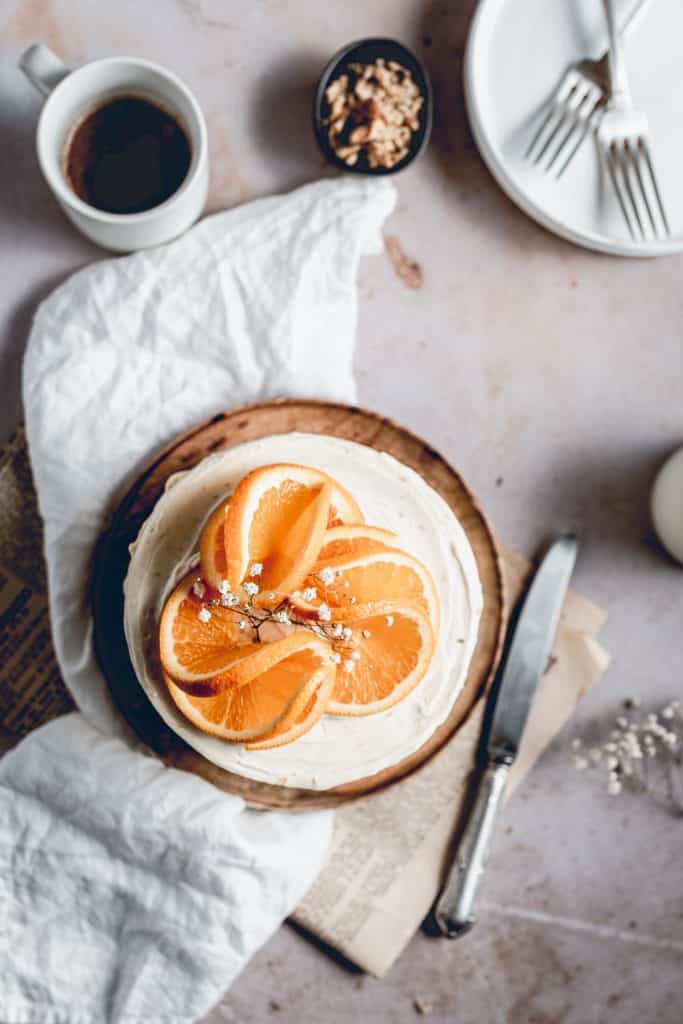 How to store carrot cake
Because of the dairy frosting, it's best to keep the cake in the fridge but double wrapped in cling film (plastic wrap) or in an airtight container to avoid drying out the cake.
It's good practice to remove the cake from the fridge at least half an hour before consuming, to get the best possible flavour.
Can I freeze Carrot Cake?
Absolutely.
If you want to make cake layers a couple of days or weeks in advance you can freeze them. After you've baked the cakes, let them cool completely and then double wrap them in cling film (plastic wrap) and place in the freezer. It'll last for a couple of months.
When you are ready to use the cake, thaw it by leaving the layers on room temperature or in the fridge, but still wrapped in cling film so any condensation happens on the plastic, not on the cake.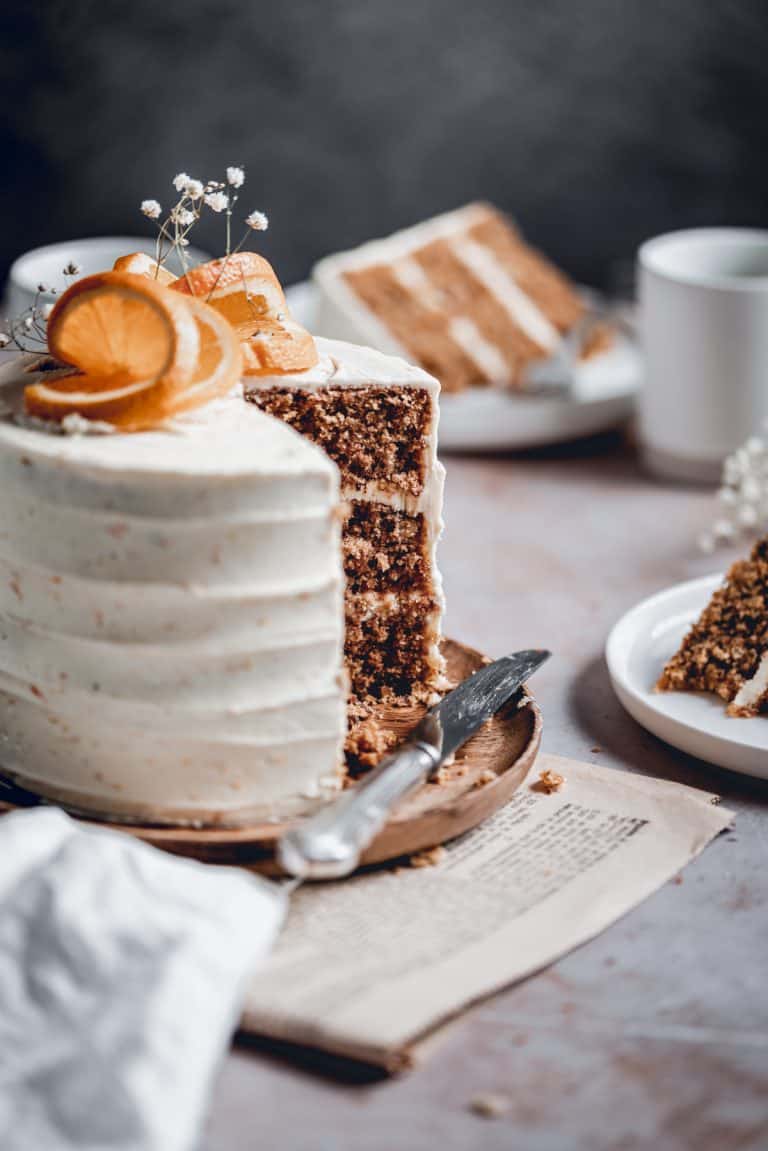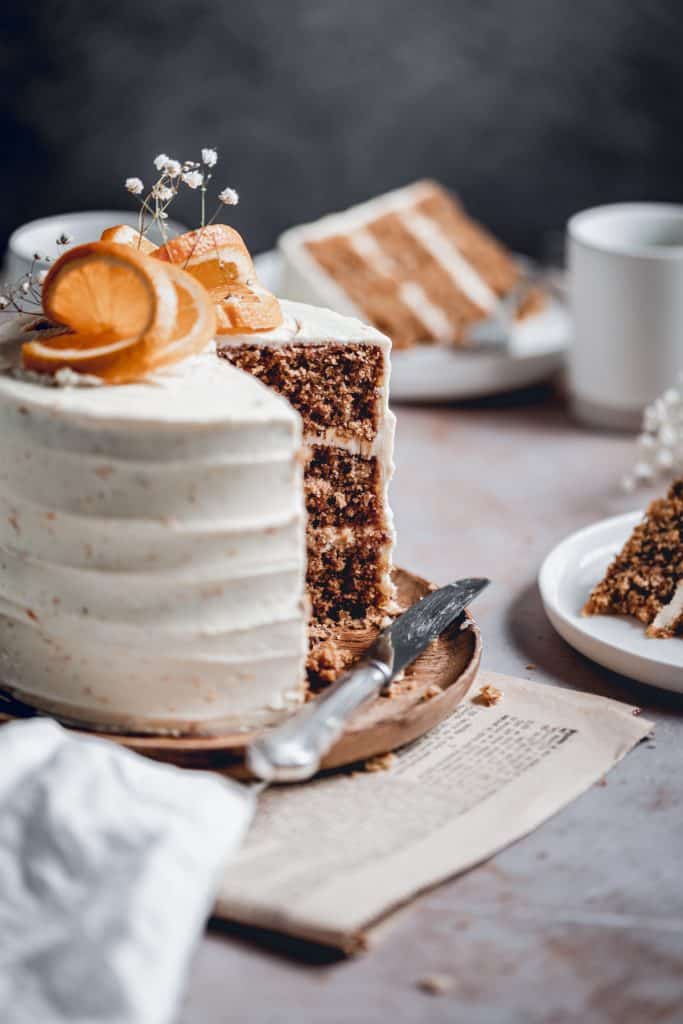 For a cake lover in you...
Earl Grey Tea Cake
Dulce de Leche Banana Cake
Chocolate Pistachio Raspberry Cake
Raspberry Vanilla Layer Cake
Berry Chocolate Layer Cake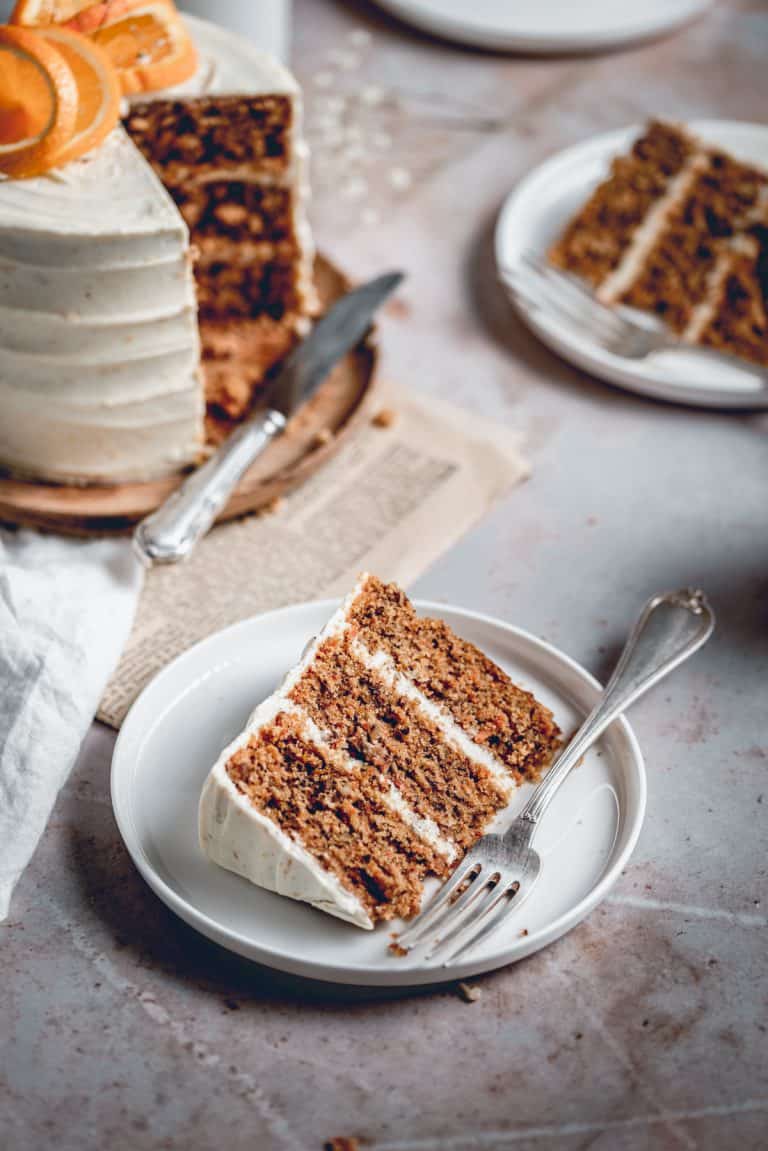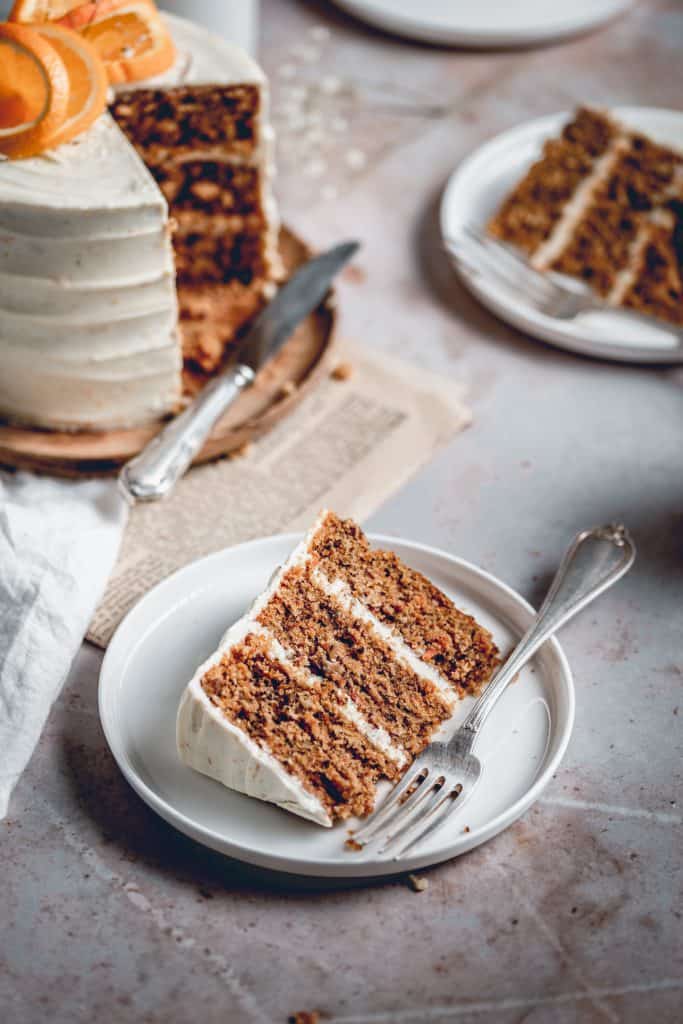 If you make this Carrot Cake let me know by tagging me on Instagram @anasbakingchronicles or tell me all about it in the comments section down below. Seeing my recipes come to life in your kitchens, always makes me incredibly happy!
If you have any questions, don't hesitate to ask. Happy baking! 
Love,
Ana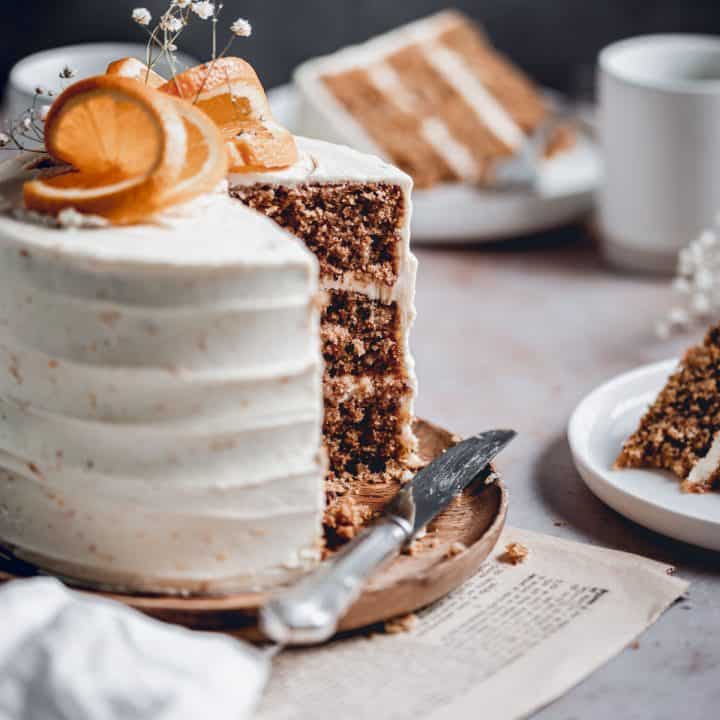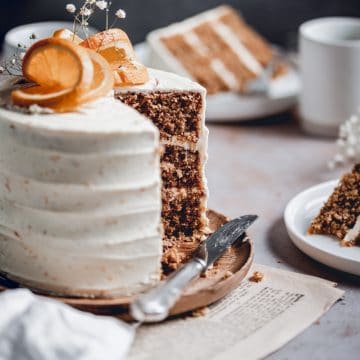 carrot cake with cream cheese frosting
Description
This delicious Carrot Cake is the perfect choice for special occasions or just because it's Sunday! Packed full of carrots, cinnamon and walnuts, it's paired with tangy Orange Cream Cheese frosting and will quickly become your favourite!
ingredients
Cake
3

large eggs

(room temperature)

225

g

all-purpose flour

235

g

brown cane sugar

190

g

sunflower oil

250

g

finely grated carrots

120

g

ground walnuts

1 + ½

teaspoon

ground cinnamon

½

teaspoon

ground ginger

(optional)

1 + ¾

teaspoon

baking powder

½

teaspoon

salt
Cream Cheese Frosting
375

g

cream cheese

(room temperature)

220

g

mascarpone cheese

(room temperature)

250

g

good quality white chocolate

(melted and cooled)

zest of one large orange
Instructions
carrot cake
Preheat your fan oven to 165°C (325°F) or 180°C (350°F) if you're not using a fan oven. Grease and line with parchment paper three 6-inch (15 cm) round cake pans. Alternatively, you can use two 8 inch (20 cm) round cake pans.

In a medium bowl sift together flour, baking powder, cinnamon and salt. Add the ground walnuts and whisk until combined. Set aside.

In a bowl of a stand mixer, using a whisk attachment, beat eggs and sugar on medium-high speed until pale and fluffy (approx. 5 minutes). Add oil and mix until everything is combined and there are not oil streaks.

Add your flour/walnut mixture and mix on low-medium speed just until combined. In the end gently fold in the carrots.

Divide the batter evenly among the three pans and bake in preheated oven for 25-28 minutes. The cake is done when you stick a skewer in the middle and it comes out mostly clean, with a few moist crumbs. 

Once it's done, put the cakes on a wire rack to cool for 10-15 minutes before you take them out of the pans to cool completely.
orange cream cheese frosting
Melt white chocolate over a bain-marie and let it cool to room temperature.

Using a hand mixer or a stand mixer with whisk attachment mix together cream cheese and mascarpone cheese with orange zest. Add cooled melted white chocolate and mix until it's all incorporated. The frosting will be a little soft. If it feels too soft, leave it for 10-15 minutes in the fridge to cool. It will be firm in the end when chocolate inside hardens, just like ganache.
assembly
Using a cake leveler or a long serrated knife level the tops of your cakes for a neater look if needed. 

In the middle of your cake board or a serving plate put some frosting to keep the cake from moving.

Place one cake layer on a cake board or a serving plate. Using a small offset palette knife or a piping bag spread the frosting over the cake. Top it with the next cake layer and repeat the process. 

Place final layer on top, upside down, and frost the sides of the cake. Then smooth it with a cake scraper to lock all the crumbs. Put the cake in the fridge for 30-60 minutes to chill before final decorating.

Frost the top and sides of the cake with remaining frosting in a rustic manner.

Optional: Decorate the cake with orange slices and edible flowers.
Notes
If you don't have a stand mixer, you can use a hand mixer.
Not all ovens are the same. I suggest to check the cakes at 23 min mark and then adjust the baking time accordingly. Get to know your oven!
If you still don't own one, I advise you to buy a kitchen scale – they're cheap and easy to use, and always guarantee the same results in baking! ????
Cake is best when eaten at room temperature. You can keep it in a fridge, wrapped in cling film, but take it out of it at least half an hour (preferably more) before serving. ????
If you want to make a three layer 8 inch (20 cm) or 2 layer 9 inch (23 cm) cake, then double the recipe. You can do that by moving the serving slider to 24. For three layer 9 inch (23 cm) cake, triple the recipe. 
IMPORTANT
All the recipes are developed and tested using only metric measurements and a kitchen scale. The U.S. cup and spoon measurements are provided for your convenience, but I highly recommend getting a digital kitchen scale and measuring in metrics. It's easy and always guarantee the same results in baking!
Nutrition
Sodium:
263
mg
|
Calcium:
167
mg
|
Vitamin C:
1
mg
|
Vitamin A:
4222
IU
|
Sugar:
34
g
|
Fiber:
2
g
|
Potassium:
334
mg
|
Cholesterol:
98
mg
|
Calories:
672
kcal
|
Saturated Fat:
29
g
|
Fat:
49
g
|
Protein:
9
g
|
Carbohydrates:
51
g
|
Iron:
2
mg
The nutritional information and US conversions are calculated automatically. I cannot guarantee the accuracy of this data. If this is important to you, please verify with your favourite nutrition calculator and/or unit conversion tool.
Have you tried this recipe?
Tag me on Instagram @anasbakingchronicles or use the hashtag #anasbakingchronicles - I love seeing your creations!