Soft and chewy oatmeal chocolate chip cookies - a quick and delicious classic. The recipe for these cookies is THE EASIEST one there is and you'll for sure want to add it to your collection.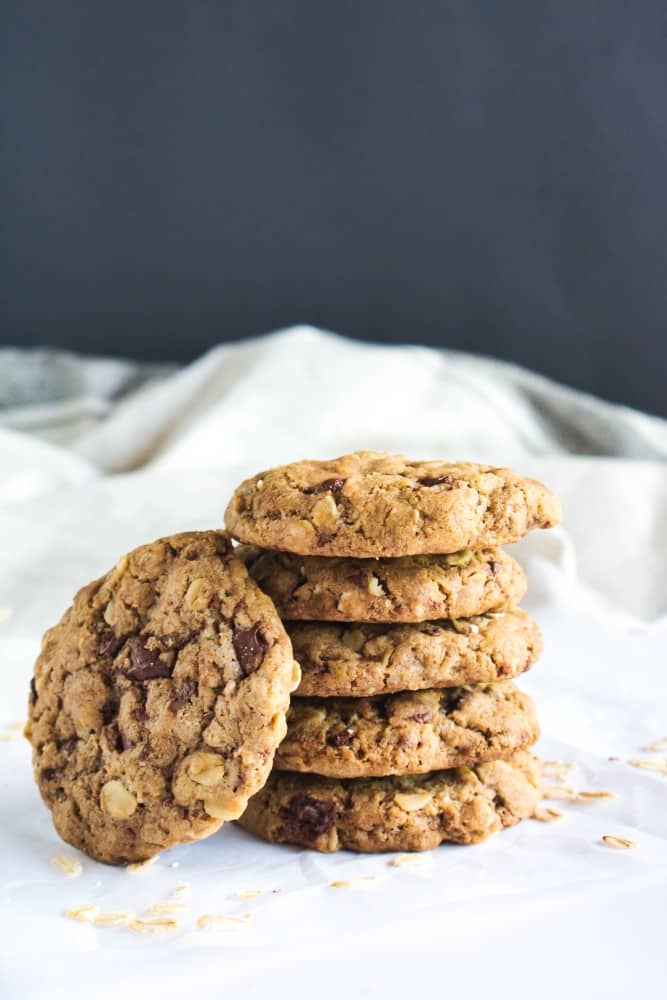 The heat is already unbearable, although technically summer hasn't arrived yet. I'm aware that standing in the kitchen and making a cake is not the most appealing thing to do these days. I just picture myself sweating like a pig in front of a hot oven on a hot day and I just lose all the will I had for baking. Phew! Ain't nobody got time for that - Am I right?
Buuuut... that sweet tooth is not going anywhere. It NEEDS to be silenced. And you know how everybody likes a sweet treat after lunch - especially if it's homemade. I love ice cream but it can't be the only sweet thing to eat during the summer.
Thus, I bring you the easiest recipe there is to make for you and your loved ones. Oatmeal Chocolate Chip Cookies. And I promise there is minimal sweating involved with only ONE dirty bowl in the end. Now, doesn't that sound just awesome?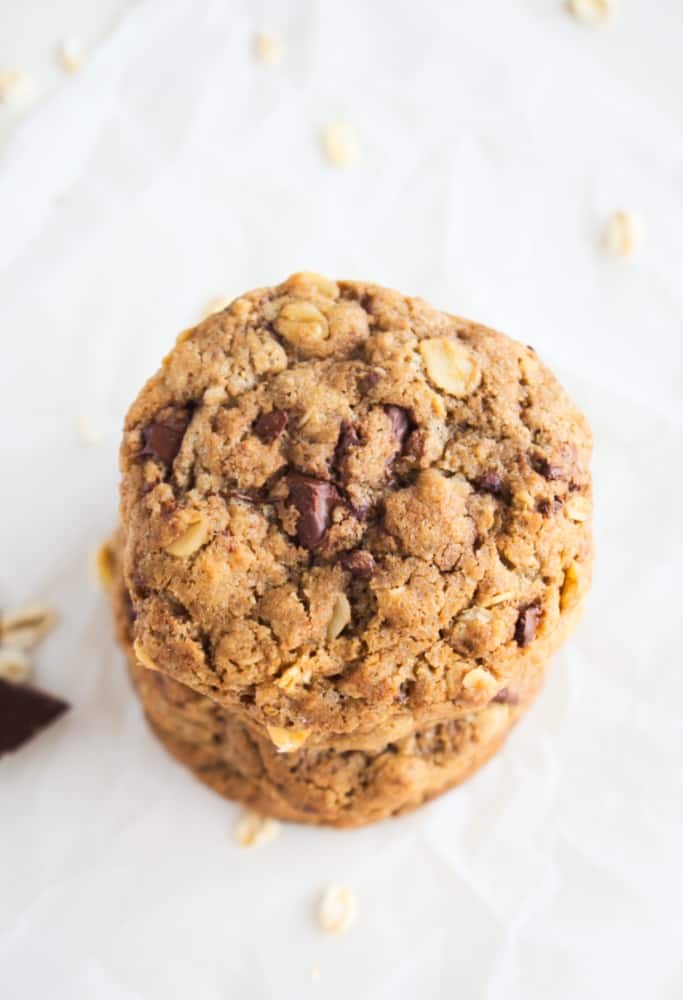 I'm a real fan of the classic chocolate chip cookie. I mean, they're a classic for a reason. But there is just something about oats that makes these cookies even better. I don't know... is it the extra chewiness? Or the fact that oats are considered healthy, therefore, this recipe is healthy-ish? One can only hope.
Since there is no creaming butter and sugar,  you don't even need an electric mixer for this recipe. How cool is that? You can make these cookies with your children, after lunch or -  you can even whip them up early in the morning and wake up that special someone with a smell of freshly baked cookies. Or let's be real - you can just make them for yourself and enjoy a good night of Netflix&Chill.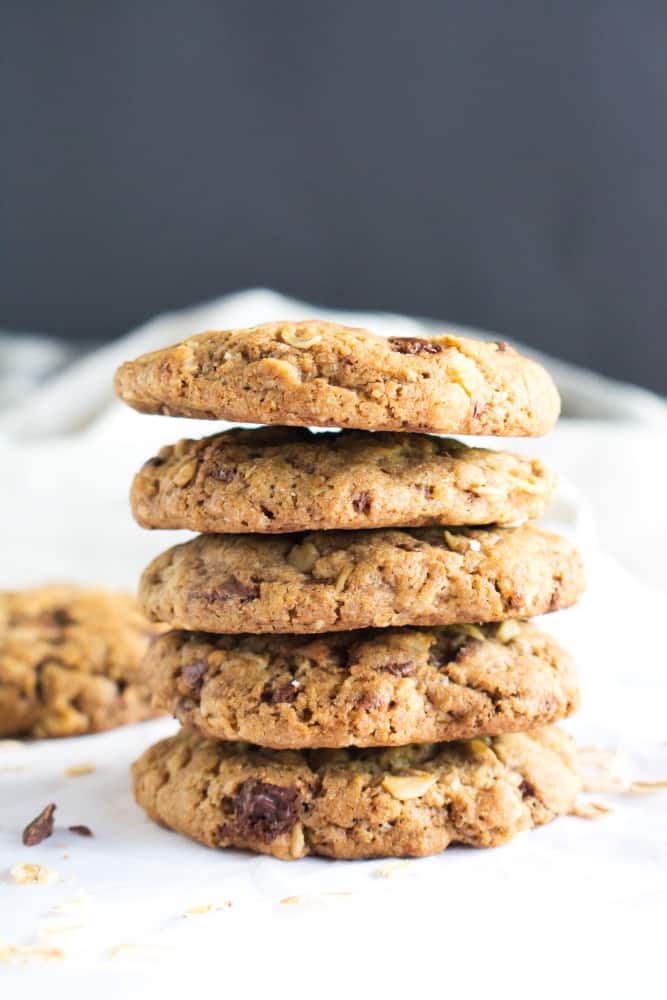 Using melted butter will assure the chewiness in the cookie. Brown sugar is also key in this recipe. It gives the cookies that caramely aroma and keeps them moist and chewy - just like we want them to be. I don't have chocolate chips, so I just chopped some chocolate and I kind of like that uneven, more rustic look. But you do what you like. If you like more chocolate in your cookie you could definitely add some more, this quantity is just what I like best.
If you try these out, let me know what you think or tag me on Instagram so I can see it myself!
📖 Recipe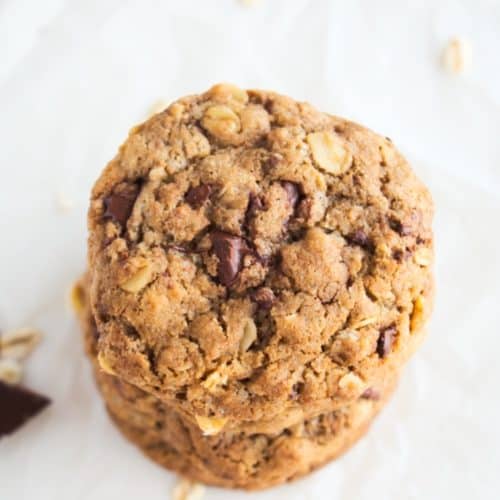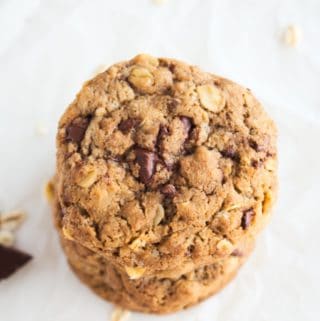 Easy Oatmeal Chocolate Chip Cookies
Description
Quick and easy recipe for soft and chewy oatmeal chocolate chip cookies!
ingredients
165

g

all purpose flour

90

g

light soft brown sugar

90

g

granulated sugar

130

g

unsalted butter

(melted)

1

large

egg

(room temperature)

110

g

rolled oats

125

g

chocolate chips

(semi-sweet)

1

teaspoon

vanilla extract

1 ¼

teaspoon

baking soda

½

teaspoon

salt
Instructions
Preheat your fan oven to 165°C (or 325°F).


Melt the butter over medium heat and leave it to cool a little bit.

In a medium bowl whisk together flour, sugar, baking soda and salt. Then add the chocolate chips and rolled oats and whisk until everything is well combined.

Beat the egg with a small whisk or fork and mix with butter and vanilla extract.

Add the wet ingredients to dry ones and combine them using a wooden spoon or your hands for a better result.

Using your hands form balls of cookie dough and place them on a cookie sheet lined with baking paper leaving 2 inches between each ball.

Bake for 10-12 minutes. They will be soft in the middle when done but will harden a little once they cool.

Transfer to a cooling rack to cool completely. Pour yourself a glass of milk and enjoy! 🙂
Notes
*I didn't have chocolate chips so I chopped a chocolate bar. If you want that uneven rustic look you can use chopped chocolate as well.
**You don't want to overbake these cookies. It's better if they are slightly underbaked.
IMPORTANT
All the recipes are developed and tested using only metric measurements and a kitchen scale. The U.S. cup and spoon measurements are provided for your convenience, but I highly recommend getting a digital kitchen scale and measuring in metrics. It's easy and always guarantee the same results in baking!
The nutritional information and US conversions are calculated automatically. I cannot guarantee the accuracy of this data. If this is important to you, please verify with your favourite nutrition calculator and/or unit conversion tool.
Have you tried this recipe?
Tag me on Instagram @anasbakingchronicles or use the hashtag #anasbakingchronicles - I love seeing your creations!