Classic Balkan walnut baklava recipe, spiced with cinnamon and soaked with orange and lemon infused sugar syrup. Easy to make and ready for cozy fall weekends!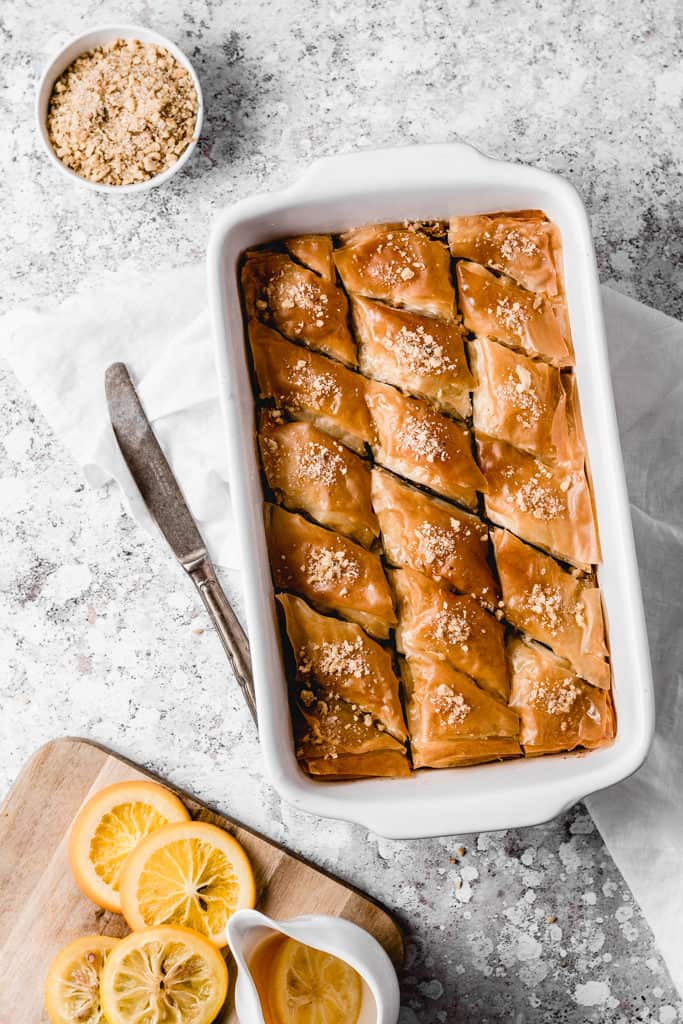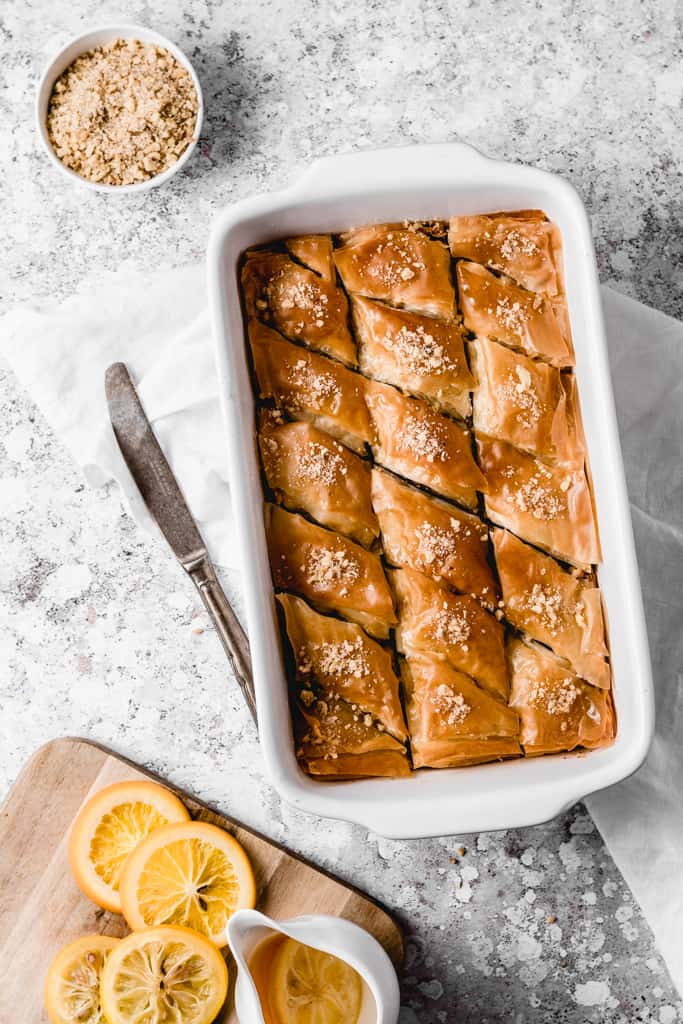 WHAT IS A BAKLAVA?
Most people think it's Greek, I thought it's Bosnian, but it's really Turkish, or Middle Eastern dessert. It originated in Ottoman Empire (sorry, history nerd over here!) and since our neighbours Bosnia & Herzegovina were under said Empire, they inherited some delicious food, including this Walnut Baklava!
It's a dessert made of flaky phyllo dough, layered with spiced ground nuts and soaked in gorgeous infused sugar syrup. A good baklava is crisp on the outside, but a little gooey on the inside (from all that syrup!). It's a special dessert because there isn't really anything similar to it. You have to try it!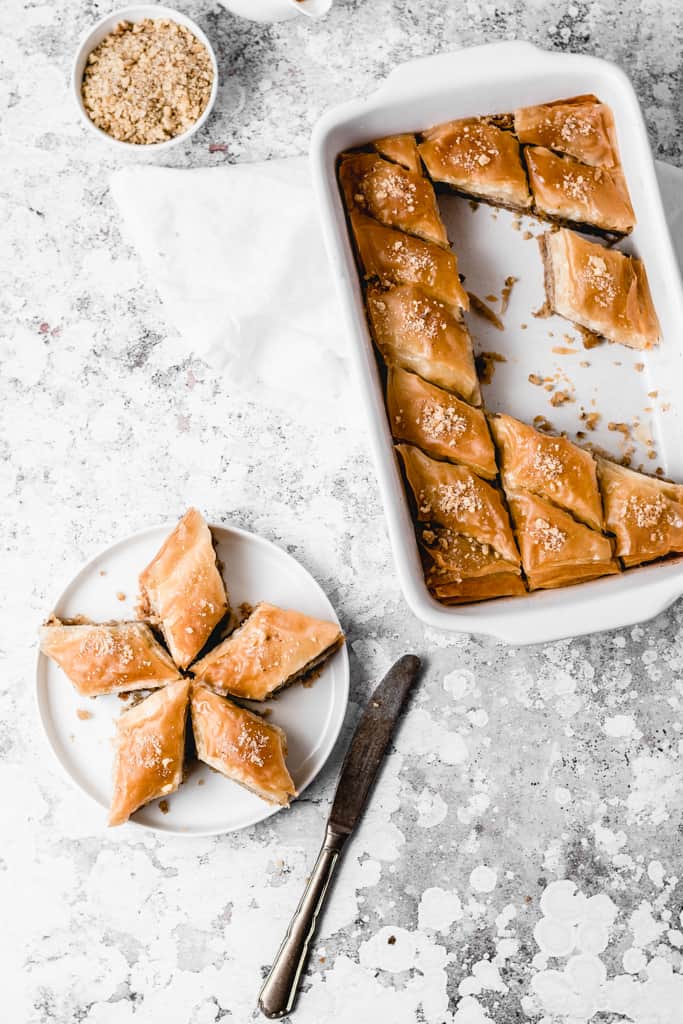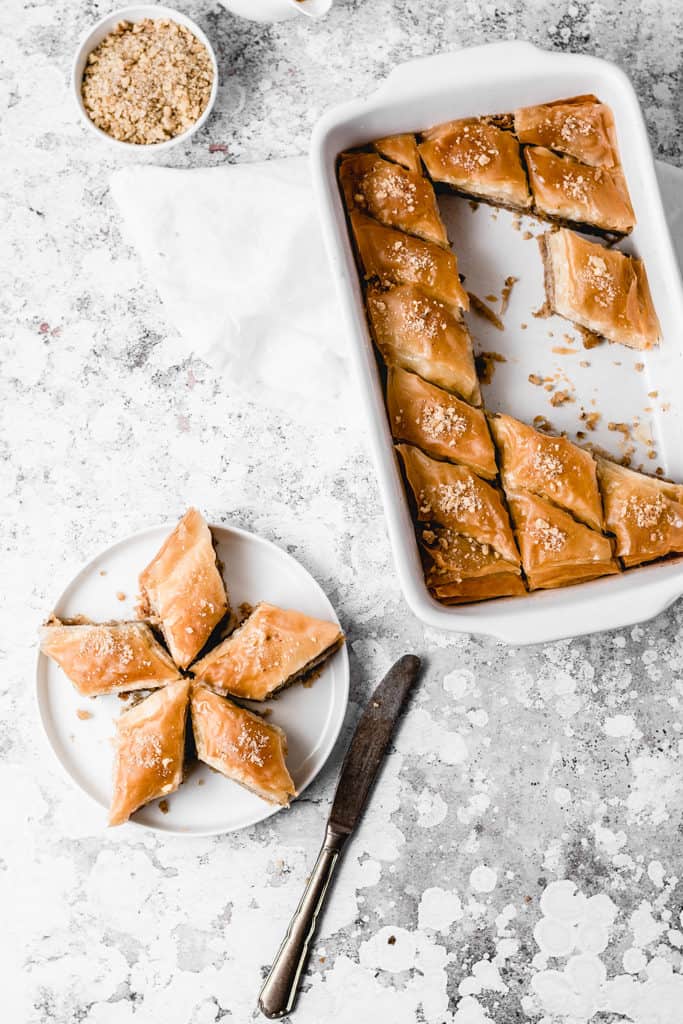 HOW TO MAKE THIS WALNUT BAKLAVA?
First off, don't be afraid of phyllo dough - we're not actually making it. Lol. I'm usually all for making EVERYTHING from scratch, but some things you just can't or they're not worth the effort. That's why I always use premade, refrigerated phyllo dough. In Croatia it usually comes in 500 g packages.
TOP TIP: Since phyllo dough isn't expensive, I always buy two packets. Why? Because you can easily tear it or accidentally cut it too small for your pan. That's why it's good to have some backup! 🙂
Baklava is all about layering and brushing. You need to measure your phyllo and cut it with a sharp knife to fit the pan you're using. After that, it's layering one sheet on another and liberally brushing every one with melted butter. You can use ghee, that is clarified butter, too.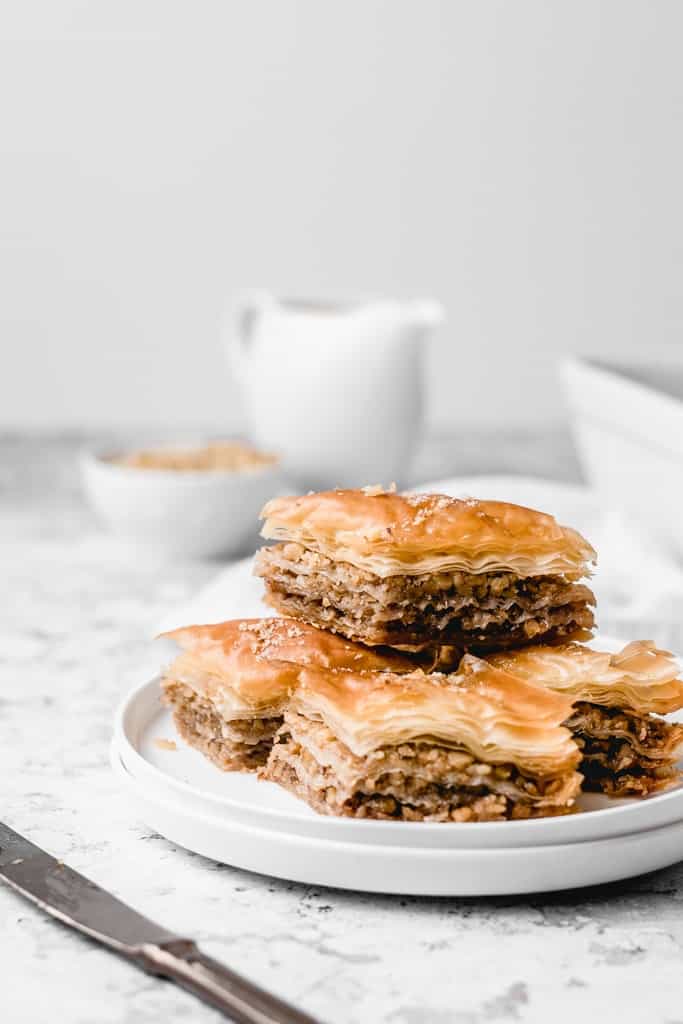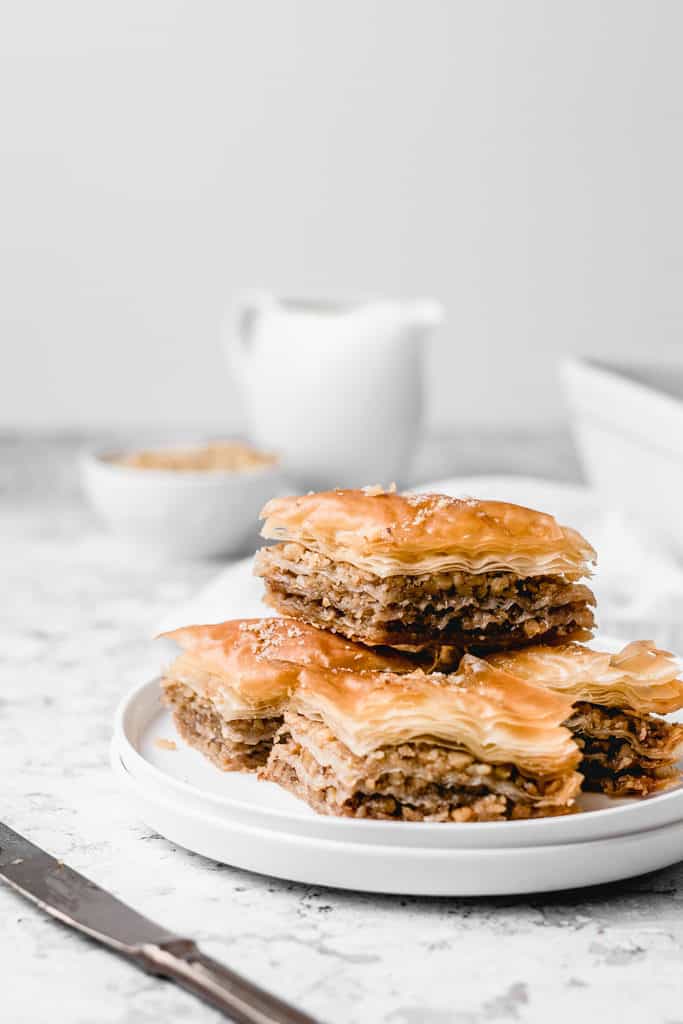 Some people say this makes making baklava time-consuming, but it really isn't. Especially if you're making a smaller quantity, like I did here. It's actually really soothing and therapeutic.
I suggest blitzing your walnuts in a food processor in two batches. The first one (approx. ⅔ of walnuts) pulse until finely ground and the rest pulse coarsley, so you have small chunks. I love that crunchy element in a baklava!
The best part of making baklava is pouring it with sugar syrup. It's really important that baklava and syrup are opposite temperatures. That means you get no soggy bottom! That's why you need to make the sugar syrup first, which takes about 10-15 minutes. I like to infuse my syrup with both orange and lemon slices - so delicious! Then you leave it to cool, while you go and assemble baklava.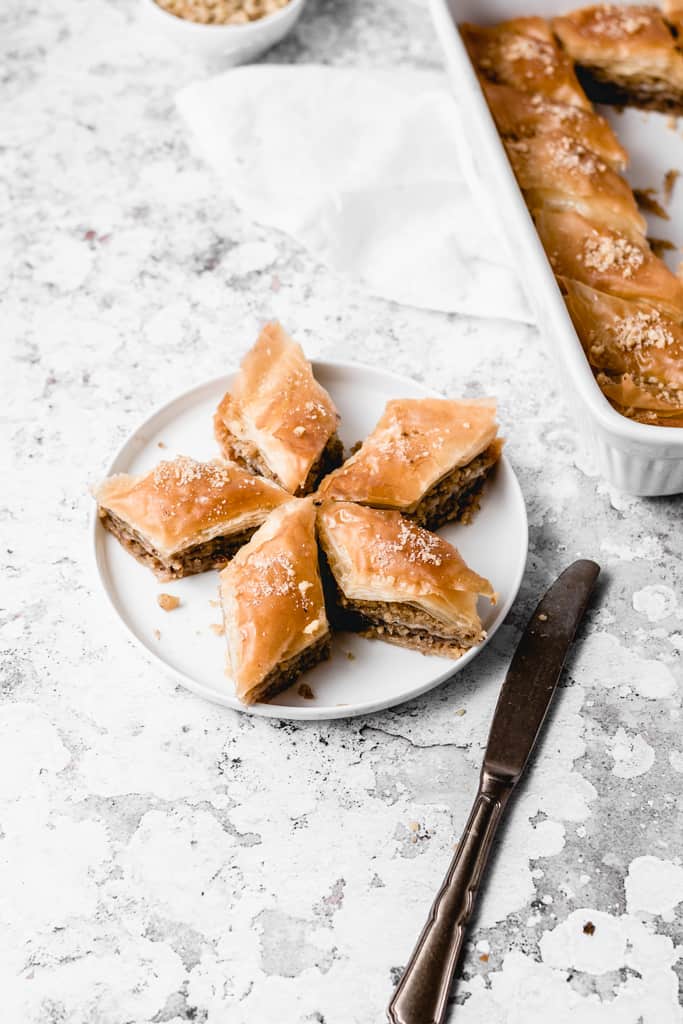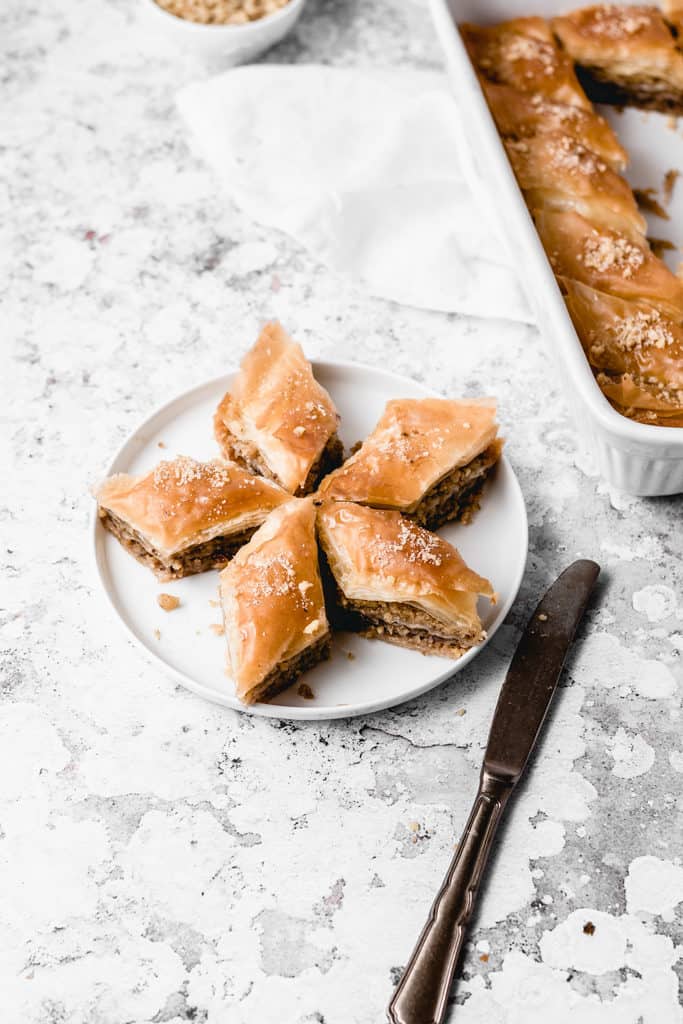 DO I HAVE TO USE WALNUTS?
No! This is just how we eat it most of the times, what we consider the classic baklava recipe. But you can use any nut you want or mix a couple for even greater flavour! Most common nut combinations are pistachios and walnuts or almonds and walnuts. But I bet it would be amazing using pecans, too!
Always play with your food to find what best suits you. I suggest you don't stray too much from the quantities, but feel free to add different spices (cardamom for instance would be amazing) or infuse sugar syrup with something else. Some put orange blossom water or rosewater. Just be careful with rosewater, because it can be really intense and overpowering. A couple of droplets is going to do the job!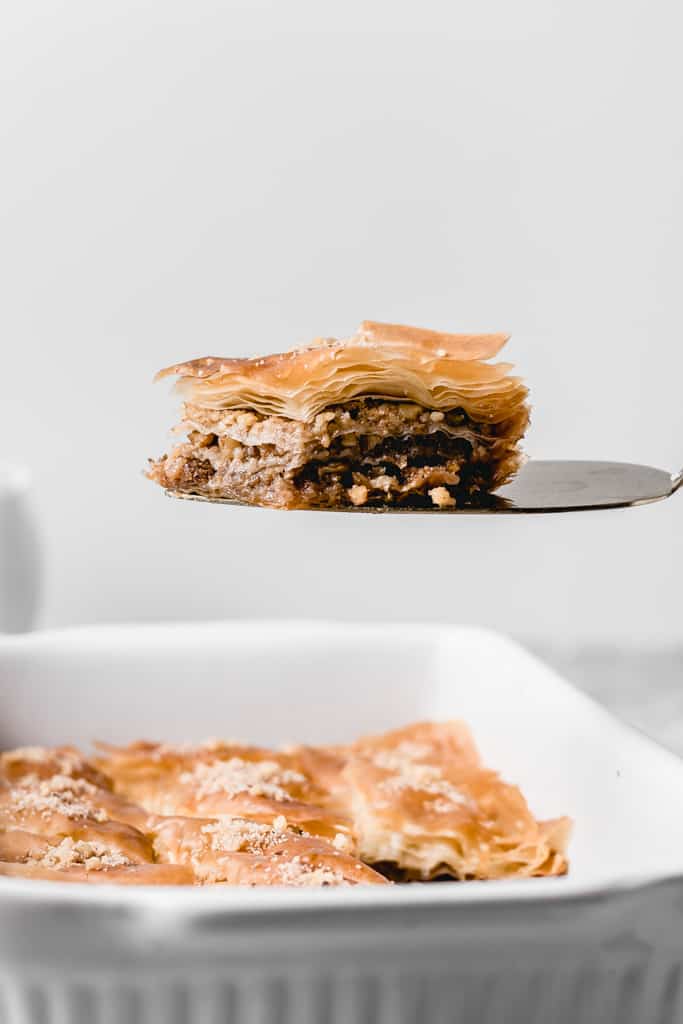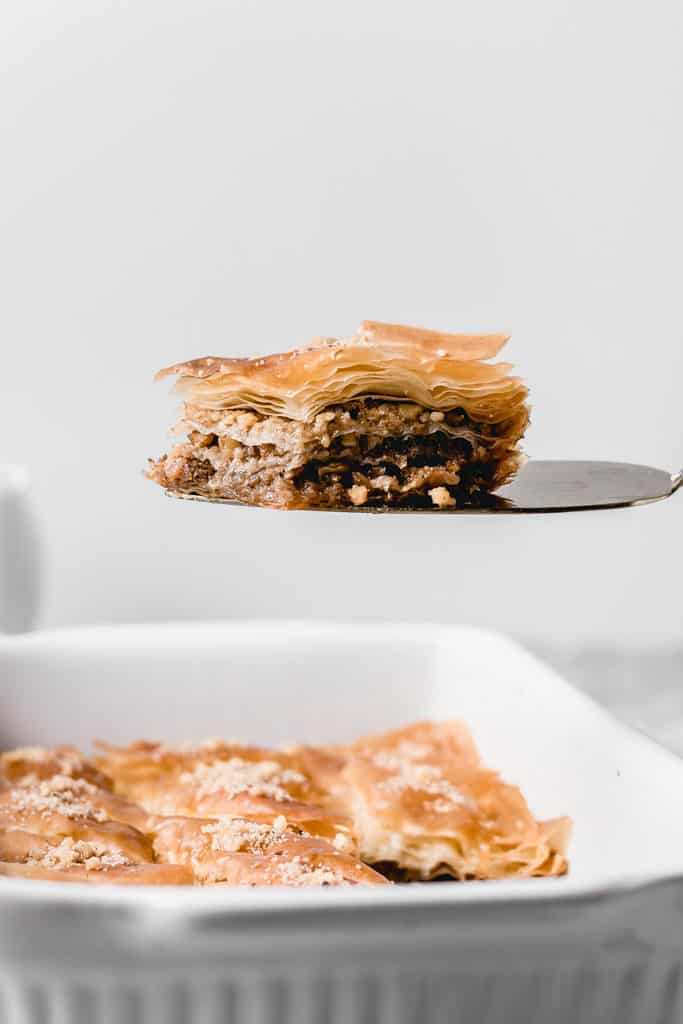 LOOKING FOR MORE DELICIOUS DESSERTS? CHECK OUT MY FAVES:
Coconut & Lime loaf cake
Chocolate Berry layer cake
Rocky Road Baked Donuts
Soft Chocolate Cookies with White Chocolate Chunks
The Softest Cinnamon Rolls with Vanilla Bean Cream Cheese glaze
If you make this classic walnut baklava recipe, let me know by tagging me on Instagram @anasbakingchronicles or tell me all about it in the comments section down below. I love seeing your creations! If you have any questions, don't hesitate to ask. Happy baking! 
Love,

📖 Recipe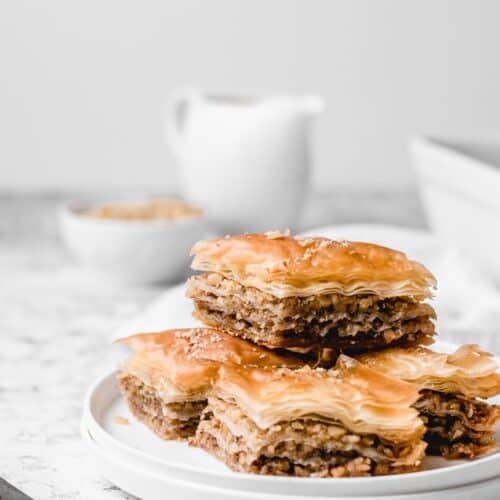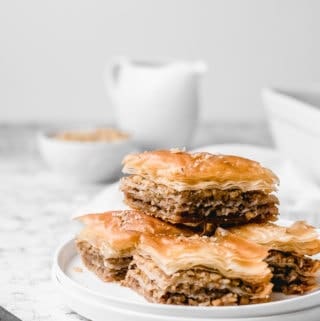 Walnut Baklava with Citrus infused syrup
Description
Classic Balkan walnut baklava, spiced with cinnamon and soaked with orange and lemon infused sugar syrup. Easy to make and ready for cozy fall weekends!


ingredients
250

g

walnuts

(finely chopped)

1

teaspoon

cinnamon

50

g

light soft brown sugar

500

g

fresh phyllo dough

(1 package, refrigerated)

200

g

unsalted butter
Citrus syrup
250

g

water

250

g

white sugar

half

of

orange

(sliced)

one

small

lemon

(sliced)
Instructions
First, make the syrup because it needs to be room temperature before pouring it over the baklava. Combine all the ingredients in a medium sized pan and bring to a boil. Then let it simmer for 5 minutes and turn the heat off. Leave all the citrus slices in it to further infuse.

Preheat your oven to 180°C (350°F).

Using a food processor, blitz the walnuts until they are almost ground, leaving couple of bigger pieces as a crunchy element. I divided the walnuts and ground ⅔ of them and then the rest just pulse until I had chunks.

Put the walnuts into a medium sized bowl and combine with cinnamon and sugar. That's your filling.

Cut the phyllo sheets to a size of the pan you're using. Mine was 14x27 cm (5,5x10,5 inch). Cover with lightly damp tea towel to keep them from drying out.

Generously butter the bottom and sides of the pan. Place one sheet of phyllo in the pan and generously butter the top with melted unsalted butter, using a pastry brush. Repeat until you have 8 sheets of phyllo for the bottom layer.

Sprinkle the third of the walnut filling evenly across the sheet. Cover with 4 phyllo sheets, brushing the top of each with melted butter. Again, spread the next third of the filling and cover with 4 phyllo sheets, each brushed with melted butter. Spread the last third of the filling and top with 8-10 sheets of phyllo, brushing the top of each layer with melted butter.

Let the baklava sit in room temperature for 10-20 minutes, so the butter solidifies a bit. That will help with cutting.

Using a sharp knife, cut the baklava into diamond shapes or triangles - your choice.

Bake in a preheated oven for 15 minutes, then turn the temperature down to 150°C (300°F) and bake for another 45 minutes. If you're afraid the top is getting too much colour, top it with parchment paper and continue baking.

Once your baklava is all done and hot, pour over it your prepared sugar syrup. Let it cool to room temperature before eating, preferably 3-4 hours.

Some say it's the best next day. You can keep it in the fridge if you like your baklava cold, but it will keep good on the counter, covered with cling film.
Notes
If you still don't own one, I advise you to buy a kitchen scale – they're cheap and easy to use, and always guarantee the same results in baking!  
You can cut the baklava in as many pieces as you'd like, it just depends on how big or small you want your portion.
I've never used frozen phyllo, we always have refrigerated sheets in 500 g packaging. It's fairly inexpensive, so I always buy two - in case I tear some of it, so I can have backup! 🙂
You can use any nuts you want, mixing walnuts and pistachios sounds like and incredible idea!
IMPORTANT
All the recipes are developed and tested using only metric measurements and a kitchen scale. The U.S. cup and spoon measurements are provided for your convenience, but I highly recommend getting a digital kitchen scale and measuring in metrics. It's easy and always guarantee the same results in baking!
Nutrition
Nutrition Facts
Walnut Baklava with Citrus infused syrup
Amount per Serving
% Daily Value*
* Percent Daily Values are based on a 2000 calorie diet.
The nutritional information and US conversions are calculated automatically. I cannot guarantee the accuracy of this data. If this is important to you, please verify with your favourite nutrition calculator and/or unit conversion tool.
Have you tried this recipe?
Tag me on Instagram @anasbakingchronicles or use the hashtag #anasbakingchronicles - I love seeing your creations!