These Jaffa Cupcakes are an example of a perfect orange & chocolate combination. Moist orange sponge, topped with orange chocolate ganache and a hidden jelly surprise inside - just like the real thing!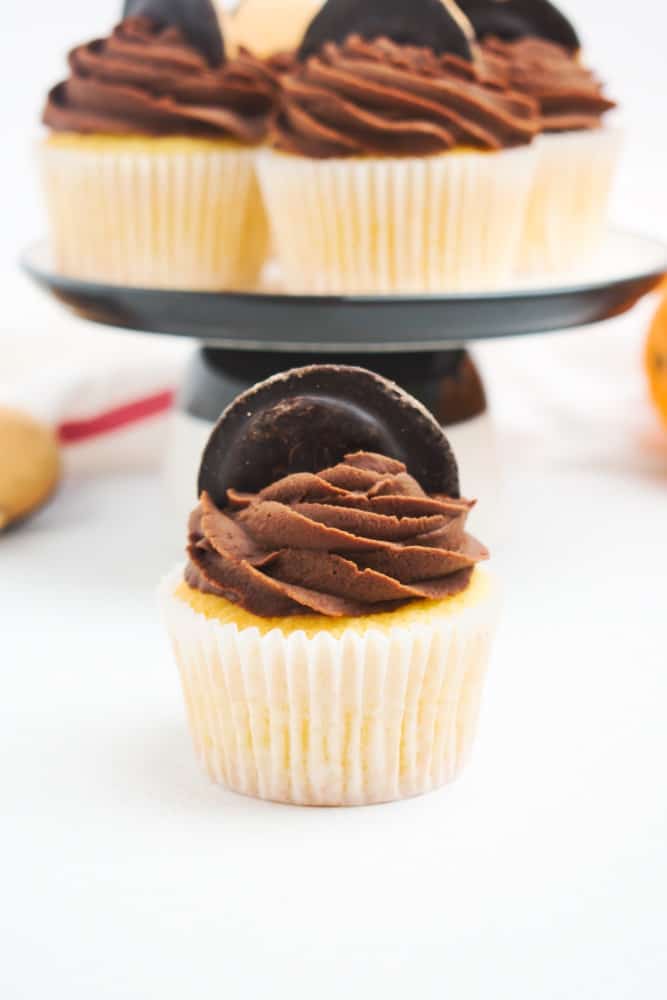 I remember how spontaneously I decided to make these Jaffa Cupcakes. There was my little sister's communion coming up and I was on the cake duty. My whole family was going to be there and I wanted to make something they hadn't had before and impress them. Of course, I was nervous. I didn't want to experiment on them and risk something going horribly wrong . Therefore, I decided to make a test run with cupcakes. Just to see if I had a good idea with flavours and everything. And oh boy - was it a great idea!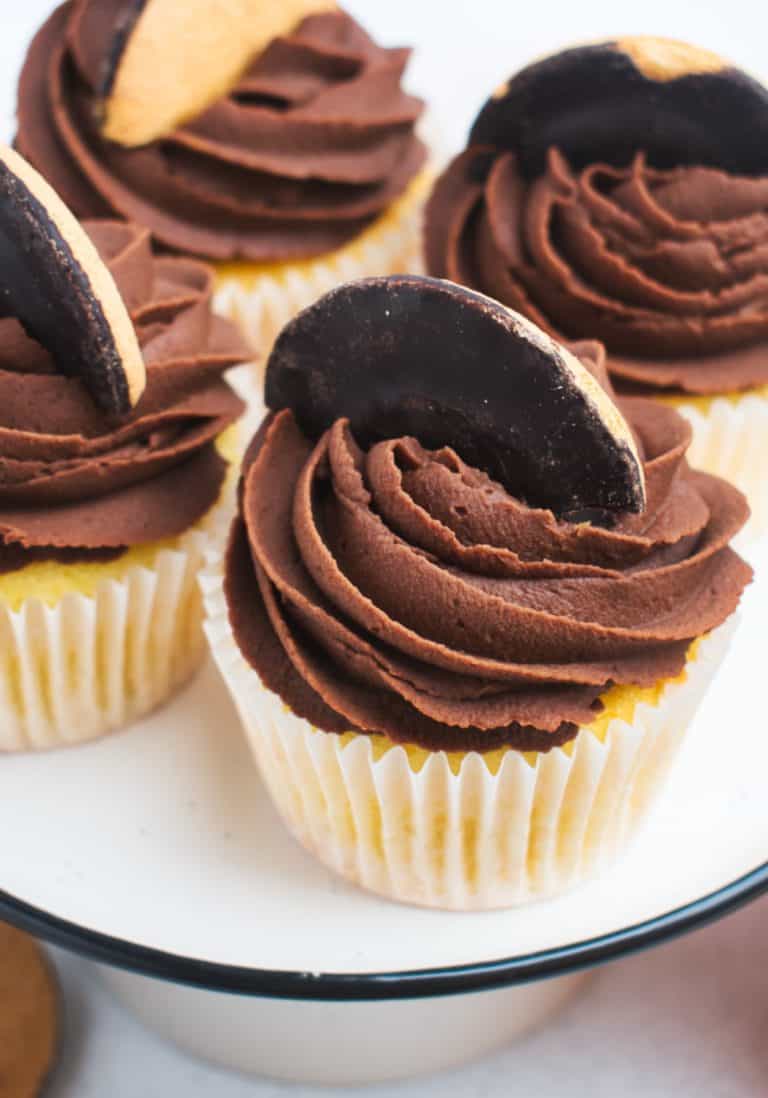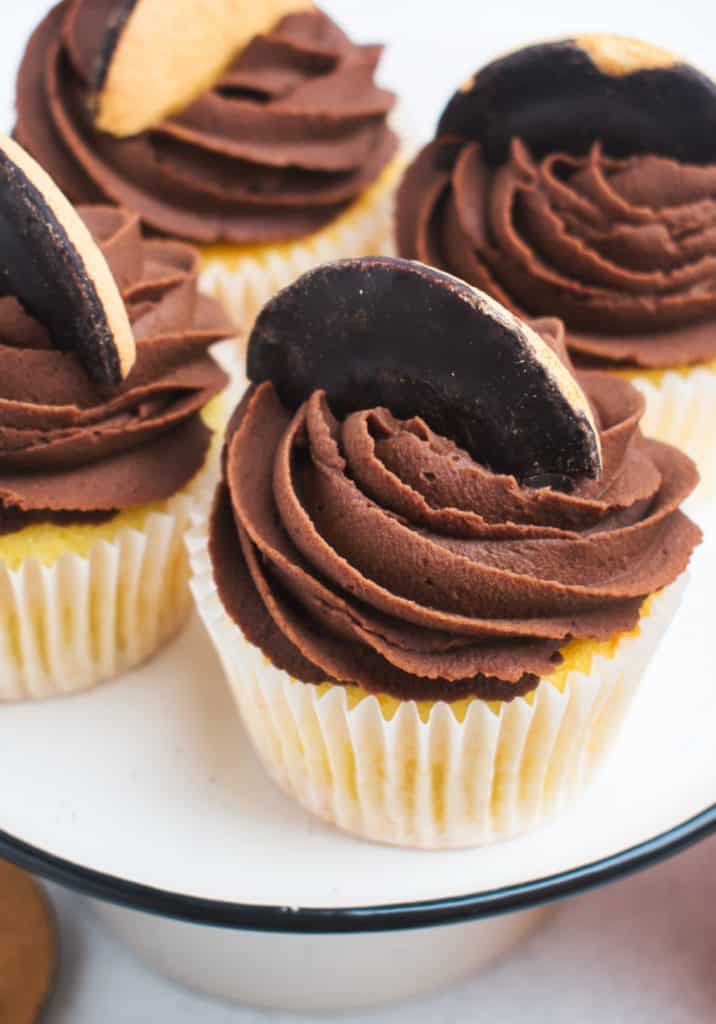 Although they are called Jaffa CAKES, they were always cookies for me. Biscuits. For those of you that are not familiar with them, this sweet treat comes from England. It's a cookie sized cake that consists of genoise sponge, orange flavoured jelly and coat of chocolate on the top. They are named after Jaffa oranges. And yes, I just googled all of this stuff. Lol.
Those were the cookies of my childhood in the manner of speaking. And probably my mother's childhood.  They're kind of a staple here in Croatia. To be honest, they are quite dry and hard (depending on the brand) but once you taste them, the flavour takes you down the memory lane and you just know that this is just how they are supposed to be. And you don't want them to be any different or better. Does this make any sense?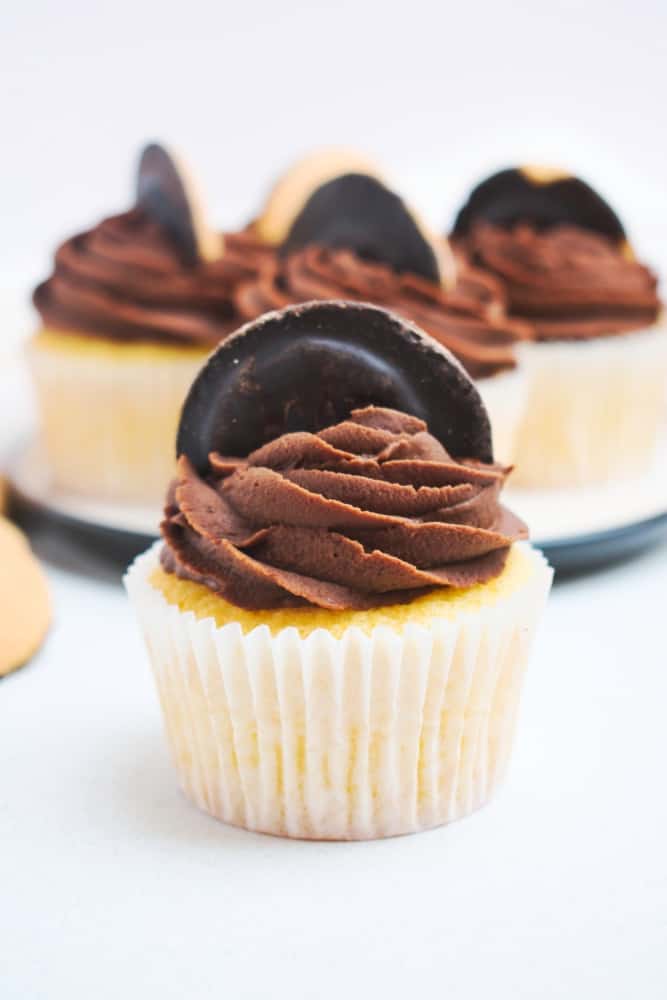 Anyway, since you can't make an original better, then you just have to cupcakefy it! (I'm not sure that this is even a word but you get what I'm saying, right?)
For all you lovers of chocolate & orange combo, trust me when I say - this is the perfect treat! The jelly is so soft and gentle and it gives the whole thing a refreshing note. You could make the cupcakes without it, they would still be delicious, but if you have an extra 10-15 minutes on your hands I suggest you don't skip it - you won't be sorry.
For my wet ingredients I used sour cream and real orange juice. I really like using sour cream in my cake and cupcake recipes instead of whole milk. It gives them kind of a softer crumb and makes them more moist and last longer. I know people hate the word "moist" but I just laugh every time I use it because it reminds of Barney from HIMYM (aka Neil Patrick Harris). I loved that show.
If you don't have any sour cream - buttermilk or greek yogurt make a good substitute. I hope you give these guys a go - if you do - please let me know, I'd love to see what you think and how they turned out!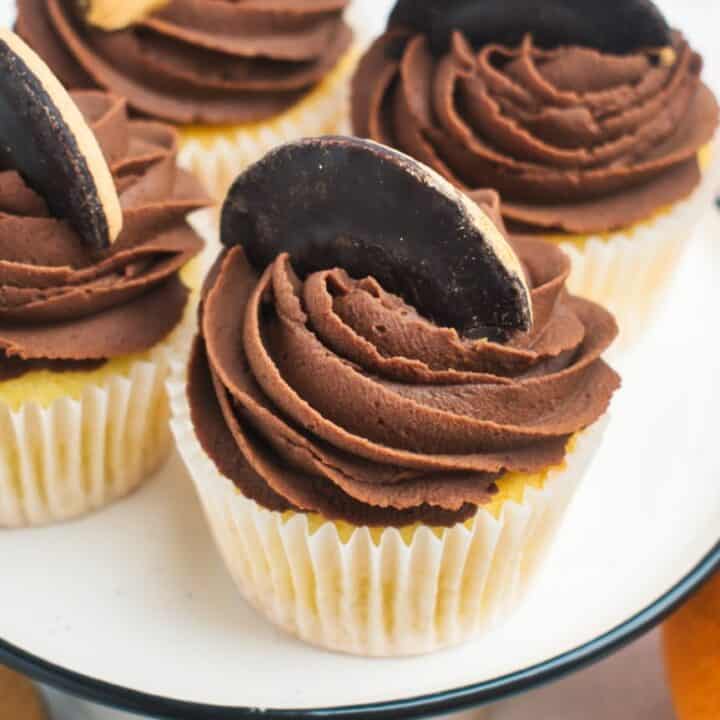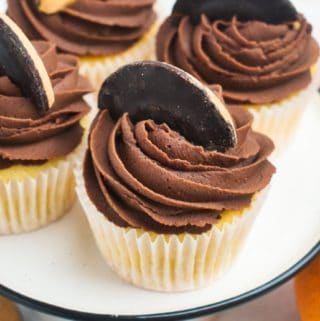 Jaffa Cupcakes
Description
These Jaffa Cupcakes are an example of a perfect orange&chocolate combination! Moist orange sponge, topped with orange chocolate ganache and a hidden jelly surprise - just like the cookie!
ingredients
CUPCAKES
2

large

eggs

(room temperature)

100

g

unsalted butter

(room temperature)

180

g

granulated sugar

180

g

all-purpose flour

(sifted)

100

g

sour cream

(room temperature)

50

g

orange juice

(freshly squeezed)

1 ½

teaspoon

baking powder

¼

teaspoon

salt

¼

teaspoon

vanilla extract

orange zest from one orange
ORANGE CHOCOLATE GANACHE
100

g

milk chocolate

100

g

semi-sweet chocolate

170

g

heavy cream

orange zest from one orange
ORANGE JELLY
300

g

peeled orange

75

g

granulated sugar

2

teaspoon

agar powder
Instructions
For the cupcakes:
Preheat your fan oven to 160°C or 320°F. Line your cupcake pan with paper cases.

In a medium bowl sift your flour, baking powder and salt. Set aside.

In a measuring jug combine sour cream, orange juice and vanilla extract. These are your wet ingredients.

Using a stand mixer fitted with the paddle attachment beat the butter, sugar and orange zest on a medium-high speed until pale and fluffy. (approx. 3 minutes) Stop the mixer and scrape down the sides of the bowl.

Turn the mixer to medium-low and add the eggs one by one, making sure everything is fully incorporated after each addition. Stop the mixer and scrape down the bowl.

Turn the mixer on medium and add flour in three batches, alternating with the wet ingredients. It's important to begin and end with flour mixture. Mix only until combined, you don't want to overmix your batter and risk cupcakes being tough. Scrape down the sides of the bowl as needed to be sure all ingredients are well incorporated.

Divide the batter evenly among the paper cases, filling them ¾ of the way full.

Bake for 18-20 minutes or until toothpick inserted in the middle comes out with a few moist crumbs.

Allow the cupcakes to cool completely on a wire rack before frosting them.
Orange Chocolate Ganache
Finely chop both chocolates, place them into a bowl and mix in the orange zest.

Bring cream just barely to a simmer and pour over chopped chocolate. Cover it with a plate and leave it for 1-2 minutes. Stir with a spatula until combined and smooth.

Cover in cling film touching the surface and leave to cool until thick enough to frost the cupcakes.
Orange Jelly
Peel and chop the oranges then puree them using a stick blender.

Add the orange puree, sugar and agar powder to a small pot. Bring to simmer and cook for 5-10 minutes. We want to activate the agar powder and sugar to dissolve.

Once done, strain the mixture through a sieve and pour into silicone mini hemispheres mould. Make sure you have a baking sheet under the silicone mould so you can move it easily.


Place the jellies into fridge to set, that should happen fairly quickly.


Assembly:
Once the cupcakes are cooled, ganache has thickened and jellies are set - it's time to assemble these guys.


Place one jelly on top of every cupcake. Fill a piping bag with ganache and frost the cupcakes.

Optional: place a half of a store bought jaffa cake in the middle as a decoration.
Notes
*Don't open the oven door too early or you're risking your cupcakes sinking in the middle.
**Check for doneness at 16 min mark and then adjust the baking time accordingly. Not all ovens are the same. Get to know yours! 🙂
***I suggest adjusting the quantity of agar powder as per instruction on your packaging.
IMPORTANT
All the recipes are developed and tested using only metric measurements and a kitchen scale. The U.S. cup and spoon measurements are provided for your convenience, but I highly recommend getting a digital kitchen scale and measuring in metrics. It's easy and always guarantee the same results in baking!
The nutritional information and US conversions are calculated automatically. I cannot guarantee the accuracy of this data. If this is important to you, please verify with your favourite nutrition calculator and/or unit conversion tool.
Have you tried this recipe?
Tag me on Instagram @anasbakingchronicles or use the hashtag #anasbakingchronicles - I love seeing your creations!