Moist banana cake with a hint of cinnamon, topped with delicious dark chocolate ganache and fresh raspberries. Perfect treat for a Sunday afternoon!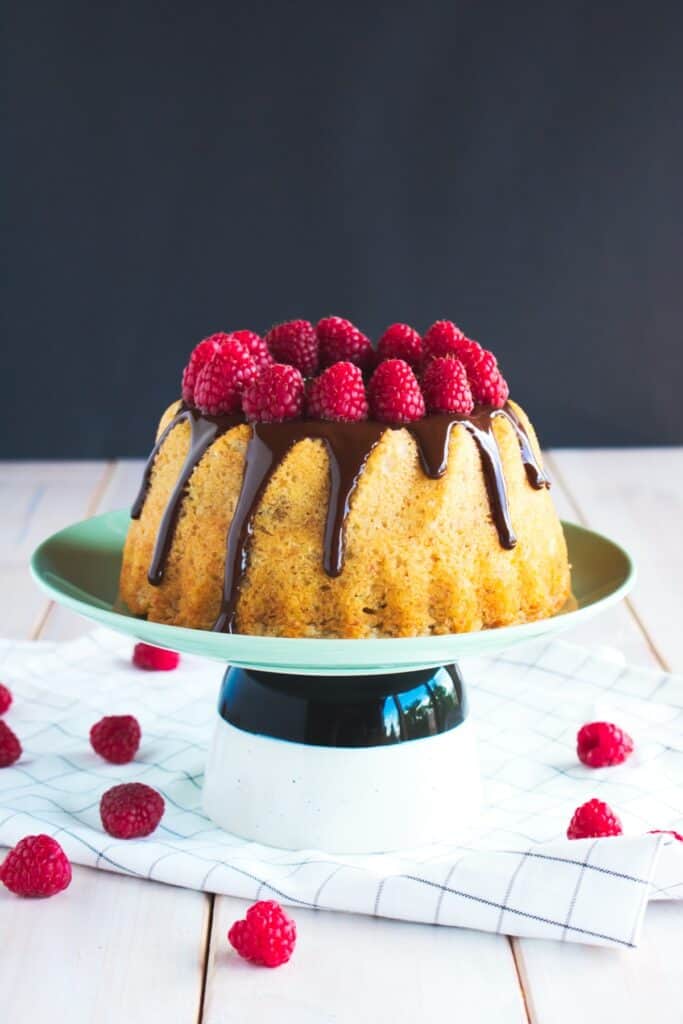 This Banana Chocolate Bundt Cake is a perfect solution for those overripe bananas you always have on your counter. We've all been there. Nobody wants to eat bananas the minute they start to have those black specks and go all mushy and soft. But then again, you don't have the heart to throw them in the bin because it's not their fault that you're a picky eater. Am I right? I really hate throwing food away and I'm sure you guys agree with me.
Lucky for you, overripe, almost black bananas are THE BEST for baking! They also freeze very well, so if you don't have the time to bake anything, just pop them in the freezer and when you want to bake something you have overripe bananas on hand! Just let them thaw for about an hour. They will be gross looking but that only means that the cake will be amazing.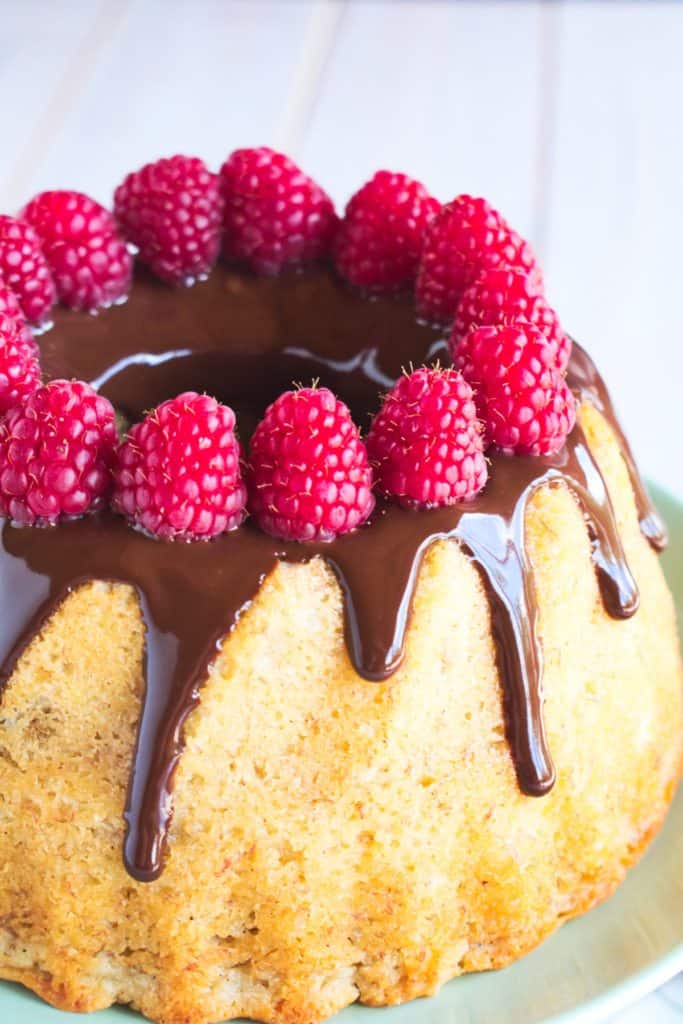 For this recipe, I decided to try the Reverse creaming method. I actually liked it, it was slightly easier and faster than my ususal choice – the traditional creaming method. The cake was very tender, a bit on the dense side and very moist – just how I like it. I'll definitely try this method again using a recipe I already made with creaming method so I can compare it better and tell you all about it. But so far, I'm liking the simplicity of it!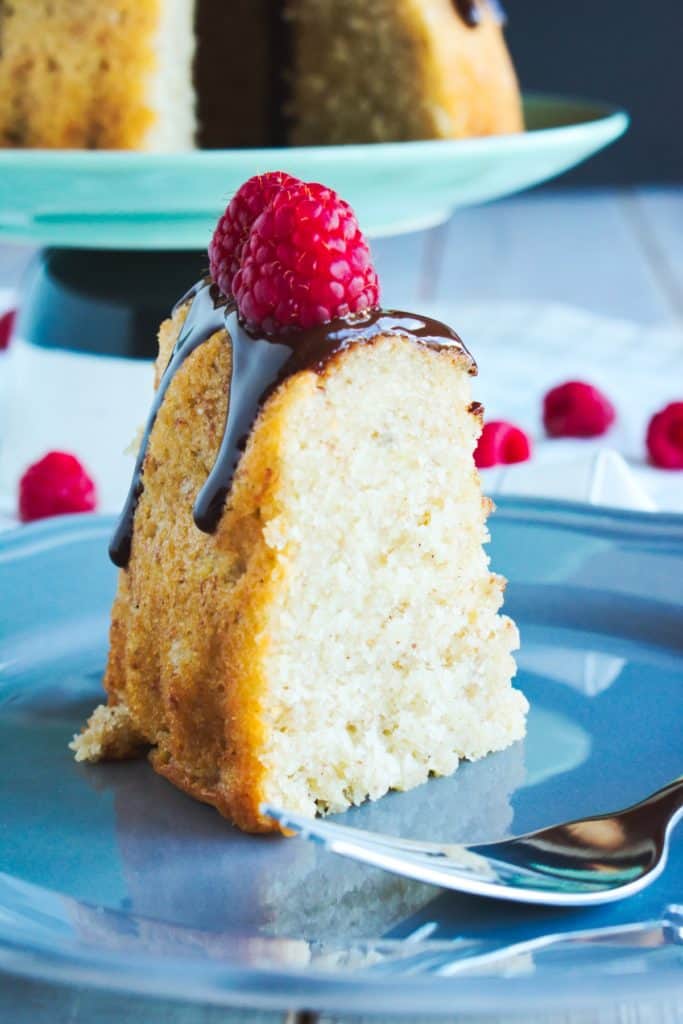 I made this cake in a small bundt pan that I was wanting to try since the moment I bought it. It's a 17 cm (approx. 7 inch) in diameter and it's so cute and pretty! I realize you don't see the design very well because of all the chocolate on top, but it's the flavour that matters, anyway. Do you agree?
Banana is one of my boyfriend's favourite flavours so I made this cake with him in mind. And I'm happy to say that he loved it! Granted, he did want some extra chocolate on top – but that was his only complaint. Lol.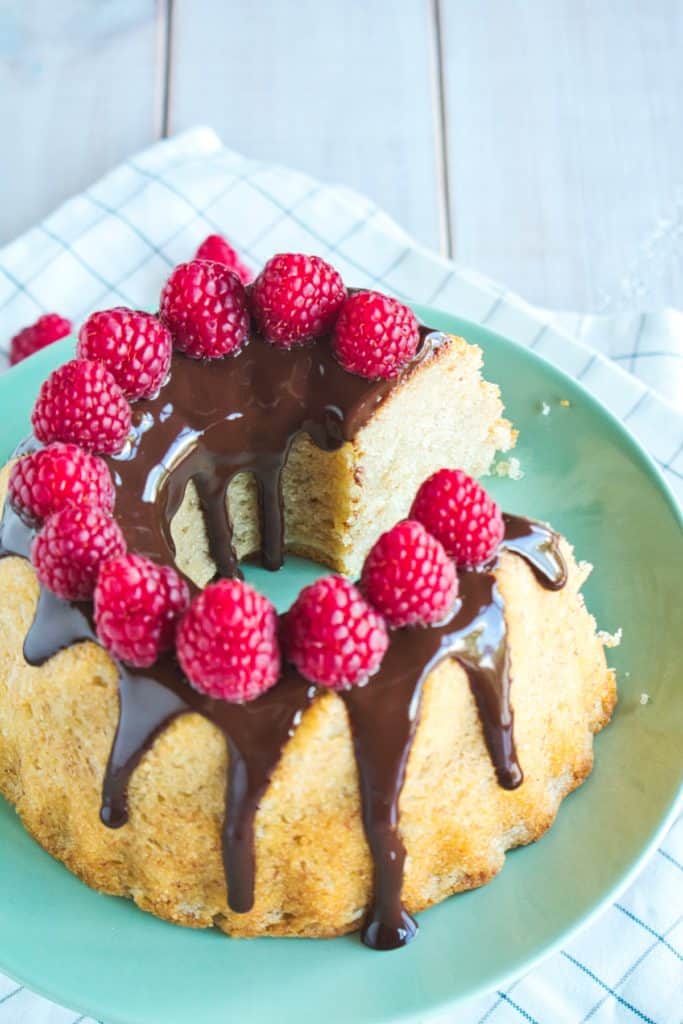 I added a dash of cinnamon just to enhance that banana flavour and 1/4 tsp was just the right amount. I didn't want it to be overpowering because cinnamon is quite strong and I really wanted to taste that delicious banana. I also only used cooking spray to prepare the bundt pan and I was amazed that it worked! The cake didn't stick to the pan at all! After 10-15 minutes of cooling in the pan, I put the cooling rack on top and flipped it. It came out in one piece and I was so happy then. In the past, I've had some trouble with bundt cakes where the half of it would just stick to the pan and the other half would came out. So I was left with the disaster in my hands. *facepalm* From now on I'm definitely relying on cooking spray to thoroughly grease the pan. No flour necessary here! 🙂
If you're a big banana adorer and Banana Chocolate is one of your favourite combos, you should definitely try this recipe. Especially if you have some overripe bananas giving you that judgy look. It's easy, very moist and just delicious! Pair it with some tea or coffee and you get a perfect Sunday afternoon sweet treat!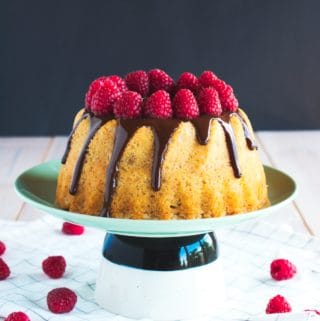 Banana Chocolate Bundt Cake
Moist banana cake with a hint of cinnamon, topped with delicious dark chocolate ganache and fresh raspberries. Perfect treat for a Sunday afternoon!
Print
Pin
Rate
Ingredients
Cake
1

large

egg

room temperature

120

g

mashed overripe banana

approx. one large banana

160

g

granulated sugar

180

g

all-purpose flour

1/4

tsp

salt

1 1/2

tsp

baking powder

1/4

tsp

cinnamon

1/4

tsp

vanilla extract

150

g

sour cream

room temperature

85

g

unsalted butter

room temperature
Chocolate Ganache
75

g

dark chocolate

75

g

heavy cream
Instructions
Cake:
Preheat your fan oven to 160°C or 325°F. Grease and/or flour 7-inch bundt cake pan.

In a medium bowl, sift together flour, salt, cinnamon and baking powder. Add the sugar and set aside.

Whisk together mashed banana and one egg. Add the sour cream and vanilla extract. These are your wet ingredients.

Using a hand mixer, mix together dry ingredients and butter until you get a crumbly, sand-like texture.

Add the wet ingredients to butter and flour mixture and mix until combined. Scrape down the bowl while mixing to ensure everything is mixed together. Do not over mix the batter.

Fill a 17 cm/7 inch bundt pan with cake batter and bake for 25-30 min or until skewer inserted in the middle comes out with a few moist crumbs.

Once it's done, leave it to cool for 10-15 minutes on a wire rack before removing the cake from the pan to cool completely.
Chocolate Ganache
Place finely chopped chocolate in a bowl. Bring heavy cream just barely to a simmer and pour over chopped chocolate. Cover it with a plate and leave it 1-2 minutes. Stir with a spatula until combined and smooth.
Assembly:
Once the cake is cooled, put it on a serving plate and pour over slightly cooled chocolate ganache. Top with fresh raspberries.
Notes
*Not all ovens are the same. I suggest you check the cake after 20 minute mark and then adjust the time accordingly. It's very important to get to know your oven 🙂
** I use a fan oven, if you're using a standard convection oven you should up the temperature for 15-20 degrees C.